'Let the baby die': Sign put up in response to family asking for donations to help sick child
Infant suffers from two rare birth disorders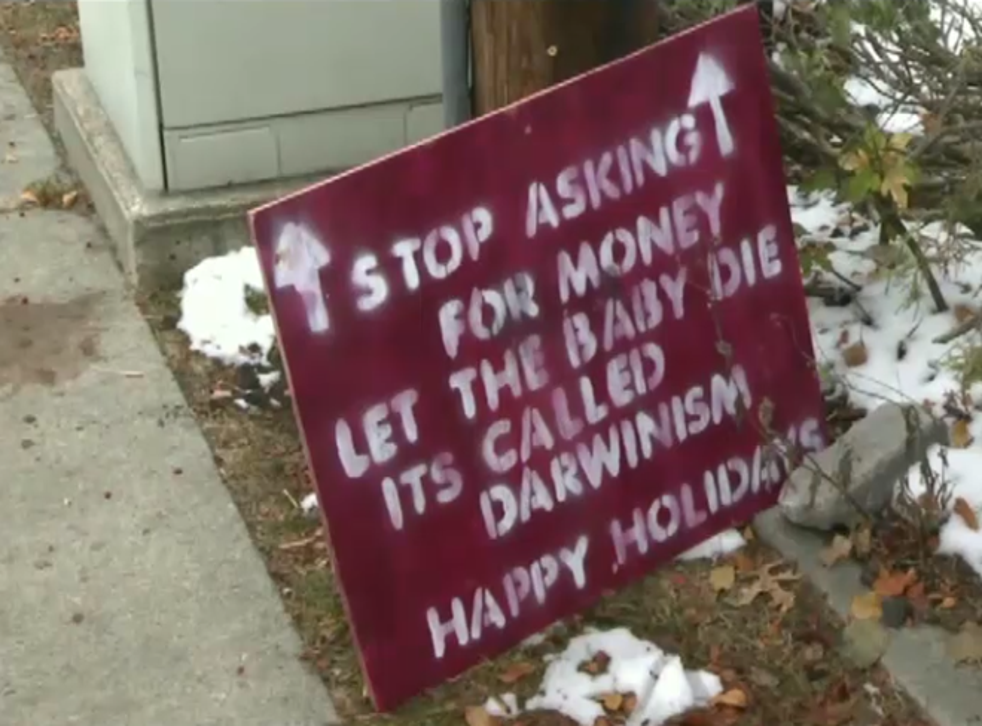 A family who appealed to neighbours for donations for their sick infant son found cruel signs outside their home urging them to let their child die.
KC Ahlers, from Toledo, Ohio, recently placed six signs around the Franklin Park Mall detailing his son Randy James "RJ" Ahler's battle with two rare congenital disorders, according to ABC 13.
According to Ahlers, the signs shared details about his son's medical issues and explained how people could help by donating.
However, last week Ahlers found that "cruel" signs had been placed by three of his that read: "Stop asking for money. Let the baby die. It's called Darwinism. Happy Holidays."
Upon finding the signs, Ahlers says he was "shocked" that somebody would respond in that manner.
"I came out. I saw it. Immediately took the one down," he recalled to the outlet. "There were other ones that were up, but somebody, some other good Samaritans kicked them down."
He added: "It shocked me. I mean it really shocked me that somebody would have that kind of cruelty."
According to Ahlers, his son suffers from two rare disorders, with Agenesis of the Corpus Callosum or AgCC impacting his brain and the other, Trisomy 9 Mosaic Syndrome, stemming from a chromosome abnormality. Currently, RJ has a hole in his heart, with many babies diagnosed with the condition not living past the age of two.
As for what he plans to do about the hateful message, Ahlers said he will continue to take the signs down - and battle "hatred with love".
World's smallest baby leaves hospital at five months

Show all 5
"We want to raise our son to not reciprocate hatred," he said. "We want to battle hatred with love. So, we obviously know somebody that did this is disturbed and we hope they get help. But, we're going to keep taking your signs down as we see them because this town doesn't need hatred. This town needs love."
On 15 December, the family is planning a fundraiser for their son after a superhero-themed fundraiser held in October raised $4,000.
You can also donate to the family's medical bills on GoFundMe.
Join our new commenting forum
Join thought-provoking conversations, follow other Independent readers and see their replies