Baltimore cop placed on leave for pulling his gun on crowd at city park
'I can only imagine what would have happened if he had accidentally shot someone'
Justin Carissimo
Tuesday 11 August 2015 01:22 Comments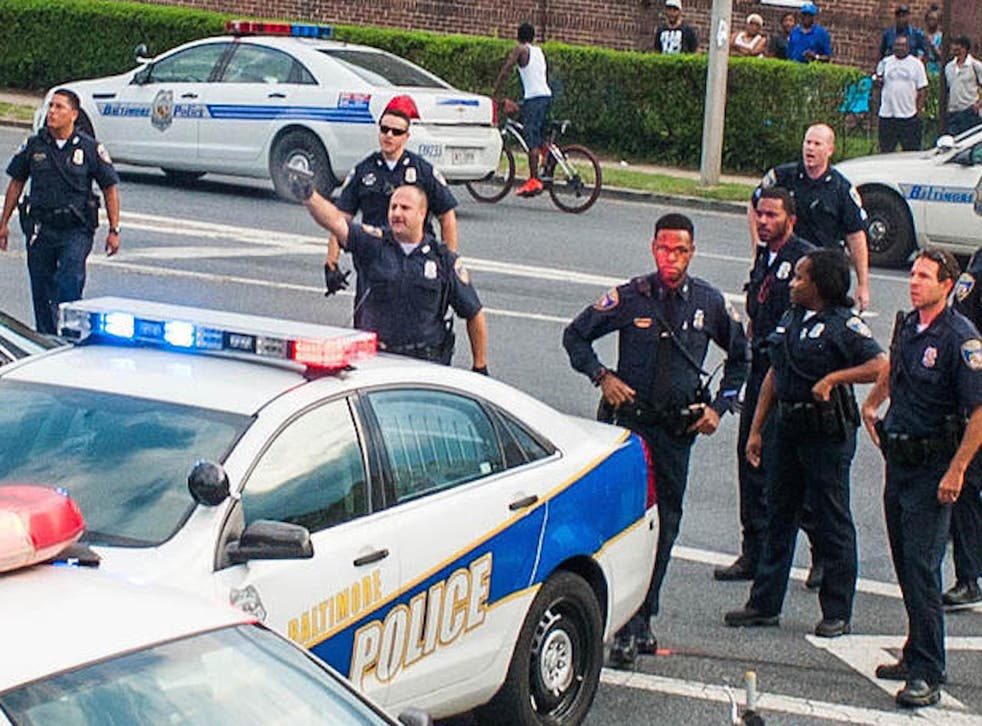 A Baltimore police officer has been placed on administrative leave after a photo went viral of him waving his firearm at parkgoers on Sunday night.
Noah Scialom, a local photographer, caught the officer being careless and posted the images on line where they quickly picked up steam/
Mr Scialom spoke with the Baltimore City Paper, saying that the incident was isolated and that the unidentified cop who was waving his gun, was the only officer "being crazy."
"I can only imagine what would have happened if he had accidentally shot someone — There were people everywhere."
He described to his followers what he witnessed go down.
"This cop just pulled his gun on a crowd of people that I was standing among, I cannot believe I just saw that...picture is on my other camera…"
"On the left side of the frame, the officer pulled out his service weapon, yelling while he waved the gun around, and what you can't see is that he's pointing it in the direction of a fairly sizable group of people on the hillside of Druid Park, after a glass bottle had been thrown at the group of police officers and shattered on the ground.
"Another officer immediately told him to put his f*cking gun away."
The City Paper reported that the confrontations between local dirt bike riders and police have become a weekly incident.
The Baltimore Police Department has placed the unidentified officer on paid administrative leave.
Department spokesman Jeremy Silbert told the Associated Press on Monday night that the agency will investigate the scrutinized officer.
Mr Silbert said that his department "takes the allegations very seriously."
Register for free to continue reading
Registration is a free and easy way to support our truly independent journalism
By registering, you will also enjoy limited access to Premium articles, exclusive newsletters, commenting, and virtual events with our leading journalists
Already have an account? sign in
Join our new commenting forum
Join thought-provoking conversations, follow other Independent readers and see their replies