A respectful Barack Obama leads the US in bidding farewell to Fidel Castro, declining to replay old grievances
Donald Trump, who called Castro a 'brutal dictator', will now have to move quickly to set his own course on Cuba
David Usborne
New York
Saturday 26 November 2016 18:47 Comments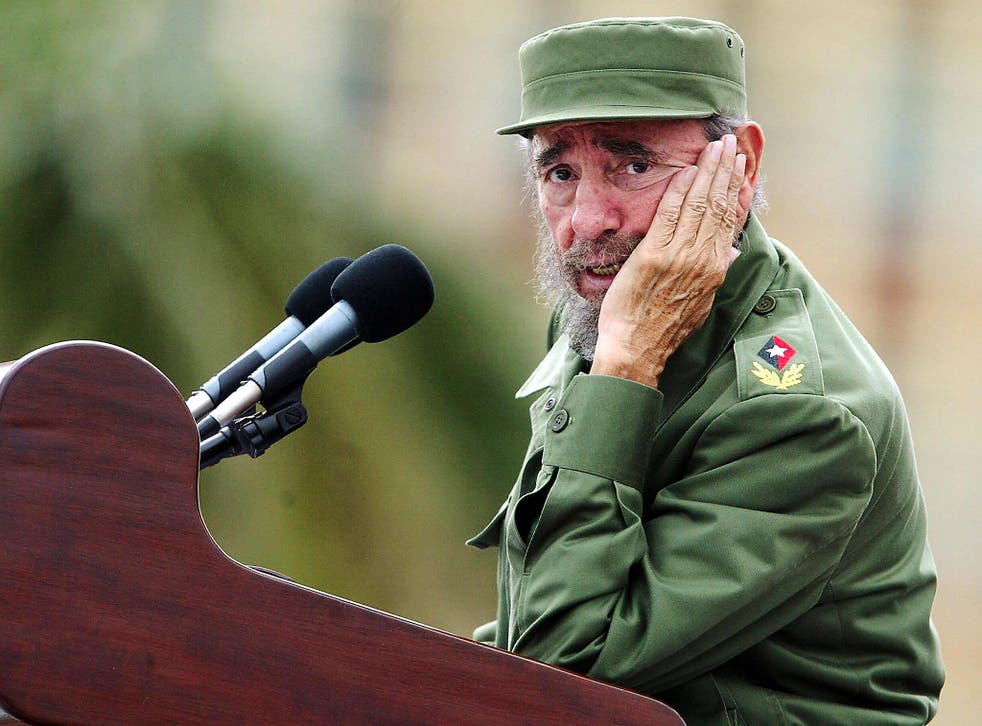 The United States greeted news of Fidel Castro's death both with familiar disparagement of a "tyrant" whose revolution consigned Cuba to decades of totalitarian oppression as well as respectful expressions of hope that his passing will speed political reform on the island.
President Barack Obama, whose visit to Havana in March was meant to highlight the steps he has taken to end the decades of diplomatic enmity between Cuba and the US, notably declined to replay any of the old grievances that for years have been traded across the Florida Straits.
"History will record and judge the enormous impact of this singular figure on the people and world around him," Mr Obama said. "We extend a hand of friendship to the Cuban people."
But some Republicans, especially those whose constituents include the large Cuban-American community in Florida, were less restrained in their appraisal of Mr Castro's place in history and barely optimistic that his death in itself guarantees that change for the better will come soon. Donald Trump called the late Cuban leader a "brutal dictator" in a statement issued on Saturday morning.
"The day that the people, both inside the island and out, have waited for has arrived: A tyrant is dead and a new beginning can dawn on the last remaining communist bastion of the Western Hemisphere," Ileana Ros-Lehtinen, a Republican congresswoman and a Cuban-American said. "We lost our native homeland to communism. They just rule over Cuba with an iron fist."
Donald Trump, spending the weekend at his Florida estate, noted the passing of the former leader in a Twitter message that merely said, "Fidel Castro is dead". Released hours later, his longer statement opened with an aggressive repudiation of the late leader. "Today, the world marks the passing of a brutal dictator who oppressed his own people for nearly six decades. Fidel Castro's legacy is one of firing squads, theft, unimaginable suffering, poverty and the denial of fundamental human rights."
However, it also offered glimpses of a softer tone that seemed to be a departure from his sometimes hostile campaign rhetoric regarding Cuba and the changes introduced by Mr Obama.
"While Cuba remains a totalitarian island, it is my hope that today marks a move away from the horrors endured for too long, and toward a future in which the wonderful Cuban people finally live in the freedom they so richly deserve," the statement said. "Though the tragedies, deaths and pain caused by Fidel Castro cannot be erased, our administration will do all it can to ensure the Cuban people can finally begin their journey toward prosperity and liberty."
In Cuba, it was Raul Castro, 85 who announced the death of his older brother late on Friday night. It was 60 years to the day since they and a few supporters left Mexico on a boat to launch their revolution .
"At 10:29 at night, the chief commander of the Cuban revolution, Fidel Castro Ruz, died," he said on state television, dressed in his familiar green military uniform. "Ever onward, to victory," he added, without offering a cause of death.
The elder Castro had been ailing for years. He ceded his position as leader of Cuba to his brother in 2008, two years after suffering a stomach affliction that almost killed him.
While Mr Obama met Raul Castro during his Havana visit, he was snubbed by Fidel who later wrote a scathing commentary warning Cubans to beware his "honey-coated" words and reminding them of past US efforts to overthrow and weaken the communist government.
The thaw in US-Cuba relations has seen both countries open embassies in each other's capitals as well as a significant relaxation by the United States of restrictions on travel to and from the island. Just in the last few weeks, most of America's scheduled air carriers, including United and American, resumed regular service to Cuba from cities across the US.
"During my presidency, we have worked hard to put the past behind us, pursuing a future in which the relationship between our two countries is defined not by our differences but by the many things that we share as neighbors and friends – bonds of family, culture, commerce, and common humanity," Mr Obama said on Saturday.
However, because Congress remains resistant to rescinding a trade embargo first introduced in 1962, all the changes wrought by Mr Obama had to be done by executive order.
As candidate for president, Mr Trump more than once threatened to scrub those changes, barring concrete progress on the part of Cuba on human rights and democratisation. "The next president can reverse them, and that I will do unless the Castro regime meets our demands," he told supporters at a rally in Miami, highlighting the release of political prisoners and the full restoration of religious freedoms as conditions Cuba would have to meet.
While the passing of Mr Castro will put the spotlight back on the US-Cuba ties in the short term, there is little indication that President-elect Trump has yet decided how he means to handle them. The course he eventually takes may depend in part also on his choice for Secretary of State, which he has yet to reveal.
Among those rebuking Mr Castro even in death was Senator Marco Rubio, whose own quest for the Republican presidential nomination earlier this year fell victim to the Trump bulldozer.
"The dictator has died, but the dictatorship has not," Senator Rubio, himself of Cuban heritage, said in a statement, indicating his support for a more hawkish approach. "The future of Cuba ultimately remains in the hands of the Cuban people, and now more than ever Congress and the new administration must stand with them against their brutal rulers and support their struggle for freedom and basic human rights."
Mitch McConnell, the Republican leader in the US Senate, said Mr Castro's death was an opportunity for the Cuban government to "turn the page for the good of the Cuban people," adding that freedom and democracy were overdue in the country. "While Fidel Castro is gone, sadly the oppression that was the hallmark of his era is not," he said.
Register for free to continue reading
Registration is a free and easy way to support our truly independent journalism
By registering, you will also enjoy limited access to Premium articles, exclusive newsletters, commenting, and virtual events with our leading journalists
Already have an account? sign in
Join our new commenting forum
Join thought-provoking conversations, follow other Independent readers and see their replies