Barack Obama could thwart Donald Trump's Muslim registry plan
If Mr Obama fully dismantles the George W Bush-era registration system, Mr Trump would have to start his plan from scratch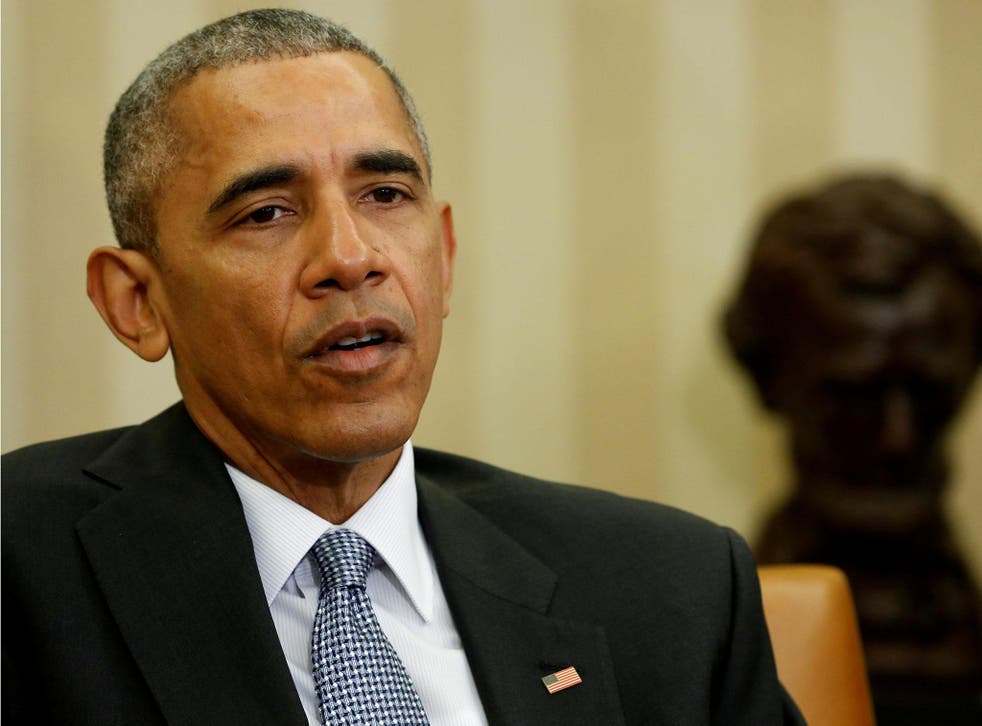 President Obama is being urged to fully dismantle a George W Bush-era law to make it much harder for Donald Trump to force Muslims to sign up to a database.
The president-elect could carry out his plan by reinstating the National Security Entry-Exit Registration System (NSEERS), a system that president Obama suspended in 2011 and that has been dormant since then.
Dozens of House Democrats signed a letter urging Mr Obama and Homeland Security Secretary Jeh Johnson to fully revoke the regulations which allow a government to single out countries for immigrant registration.
NSEERS resulted in 13,000 deportations of people from 25 countries but did not result in any terrorism-related convictions.
"While we commend your Administration for effectively ending the program in 2011, we believe that eliminating the apparatus of NSEERS is consistent with our country's fundamental values of fairness and equality," read the letter.
Kris Kobach, the Kansas official who is a frontrunner for the role of DHS secretary under Mr Trump, said he wanted to "update and reintroduce" the NSEERS program for men on "nonimmigrant visas".
But Democrats said the law, implemented in 2002, created "fear", separated communities and families, and that people "disappeared" in the middle of the night.
Donald Trump's controversial cabinet
In 2011, Mr Obama cleared the list of countries under which immigrants were forced to register in the US.
"The program is reminiscent of and indeed has been compared to — the dark time in our history when innocent people were interned based on their Japanese ancestry," the Democrats' letter said.
If Mr Obama dismantled the law before he left office, the Trump administration would have to start from scratch, arguing that it was not discriminating against Muslim-majority countries, as reported by Vox.
Mr Trump's defense secretary, general Michael Flynn, said fear of Muslims was "rational" and compared Islam to a "cancer".
His deputy national security adviser, KT McFarland, suggested that there was at least one million Muslims who were "bent on destroying Western civilisation and the values we hold dear".
Mr Trump originally proposed banning Muslims from entering the US but later amended his proposal to people who did not hold "American values".
Register for free to continue reading
Registration is a free and easy way to support our truly independent journalism
By registering, you will also enjoy limited access to Premium articles, exclusive newsletters, commenting, and virtual events with our leading journalists
Already have an account? sign in
Register for free to continue reading
Registration is a free and easy way to support our truly independent journalism
By registering, you will also enjoy limited access to Premium articles, exclusive newsletters, commenting, and virtual events with our leading journalists
Already have an account? sign in
Join our new commenting forum
Join thought-provoking conversations, follow other Independent readers and see their replies