Barack Obama drinks Flint water in first visit since crisis began
The president is visiting the city to assess the crisis and the federal government's role in aid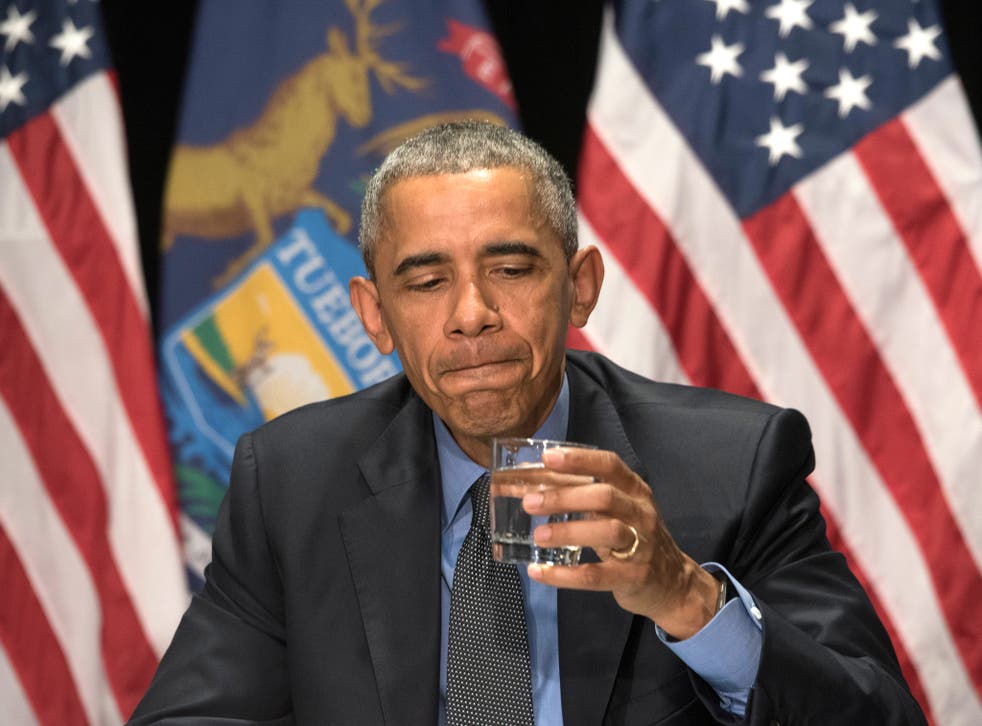 President Barack Obama addressed the people of Flint in his first visit to the Michigan city since news of the contaminated water supply broke out.
Calling the water crisis in Flint "avoidable" and "preventable," Mr Obama said that the contamination "should not have happened in the first place" in a speech delivered at Northwestern High School.
He spoke to the importance of investing in infrastructure - like citywide water systems and bridges - that ensure the safety of an entire town.

"Part of what contributed to this crisis was a broader mindset a bigger attitude - a corrosive attitude - that exists in our politics that eixsts in too many levels of our government," he said. "And it's a mindset that believes that less government is the highest good, no matter what. It's a mindset that says environmental rules designed to keep your water clean or your air clean are optional."
"I hear you, I see you and ... I've got your back."
In a press conference after his arrival, Mr Obama drank filtered water from a Flint to show residents that it is safe to drink following the years-long contamination. 

After he was briefed on the federal response to the water crisis, a reporter asked Mr Obama if he would drink the glass of water that was on the table in front of him, the Associated Press reports. 

"This used a filter," Mr Obama said, holding the glass of water. "The water around this table was Flint water and it just confirms what we know scientifically, which is, if you're using a filter, if you're installing it, then Flint water at this point is drinkable."
The president landed in Flint Wednesday afternoon, on his first visit to the city since it was revealed that the water supply had been contaminated with lead and other chemicals.
Michigan Gov Rick Snyder greeted Mr Obama on the tarmac of Bishop International Airport, as the president planned to tour the city and speak with residents.
Earlier that day, Flint residents protested outside of the high school demanding that he declare Flint a disaster area.

The White House announced the visit after Mr Obama responded to a letter from an 8-year-old activist, Mari Copena, commonly known as "Little Miss Flint".
"I am one of the children that is effected (sic) by this water, and I've been doing my best to march in protest and to speak out for all the kids that live here in Flint," she wrote. She added that she would like to meet the President and First Lady during a trip to Washington to watch the congressional hearing of Michigan Gov Rick Snyder.
Mr Obama announced the Wednesday visit in his reply to Mari.
"I want to make sure people like you and your family are receiving the help you need and deserve," he wrote. "Like you, I'll use my voice to call for change and help lift up your community."
The contamination occurred after Flint witched its water supply from Detroit to the untreated Flint River in April 2014 as a move to save the city money. The water leached lead from old pipes, taking it to the sinks and showers of Flint homes.
The revelation led to a criminal investigation that resulted in the indictment of three officials.
Members of Congress have called for the resignation of Mr Snyder, who alleged in a hearing that he was made aware of the toxic water at least a year before it was made public.
Mr Snyder has been urging Flint residents to begin drinking from their taps again, assuring them that new filters have made the water safer. To prove his point, he announced he would only drink water from Flint residencies for a 30 day period.
Mr Obama declared a state of emergency in Flint in January, opening up federal resources to assist local relief efforts.
Register for free to continue reading
Registration is a free and easy way to support our truly independent journalism
By registering, you will also enjoy limited access to Premium articles, exclusive newsletters, commenting, and virtual events with our leading journalists
Already have an account? sign in
Register for free to continue reading
Registration is a free and easy way to support our truly independent journalism
By registering, you will also enjoy limited access to Premium articles, exclusive newsletters, commenting, and virtual events with our leading journalists
Already have an account? sign in
Join our new commenting forum
Join thought-provoking conversations, follow other Independent readers and see their replies