Obama says 'I wouldn't vote for me' if I watched Fox News
'Who is that guy? This character named Barack Obama and he's just portrayed in these weird ways,' former US president says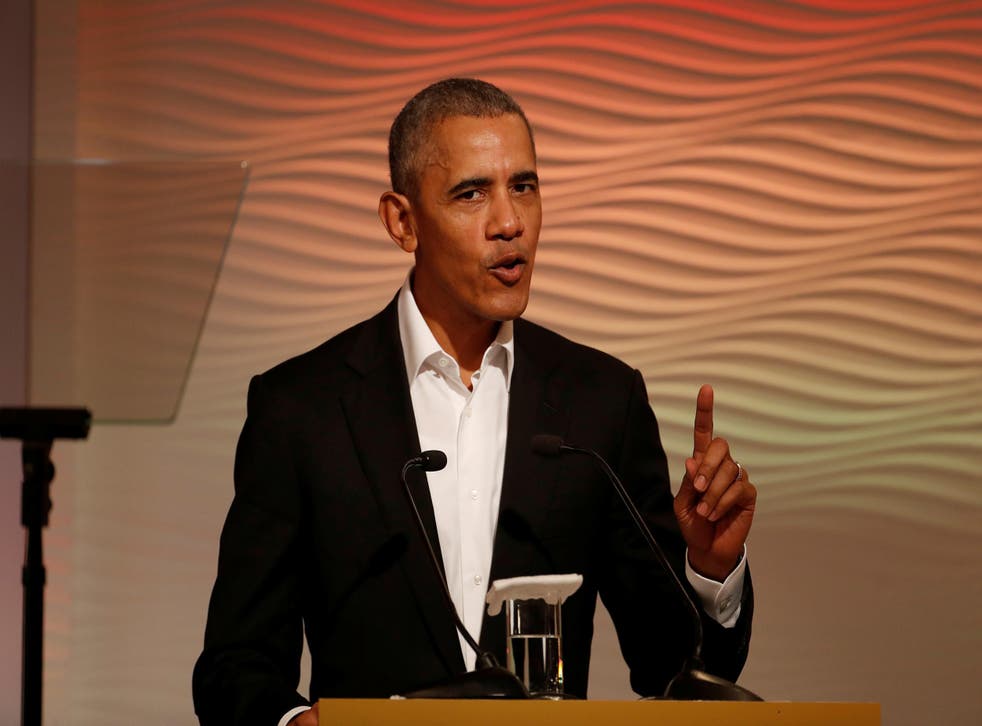 Barack Obama has said he would not have voted for himself if he watched Fox News, while warning Indian conference attendees about the need to escape their information "bubbles".
"Those who watch Fox News and those who read the New York Times occupy completely different realities," the former US President told the assembled crowd at the Hindustan Times Leadership Summit.
"If I watch(ed) Fox News, I wouldn't vote for me."
He elaborated by saying the network portrays him as an "unrecognisable character."
"I would watch it [and say] 'Who is that guy? This character named Barack Obama and he's just portrayed in these weird ways'," he said.
Current President Donald Trump regularly tweets about segments from Fox's morning show Fox and Friends, while criticising outlets such as CNN, the New York Times and the Washington Post.
Meanwhile, his predecessor, Mr Obama, warns that a lack of access to balanced and varied information is a direct threat against democracy.
"More and more we're fitting facts to suit our opinions rather than formulating our opinions based on facts, and this poses a great danger because democracies cannot function if we cannot agree on a basic baseline of what is true and what is false," Mr Obama said.
"We're more connected than every before but it's also easier now to retreat into our own bubbles."
He added that it was also clear the "values of pluralism, of tolerance, the values of openness and the rule of law" were under threat.
"We have to promote these values every day because there's a competing narrative, these values are often under attack," he said.
World news in pictures

Show all 50
"We should feel confident about the progress we've made - in my lifetime and yours - but we shouldn't feel complacent."
In a clear reference to the current US president, Mr Obama also advised attendees at the Indian leadership conference not to tweet "the first thing that pops in your head. Have a little bit of an edit function."
The former president was also met with laughter when he said there was currently "a little bit of a pause in American leadership."
Join our new commenting forum
Join thought-provoking conversations, follow other Independent readers and see their replies