Barack Obama to serve the US again – by doing jury service
'He made it crystal-clear he would carry out his public duty as a citizen and resident of this community,' Chicago judge tells local newspaper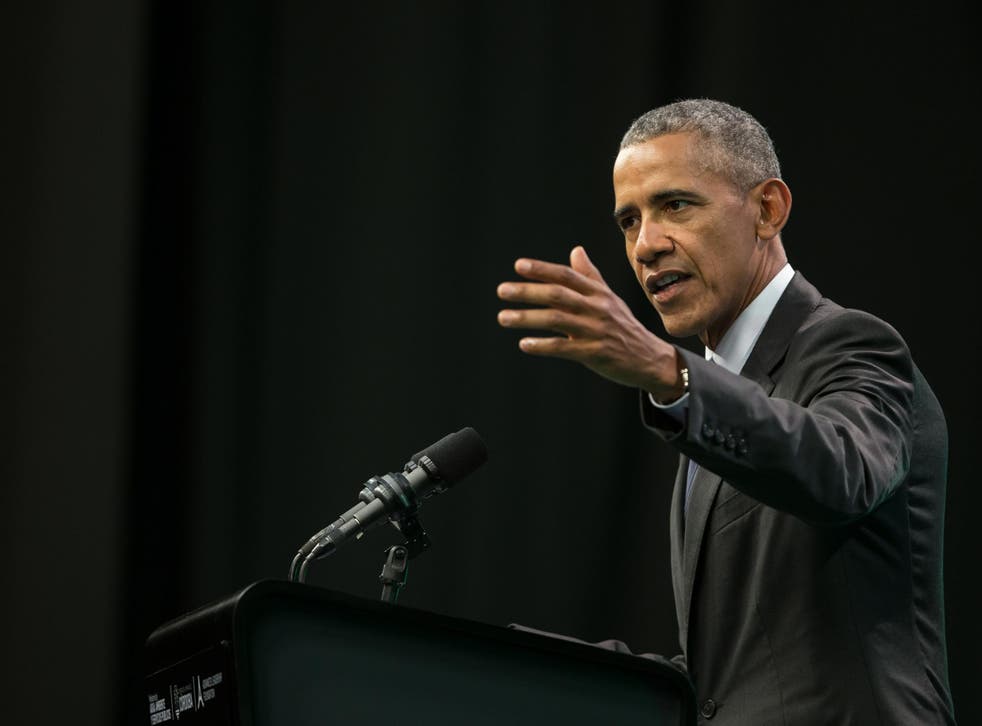 Former president Barack Obama is to serve the US again, this time by doing jury duty.
The ex-president has been called for jury service in Chicago and a judge there has been quoted as saying he plans to show up at court rather than excuse himself.
Tim Evans, chief judge in Chicago's Cook County, is said to have confirmed that Mr Obama, who taught constitutional law at the University of Chicago before becoming president, will serve on a jury in November.
The Chicago Tribune reported that Mr Evans informed county commissioners of the news during a budget hearing.
Mr Evans also told the Tribune: "He [Obama] made it crystal-clear to me through his representative that he would carry out his public duty as a citizen and resident of this community."
Mr Evans could not give the exact dates of Mr Obama's jury service, or say at which court he would serve. But the judge revealed that adjustments would be made at the court to ensure Mr Obama's security.
"His safety will be uppermost in our minds," said Mr Evans. "Obviously we will make certain that he has all the accoutrements that accompany a former president."
Mr Obama has a home in the Kenwood area of Chicago, as well as a property in Washington.
Barack Obama's best moments in the White House

Show all 11
He has been summoned for Chicago jury service before, in 2010, but he was unable to attend because he was president of the US at the time.
Donald Trump did jury service in New York in August 2015, when he was a presidential candidate.
He arrived at the State Supreme Court in Lower Manhattan in a stretch limousine. He spent a day waiting to be called to sit in on a civil hearing, but was not needed because the court had a small caseload.
After spending time with his fellow jurors, he declared them "amazing people" and said the experience had been "really good."
"People are surprised I agreed to do this," he added. "I'm not surprised. I think it's the right thing to do."
It was reported that he had previously failed to respond to at least five jury summonses, going back to 2006, because – his lawyer said – he had never received the letters as they were sent to the wrong address.
Mr Obama will probably become Chicago's most high-profile juror, although Oprah Winfrey and A-Team star Mr T have also been called for jury service there.
Ms Winfrey served in 2004 and helped decide a guilty verdict on a 27-year-old man accused of first-degree murder.
Mr T, real name Lawrence Tureaud, arrived for jury service in August 2014 declaring "I pity the criminals today", but in the end was not selected from the pool of jurors to hear a trial.
Those called for jury service in Chicago can be put in either the pool for criminal cases or civil hearings.
They can be called to any of the county's Chicago or suburban courthouses. All jurors watch a decades-old video about their duties narrated by a mustachioed Lester Holt, once a local news reader and now anchor of NBC Nightly News.
Jurors in Cook County are paid 17.20 US dollars (£13.10) for each day of service. It was not immediately clear whether Mr Obama planned to accept the payment.
Register for free to continue reading
Registration is a free and easy way to support our truly independent journalism
By registering, you will also enjoy limited access to Premium articles, exclusive newsletters, commenting, and virtual events with our leading journalists
Already have an account? sign in
Register for free to continue reading
Registration is a free and easy way to support our truly independent journalism
By registering, you will also enjoy limited access to Premium articles, exclusive newsletters, commenting, and virtual events with our leading journalists
Already have an account? sign in
Join our new commenting forum
Join thought-provoking conversations, follow other Independent readers and see their replies