Barack Obama recounts tearful moment he dropped Malia off at Harvard University
'It was a little bit like open-heart surgery,' says former US President
Maya Oppenheim
Wednesday 27 September 2017 12:48 Comments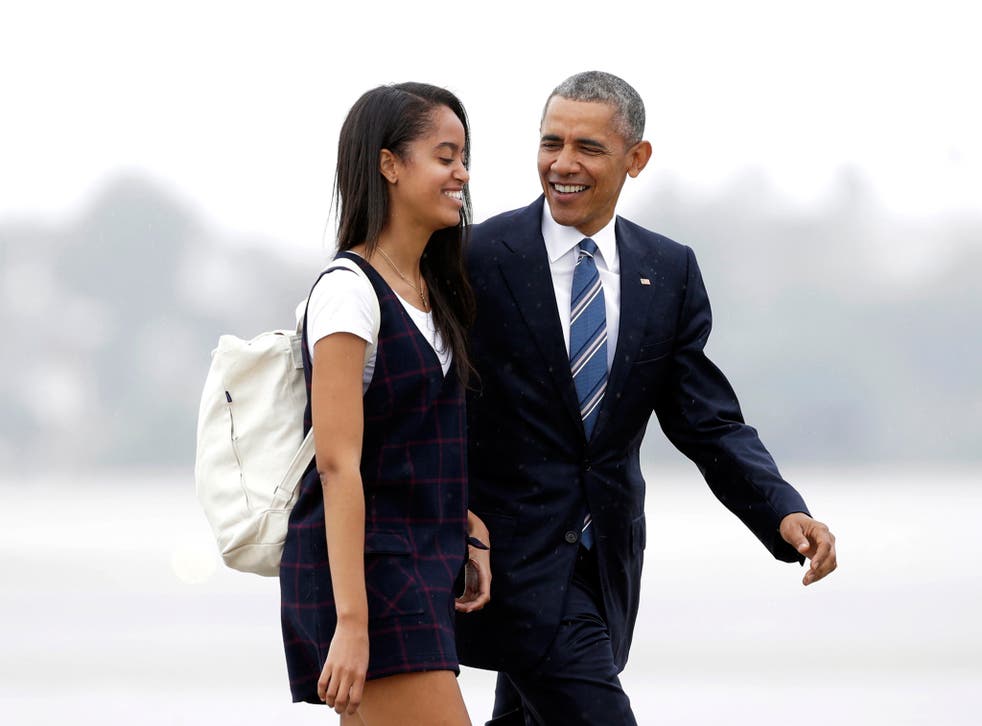 Barack Obama has said dropping his daughter Malia off at university was such an emotionally charged experience it felt like "open-heart surgery".
The former US President congratulated himself for managing not to break down in tears in front of his eldest daughter at Harvard University.
But Mr Obama admitted he became tearful after the 19-year-old left to embark on her first year and said delivering her reminded him of the importance of family.
"For those of us who have daughters, it just happens fast. I dropped off Malia at college, and I was saying to Joe and Jill [Biden] that it was a little bit like open-heart surgery," he said during an event for the Beau Biden Foundation on Monday.
"I was proud that I did not cry in front of her. But on the way back, the Secret Service was off, looking straight ahead, pretending they weren't hearing me as I sniffled and blew my nose. It was rough."
Mr Obama, who left the White House in January, called the experience "a reminder that, at the end of our lives, whatever else we've accomplished, the things that we'll remember are the joys that our children – and hopefully way later, our grandchildren – bring us".
Michelle Obama as the First Lady

Show all 11
The former President has often discussed how important fatherhood is to him and used his presidential farewell address to tell his daughters: "Of all that I've done in my life, I am most proud to be your dad."
Malia starts her undergraduate degree at Harvard after taking a gap year. The former world leader and first lady were spotted helping her move into her university room at the end of August.
Last summer, she graduated from Sidwell Friends school, a private school in Washington which was attended by Chelsea Clinton, Tricia Nixon Cox, and Archibald Roosevelt.
Malia gained global attention at the beginning of the year for joining a protest against the Dakota Access pipeline held at the Sundance Film Festival. She was thought to have left her family's Caribbean holiday to attend the largest independent film festival in the US.
After Donald Trump's victory and the defeat of the first female presidential candidate, Mr Obama told Malia and her 16-year-old sister Sasha to remain positive and fight for people, encouraging them not to worry about an "apocalypse" but focus on moving forward.
Register for free to continue reading
Registration is a free and easy way to support our truly independent journalism
By registering, you will also enjoy limited access to Premium articles, exclusive newsletters, commenting, and virtual events with our leading journalists
Already have an account? sign in
Join our new commenting forum
Join thought-provoking conversations, follow other Independent readers and see their replies