Barack Obama pledges energy cash to light up Africa's darkness
US President promises funding to provide 'the energy to lift people out of poverty' by doubling Africans' access to electricity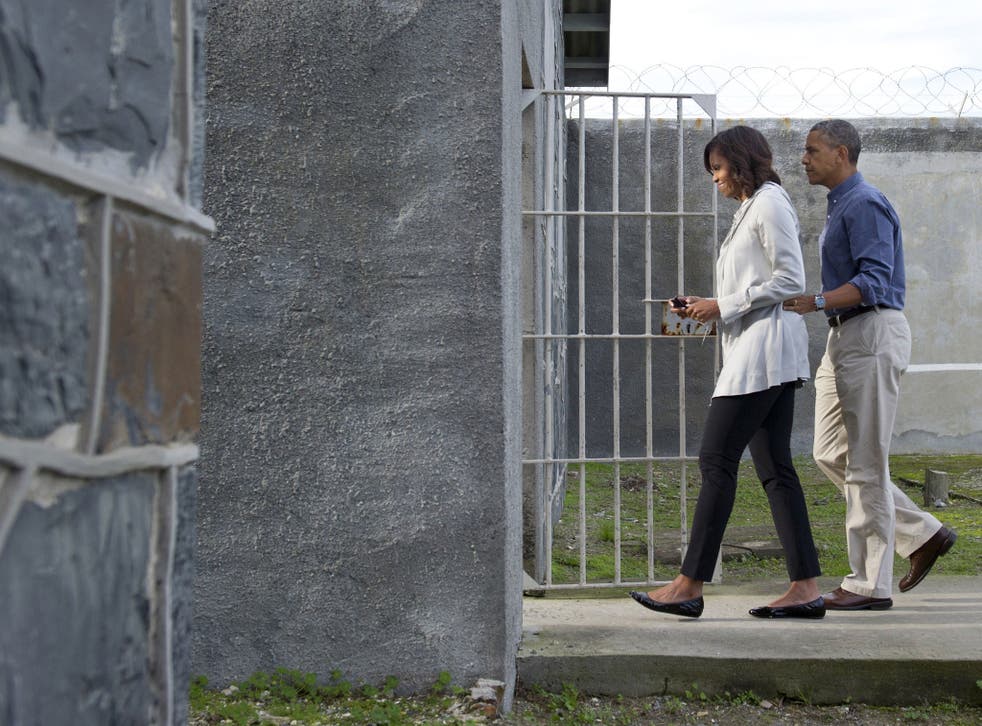 US President Barack Obama finally found a way to illuminate a so-far underwhelming tour of Africa tonight with a promise to double Africans' access to electricity. In an emotional address to students at the University of Cape Town he promised "a light where currently there is darkness".
In the keynote speech of a three-country tour of his father's home continent – his first dedicated trip to Africa since taking office – Mr Obama said the funding would provide "the energy to lift people out of poverty".
Mr Obama said his government would provide $7bn (£4.6bn) in public funding, as well as $9bn from the US private sector, for the "power Africa" initiative. He also announced that the US would be inviting African heads of state to a summit in Washington next year to address continental issues: "I'm calling for America to up our game when it comes to Africa," he said, promising to move beyond aid to a "new model of partnership".
In Senegal and South Africa the American leader has faced the accusation that in leaving the trip to his second term he has ignored Africa. While enjoying nothing of Mr Obama's superstar status on the continent, his predecessor, George Bush, left a significant legacy in the form of a sweeping expansion of HIV/Aids treatment. His relief programme, Pepfar, released $15bn in funds for anti-retroviral medicines, and is estimated to have saved more than one million lives.
Fewer than a third of households in sub-Saharan Africa have electricity, according to the World Bank. In rural areas that number falls to one in 10. Africa accounts for more than a sixth of the world's population, but generates only 4 per cent of global electricity. Its energy poverty is captured in night-time satellite photographs that show a dark continent as unlit as Siberia.
That picture is already changing with hydropower projects in Ethiopia and Uganda, among others, while Africa's largest wind farm is due to be built in Kenya, where Mr Obama's father was born. Meanwhile, the World Bank is to invest in the ambitious Inga III dam on the Congo river – a mega-project that could power much of sub-Saharan Africa but has long been seen as a costly white elephant.
As always the word "hope" has shadowed Mr Obama's every move. His Africa trip has been overshadowed by the critical illness of Nelson Mandela, the former South African President, possibly the only world figure whose name is even more strongly associated with the word.
Last night's address was delivered in the same venue where nearly 50 years ago Robert F Kennedy delivered his famous "ripple of hope" speech in which he denounced the "racial inequality of apartheid". Mr Kennedy spoke two years after Mr Mandela was sentenced to life in prison.
Eighteen of the 27 years he served behind bars were spent in the windswept Robben Island prison, which the US President visited on Sunday with his family. They were guided by the 83-year-old Ahmed Kathrada, a friend of Mr Mandela who was incarcerated with him, and visited the cell in which Mr Mandela was held.
"On behalf of our family, we're deeply humbled to stand where men of such courage faced down injustice and refused to yield," Mr Obama wrote in the guest book. "The world is grateful for the heroes of Robben Island who remind us that no shackles or cells can match the strength of the human spirit."
Mr Obama described the effect the visit had had on his daughters, Malia, 14, and Sasha, 12. "Seeing them stand within the walls that once surrounded Nelson Mandela, I knew this was an experience they would never forget," he said. "I knew they now appreciated a little bit more [the sacrifices] that Madiba [Mr Mandela's clan name] and others had made for freedom."
There has been none of the electric excitement of Mr Obama's previous stopover in Ghana in 2009, soon after he was elected president for the first time. The only country that might have shown such adulation was Kenya, which was snubbed in favour of its neighbour, Tanzania. Although an inevitable consequence of this year's election of a presidential ticket headed by Uhuru Kenyatta and William Ruto – two men indicted by the International Criminal Court – the US President's absence has been keenly felt.
The noisy, if small, protests that have dogged Mr Obama on his African tour are similar to those that would have met any of his predecessors. And that is what has so disappointed many of his former admirers on the continent.
Many young Africans feel that the sense of promise that infused Mr Obama's first campaign has not been fulfilled. Aiden Kokong, one of the students at an anti-Obama demonstration in Pretoria summed up the disenchantment: "Your popularity fades when you make promises you don't keep."
Register for free to continue reading
Registration is a free and easy way to support our truly independent journalism
By registering, you will also enjoy limited access to Premium articles, exclusive newsletters, commenting, and virtual events with our leading journalists
Already have an account? sign in
Register for free to continue reading
Registration is a free and easy way to support our truly independent journalism
By registering, you will also enjoy limited access to Premium articles, exclusive newsletters, commenting, and virtual events with our leading journalists
Already have an account? sign in
Join our new commenting forum
Join thought-provoking conversations, follow other Independent readers and see their replies