Barack Obama says 50 countries will take in 360,000 refugees this year in UN address
'We must recognise that refugees are a symptom of larger failures - be it war, ethnic tensions or persecution'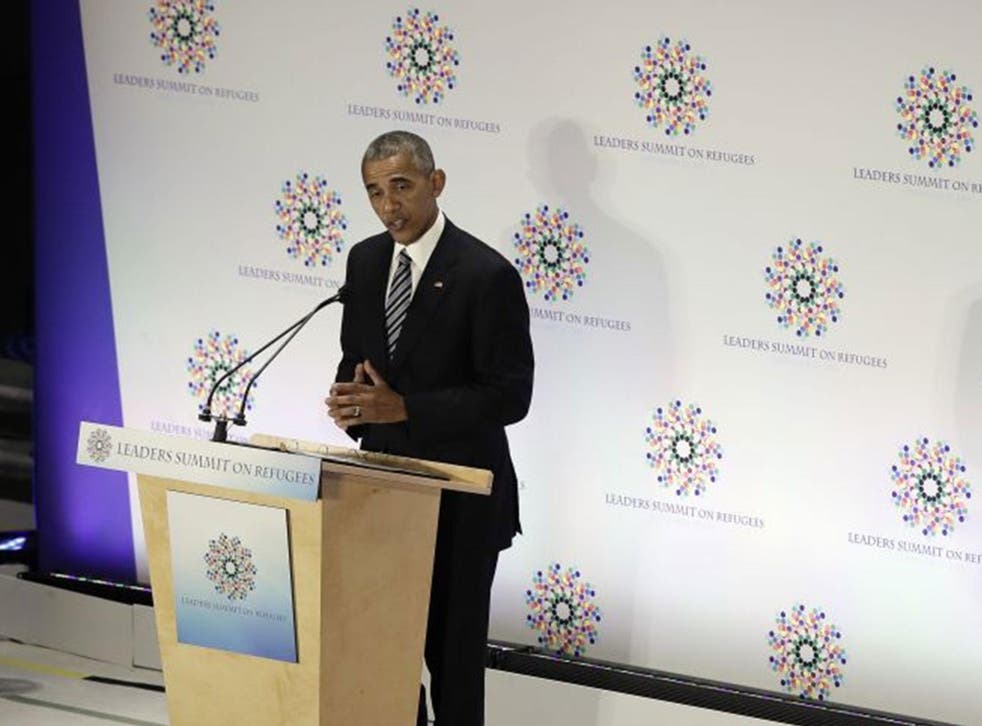 A summit hosted by US President Barack Obama garnered pledges from dozens of countries to resettle or allow the lawful admission of some 360,000 refugees, doubling the number of slots that were available last year, the US envoy to the United Nations said.
But Ambassador Samantha Power said that was "still only a fraction" of what was needed because the UN refugee agency, UNHCR, has assessed that some 1.2 million refugees need to be resettled.
Countries could only attend Mr Obama's summit at the annual UN gathering of world leaders if they made a pledge.
Refugee crisis - in pictures

Show all 27
Mr Obama told the summit that the refugee crisis was "a test of our international system where all nations ought to share in our collective responsibilities, because the vast majority of refugees are hosted by just 10 countries."
"We must recognise that refugees are a symptom of larger failures - be it war, ethnic tensions or persecution," he said.
Obama said the more than 50 countries and international organizations that participated in the summit had collectively increased their contributions to humanitarian groups and UN appeals this year by some $4.5 billion (£3.5 billion).
Carey Mulligan speaks at War Child event ahead of UN refugee summit
Ms Power said there were also pledges to increase the number of refugees in school by some one million globally.
"As we've seen in the past, countries have a bad habit of coming to pledging conferences and making commitments and then not delivering," she said. "We have to do better on this occasion."
"The real measure of the summit will only be what countries do and who they help," she added.
Mr Obama has also rallied businesses to help address the refugee crisis and met with business leaders just before the summit on Tuesday, who he said had made commitments worth more than $650 million (£500 million) to empower refugees.
With a record 21.3 million refugees globally, the 193-member General Assembly adopted a political declaration on Monday in which they also agreed to spend two years negotiating global compacts on refugees and safe, orderly and regular migration.
Reuters
Register for free to continue reading
Registration is a free and easy way to support our truly independent journalism
By registering, you will also enjoy limited access to Premium articles, exclusive newsletters, commenting, and virtual events with our leading journalists
Already have an account? sign in
Register for free to continue reading
Registration is a free and easy way to support our truly independent journalism
By registering, you will also enjoy limited access to Premium articles, exclusive newsletters, commenting, and virtual events with our leading journalists
Already have an account? sign in
Join our new commenting forum
Join thought-provoking conversations, follow other Independent readers and see their replies