Barack Obama to make official visit to Cuba - the first sitting president to do so in almost 90 years
The planned visit comes after a series of efforts to improve ties between the countries
Andrew Buncombe
New York
Thursday 18 February 2016 13:24 Comments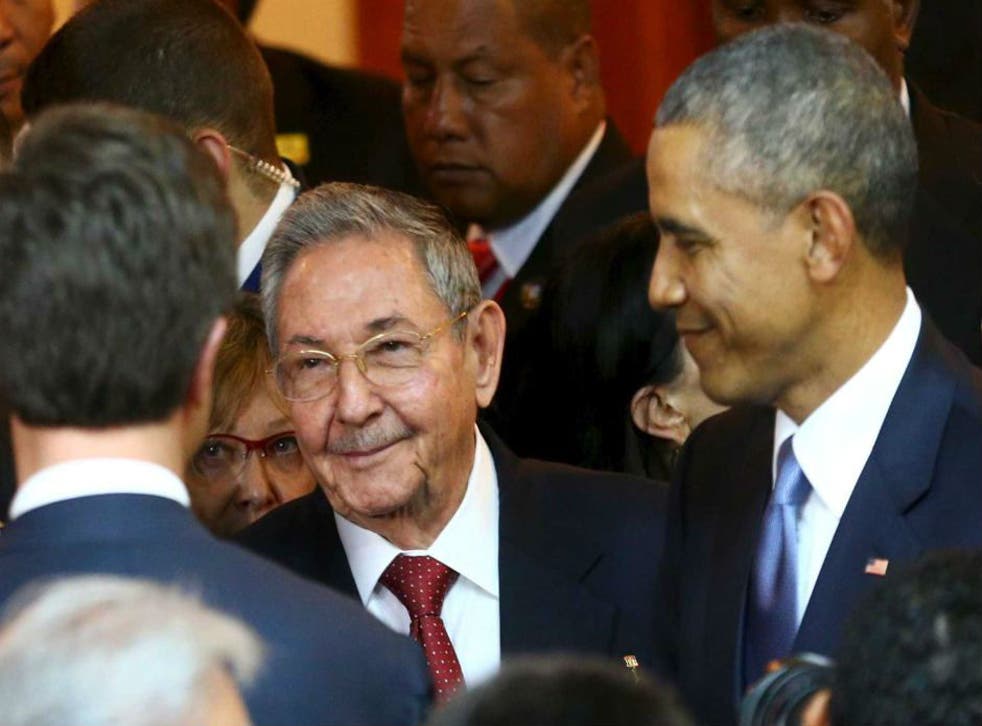 Barack Obama is planning to make what would be an historic visit to Cuba – the first sitting US president to do so since the 1920s.
In a development that reopened the debate over improved US-Cuba relations and triggered a wave of criticism from senior Republicans, Mr Obama confirmed that he will visit the country for a two-day visit on March 21-22. He said on Twitter that he would hold talks with Cuban leader Raul Castro.
The Associated Press said the visit will mark a watershed moment for relations between the US and Cuba, which were estranged for more than half a century after Fidel Castro seized power.
Since late 2014, the two countries have worked to restore diplomatic and some commercial ties, and embassies were formally opened in each other's capital cities A presidential visit is seen as a key next step toward bridging the divide.
It is likely Mr Obamas stop in Cuba will be part of a broader trip to Latin America that the president will take next month, said officials.
In December, Mr Obama told Yahoo News he wanted to meet political dissidents in Cuba to help "nudge the Cuban government in a new direction".
"I've made very clear in my conversations directly with President [Raul] Castro that we would continue to reach out to those who want to broaden the scope for, you know, free expression inside of Cuba," he said.
But a number of senior Republicans were quick to criticise the plan, which would make Mr Obama the first sitting US president to visit the island since Calvin Coolidge in 1928.
Presidential candidates Marco Rubio and Ted Cruz, both sons of Cuban migrants, said the visit was a mistake.
Asked whether he should go, Mr Rubio said: "Not if it's not a free Cuba."
"Today, a year and two months after the opening of Cuba, the Cuban government remains as oppressive as ever," Mr Rubio added on CNN.
Flights from US expected to boost Cuban tourist industry
Mr Cruz said Mr Obama would be acting "as an apologist".
With less than a year left in office, Obama has been eager to make rapid progress on restoring economic and diplomatic ties to cement warming relations with Cuba that his administration started.
Following secret negotiations between their governments, Mr Obama and Raul Castro, the brother of Fidel, announced they would begin normalising ties, and months later held the first face-to-face meeting between an American and Cuban president since 1958.
But Mr Obama, facing steadfast opposition to normalised relations from Republicans and some Democrats, has been unable to deliver on Cuba's s biggest request: the lifting of the U.S. economic embargo. That would require a vote by Congress and opponents argue that repealing those sanctions would reward a government still engaging in human rights abuses.
Congresswoman Ileana Ros-Lehtinen, a Florida Republican born in Cuba, called the visit "absolutely shameful".
"For more than 50 years, Cubans have been fleeing the Castro regime," said Ms Lehtinen, the longest-serving Cuban-American in Congress.
"Yet the country which grants them refuge - the United States - has now decided to quite literally embrace their oppressors."
On Tuesday, the two nations signed a deal restoring commercial air traffic as early as later this year, eliminating a key barrier to unfettered travel that isolated Cuban-Americans from their families for generations.
Hundreds of thousands more Americans are expected to visit Cuba per year under the deal, which cleared the way for the US Department of Transportation to open bidding by American air carriers on as many as 110 flights a day. Currently, there are about one-fifth as many flights operating between the two countries, all of them charters.
According to the State Department historian's office, President Harry Truman visited the US-controlled Guantanamo Bay and its naval base on the southeast end of the island in 1948 and former President Jimmy Carter has paid multiple visits to the island since leaving office in January 1981.
Register for free to continue reading
Registration is a free and easy way to support our truly independent journalism
By registering, you will also enjoy limited access to Premium articles, exclusive newsletters, commenting, and virtual events with our leading journalists
Already have an account? sign in
Register for free to continue reading
Registration is a free and easy way to support our truly independent journalism
By registering, you will also enjoy limited access to Premium articles, exclusive newsletters, commenting, and virtual events with our leading journalists
Already have an account? sign in
Join our new commenting forum
Join thought-provoking conversations, follow other Independent readers and see their replies