Barron Trump takes classmates to meet the US President on White House tour
'He was so excited to show his classmates around the White House,' says source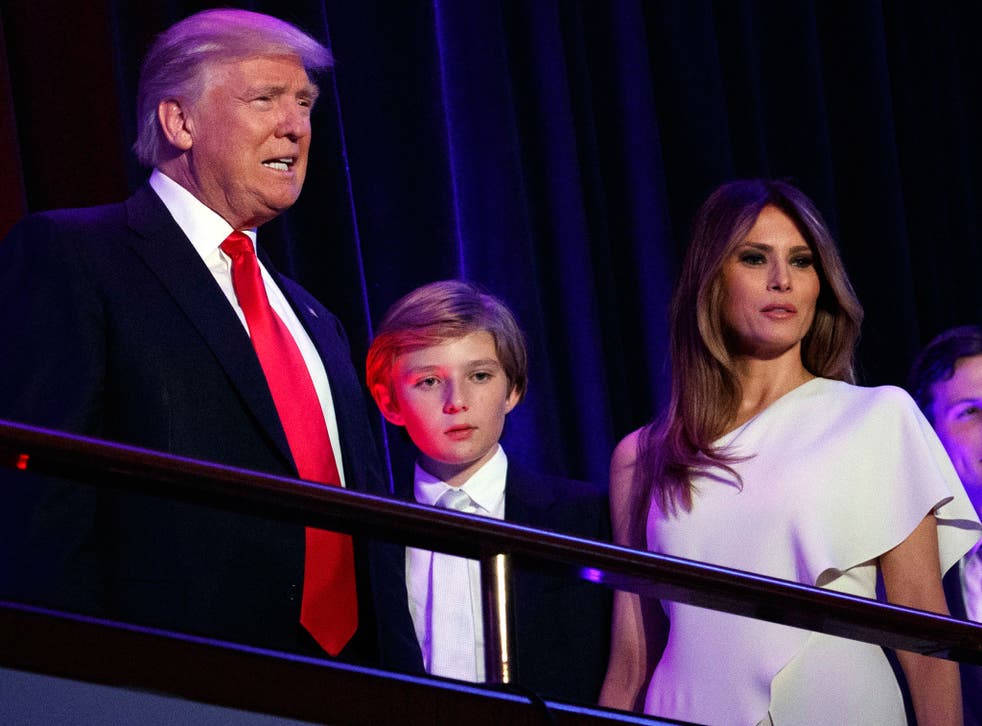 Barron Trump has taken his entire class to Washington DC to meet his father President Donald Trump and take part in a tour of the White House.
Around 80 children from Barron's school, Columbia Grammar and Preparatory School which is on the Upper West Side of Manhattan, travelled to Washington on a bus escorted by both their teachers and Secret Service agents.
Barron, the President's youngest child who is just 11-years-old, and the group of school pupils are said to have embarked on a tour of Washington last week and stayed at a hotel overnight before heading back to New York the next day.
"All the kids got dressed up: The girls were in dresses and the boys wore khaki pants and button-downs. It was so cute," a source told the New York Post.
"They had a buffet lunch and a tour of the White House and met the president and the First Lady, Melania Trump. President Trump gave them all a rousing speech about living up to your potential and being the best you could be for your country.
"Barron was really sweet. He was so excited to show his classmates around the White House."
Donald Trump's first 100 days: in cartoons

Show all 33
It has recently been announced that Barron, who is Donald and Melania Trump's only child, will attend an elite private school outside Washington when he moves to the White House this summer. He will start St Andrew's Episcopal School in Maryland, where school fees cost almost $40,000 (£31,000) per year, at the beginning of the academic year.
The White House initially intended to postpone making the announcement until summer - partly because they were worried St Andrew's could be plagued by protests while school was still in session.
However Ms Trump has now been forced to issue a statement about Barron attending the school after school leaders informed parents of the decision in a newsletter on Monday.
The First Lady and Barron, who was subject to a barrage of memes mocking his facial expressions and accusing him of being bored during inauguration day, are expected to leave Trump Tower in New York after the end of the current school year. They have stayed in their New York penthouse since President Trump's inauguration in January.
In a statement, Ms Trump said she chose St Andrew's Episcopal school because "it is known for its diverse community and commitment to academic excellence".
"The mission of St Andrew's is 'to know and inspire each child in an inclusive community dedicated to exceptional teaching, learning, and service', all of which appealed to our family. We look forward to the coming school years at St Andrew's," she said in a statement.
A representative for the White House did not immediately respond to request for comment.
Join our new commenting forum
Join thought-provoking conversations, follow other Independent readers and see their replies