Bear hangs out on a hammock, runs off, comes back to hang out in the hammock again
Black bear was wandering around looking for food, stayed in the hammock for 20 minutes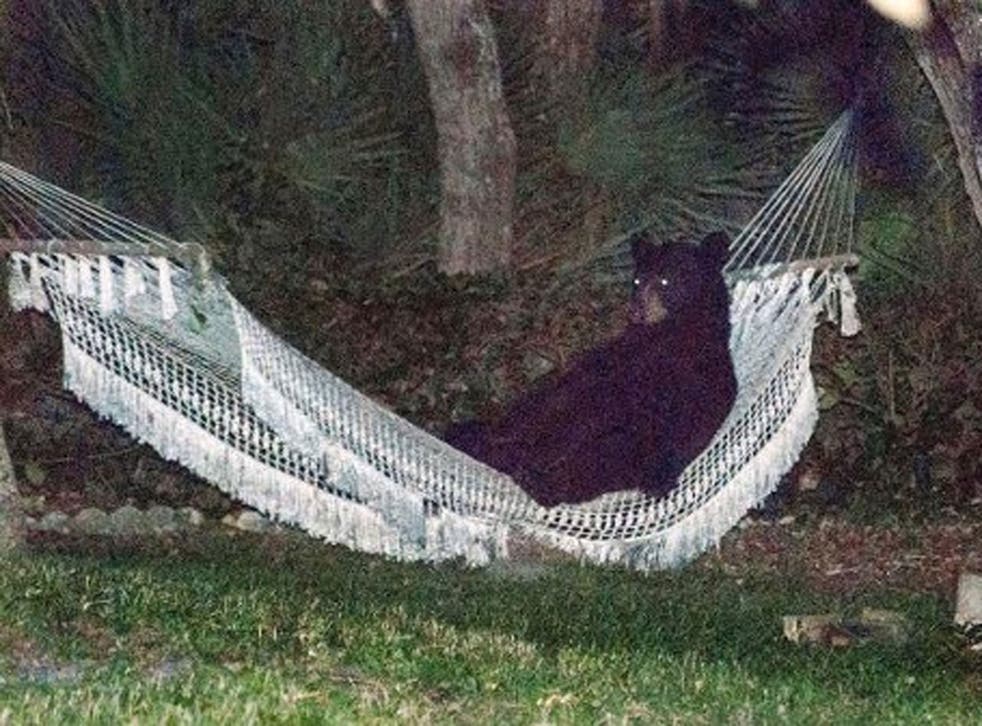 VIDEO: It's hard work being a bear, especially one that tears through people's bins on the lookout for food. Every now and again they deserve a rest.
And that is exactly what this bear did when it found a local resident's hammock to lie in.
After knocking over people's bins in the search for food in the area of Daytona Beach, Florida, a black bear walked into one of the resident's gardens and sat comfortably in their hammock.
"He got in the hammock like he was a tourist or something, then something spooked him and he ran right back there," said Vincent James, the owner of the hammock, to news station Wesh Orlando.
"Then half an hour later I come back and I saw there he is in the hammock again."
Rafael Torres, a photographer who caught shots of the bear on his local jaunt, said he followed the bear as it climbed up into the hammock and was about 60 feet away when he took the photos.
Mr Torres said the bear stayed in the hammock for about 20 minutes before making his way back into the woods.
The bear has reportedly been sighted several times in the neighbourhood since Wednesday.
Register for free to continue reading
Registration is a free and easy way to support our truly independent journalism
By registering, you will also enjoy limited access to Premium articles, exclusive newsletters, commenting, and virtual events with our leading journalists
Already have an account? sign in
Register for free to continue reading
Registration is a free and easy way to support our truly independent journalism
By registering, you will also enjoy limited access to Premium articles, exclusive newsletters, commenting, and virtual events with our leading journalists
Already have an account? sign in
Join our new commenting forum
Join thought-provoking conversations, follow other Independent readers and see their replies