Man rescued after being stalked and repeatedly attacked by grizzly bear for a week
'He said that the bear kept coming back every night and he hadn't slept in a few days,' US Coast Guard pilot says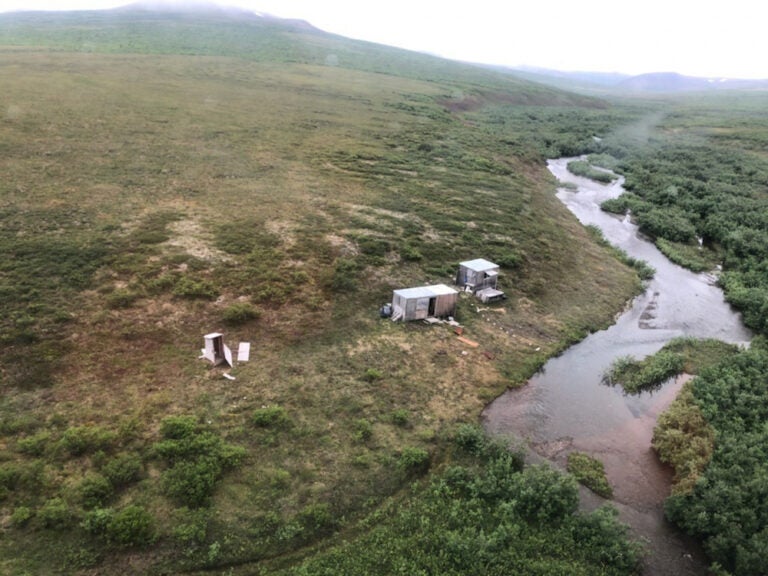 A man has been rescued after spending a week fighting off a grizzly bear in the Alaskan wilderness. With injuries to his leg and torso, and running on a mixture of adrenaline, sleep deprivation and just two remaining rounds of ammunition for his pistol, he was finally spotted by a Coast Guard pilot, Lieutenant Commander Jared Carbajal.
Commander Carbajal needed no more than the bare necessities of observation to see that something was very wrong when he spotted an SOS sign and "help me" scrawled on the tin roof of a shack in the wilderness some 40 miles from the old gold-rush town of Nome, and beside it a man desperately trying to get his attention by waving both hands in the air.
Upon landing at the remote mining camp, the man explained to the US Coast Guard that he had been attacked by a grizzly bear and had spent a sleepless week warding off repeat visits from the wild animal – even the shack's door had been ripped off. The man, who has not yet been identified, relayed an extreme tale of perilous survival to his rescuers that bore grisly comparisons to the Academy Award-winning 2015 film The Revenant, in which Leonardo DiCaprio fights with a bear and is left for dead.
The unidentified man, in his fifties or sixties, told the US Coast Guard that he'd arrived at the camp on 12 July. Some days later, near the mining camp, he encountered the grizzly, which dragged him to a nearby river.
He managed to escape the bear's clutches, sustaining injuries to his leg and chest, and found his way back to a hut at the camp, where he treated his wounds. His fortunes did not improve, however. "He said that the bear kept coming back every night and he hadn't slept in a few days," Commander Carbajal told The New York Times.
That the Coast Guard spotted the bear-haunted man at all was a piece of remarkable good luck, since Commander Carabajal's helicopter crew, flying out of Kodiak, had been on its way to a mission elsewhere when it changed course by about a mile to avoid a patch of bad weather. "If we would have been in the next river valley over," Commander Carbajal told the Times, "we would have totally missed him."
"He definitely looked like he had been out there for a while," added co-pilot Lieutenant Junior Grade AJ Hammac.
The Coast Guard helicopter transported the injured man to Nome, where he insisted on walking to the waiting ambulance. "You could tell he was starting to come off of the adrenaline, I think, and started to realise what happened," Carbajal told The Times.
The Coast Guard said the incident served as a timely reminder for anyone heading into the wilderness to always carry an emergency beacon or satellite phone with them.
Join our commenting forum
Join thought-provoking conversations, follow other Independent readers and see their replies