First digital artwork NFT auctioned at Christie's sells for $69m
Blockchain creation described as 'one of the most unique bodies of work to emerge in the history of digital art'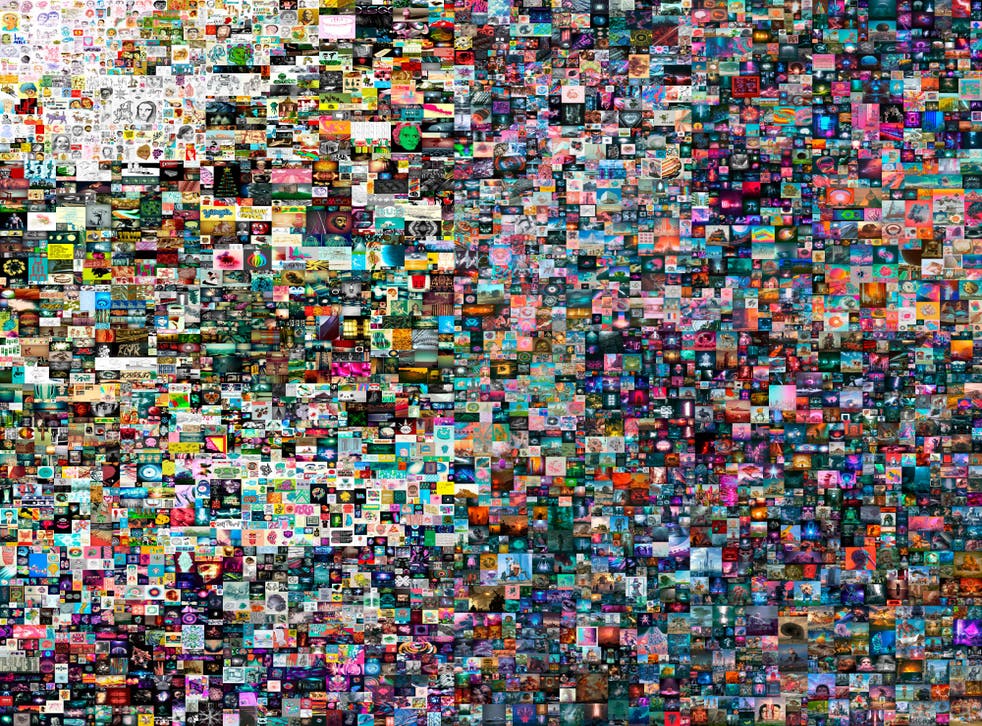 The first NFT digital artwork to be sold at auction by Christie's has become one of the most expensive pieces of digital art ever, and positioned the man behind the work among the three most valuable living artists.
Called Everydays: The First 5000 Days, the piece of "non-fungible token" (NFT) art was sold on Thursday morning for $69m (£49.4m).
It was created by the American artist Beeple, who set out to create "a new digital picture every day for 5,000 days straight" using NFTs – a form of token, or blockchain, attached the pictures – in 2007.
The pictures were then digitally put together to form the piece, which went to auction this week.
NFT art has become increasingly popular, with recent artworks by Beeple, whose real name is Mike Winkelmann, being sold online for thousands of dollars.
Read more: What is an NFT and how do you buy it? The new 'bitcoin for art' trend explained
While NFT artists retain copyright and reproduction rights, as with physical pieces of art, the NFT art allows full ownership of the original piece, which can be proven by the technology behind the NFT.
It also follows the rise of cryptocurrency technologies, and the desire for digital artists to have greater ownership of their work.
Christie's described The First 5000 Days as "one of the most unique bodies of work to emerge in the history of digital art" before Thursday's event.
In a statement on Twitter, the world famous auction house added that Beeple's piece was "the 1st purely digital NFT based artwork offered by a major auction house" and put the motion artist "among the top three most valuable living artists" in the world.
The artist, who works from his home in South Carolina, told Christie's before the auction: "I almost look at it now like I'm a political cartoonist.
"Except instead of doing sketches, I'm using the most advanced 3D tools to make comments on current events, almost in real-time."
Read more: How bad is bitcoin for the environment really?
Social media users widely commented on the sale, with investors such as Chris Sacca writing: "Wow. Beeple. $69m for a purely digital work. No matter how you feel about NFT's, don't look away from this."
"It's okay to not get why someone would pay that, and it's okay to be bummed about the climate impact. But don't be wilfully ignorant about what's happening," Mr Sacca added, in reference to concerns about the environmental impact of bitcoin technologies.
Others congratulated the artist for making history with the digital piece, whose new owner has not been identified.
Join our new commenting forum
Join thought-provoking conversations, follow other Independent readers and see their replies