Bernie Sanders tells students election is not about Hillary Clinton or Donald Trump - but please vote for Hillary
The former presidential candidate is helping to get more millennials on side as the election approaches
Rachael Revesz
New York
Thursday 06 October 2016 21:10 Comments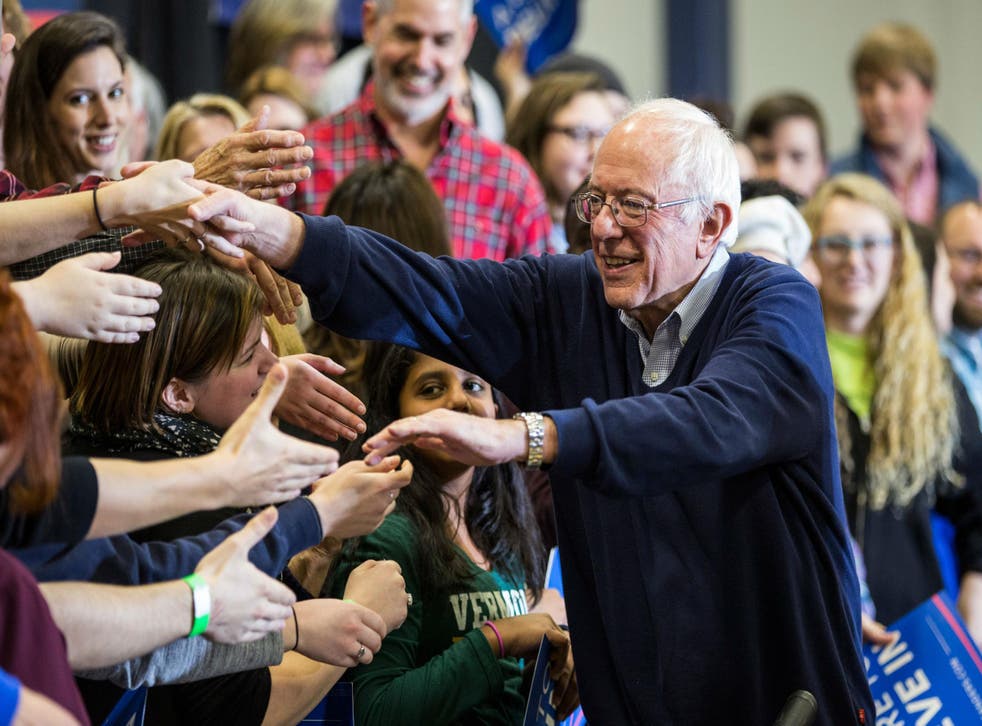 With less than five weeks to go until election day, Bernie Sanders has been ramping up his visits to college and university campuses, aiming to get as many millennials on side as possible before 8 November.
This week the focus is on Michigan, the swing state where he was followed around by student fans like a member of the Beatles before winning the 8 March primary.
Hillary Clinton is now in dire need of those so-called "basement dwellers" and "baristas", as she called them, amongst whom she is polling lower in recent months.
Many younger voters and ardent supporters of Mr Sanders switched their allegiance to independent candidates like Jill Stein after the Vermont senator dropped out of the race.
But the Democrat, as part of a four-city trip, told hundreds of students in Dearborn, Michigan, that the election was not a "personality contest".
"We're not voting for class president of our high school. We are fighting. And what this campaign is about is the survival of the middle class," he said, as reported by the Detroit Free Press.
"This campaign is not about Donald Trump or Hillary Clinton. It is about you, and your family, and your kids."
Even though he strongly criticised Ms Clinton's ties to Wall Street and anti-climate change industries during the primaries, he has adopted a new approach since quitting the race in July.
"We've got a message for Mr Trump and the other billionaires: Hillary Clinton is going to be elected president and they're all going to start paying their fair share," he told the crowd, referring to Mr Trump's speculated evasion of federal income tax for almost two decades.
In Michigan, a state with 16 electoral votes, the senator has pushed the concept that the middle class is at stake while the billionaires "take over everything".
He also touted what is perceived to be a Trump-esque line, urging pro-union voters to set an example and start producing their products in the US instead of abroad, and voicing criticism of trade deals like TPP and NAFTA.
But he insisted that Mr Trump should never make it to the White House.
"What we have got to do ... is number one, make sure Donald Trump and his bigotry must not become president of the United States," he said.
Register for free to continue reading
Registration is a free and easy way to support our truly independent journalism
By registering, you will also enjoy limited access to Premium articles, exclusive newsletters, commenting, and virtual events with our leading journalists
Already have an account? sign in
Join our new commenting forum
Join thought-provoking conversations, follow other Independent readers and see their replies