Bernie Sanders calls Donald Trump's new EPA chief 'pathetic' for climate change stance
The Vermont senator says Scott Pruitt's position on global warming is: 'Pathetic'
Chantal da Silva
Friday 10 March 2017 16:04 Comments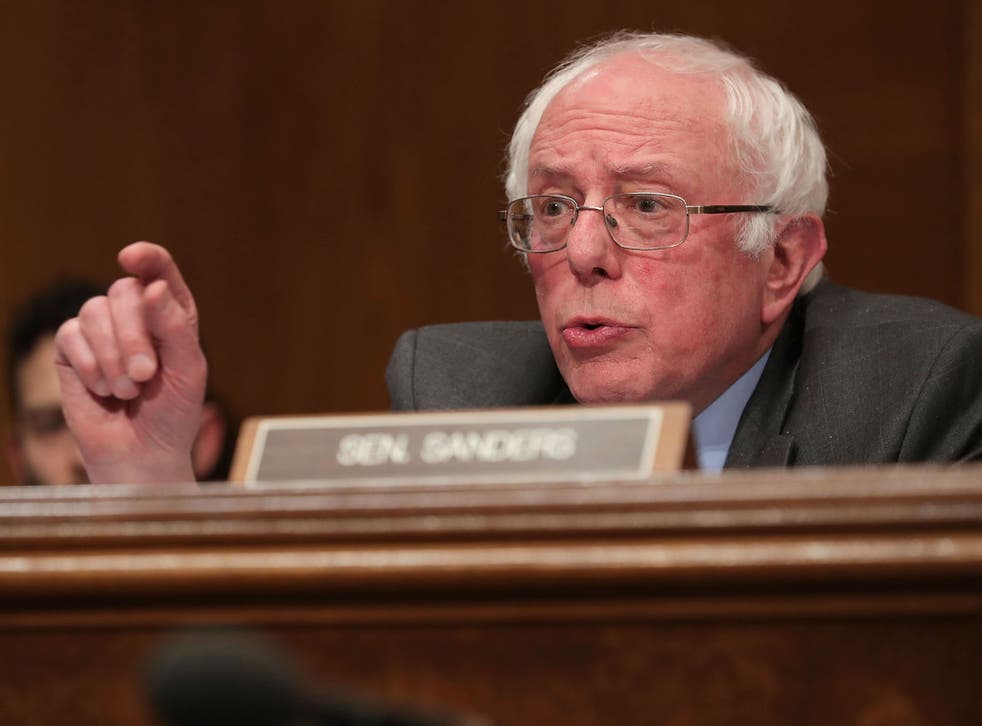 Bernie Sanders has criticised the new head of the Environmental Protection Agency (EPA), after he expressed doubts about carbon dioxide being a "primary contributor" to climate change.
The former Democratic presidential candidate called Scott Pruitt's position "pathetic".
"I wish I could come up with another word," Mr Sanders told CNN, adding that Mr Pruitt's denial came "in the face of overwhelming scientific evidence".
"Not only is it sad," he said. "It is a real threat to the wellbeing of this country and the world."
Mr Pruitt, who was picked by Donald Trump for the role, recently said that he does not believe carbon dioxide is a primary contributor to global warming.
"I think that measuring with precision human activity on the climate is something very challenging to do and there's tremendous disagreement about the degree of impact, so no, I would not agree that (carbon dioxide) is a primary contributor to the global warming that we see," he told US broadcaster CNBC.
He added: "We need to continue the debate and continue the review and the analysis."
Mr Pruitt is known for having close ties to the fossil fuel industry and has a history of attacking the EPA.
He sued the agency 13 times in his five years during his time as Oklahoma's attorney general.
Mr Sanders insisted that there was no debate to be had and he condemned Mr Pruitt's stance.
"The debate is over," said the Vermont senator. "Something like 97 per cent of the scientists who have written peer-reviewed articles on the subject agree that it is human activity and CO2 emissions that are causing devastating problems already in the United States and around the world.
"That you have the Trump administration continuing to deny the reality and the horrors that climate change is already causing is very sad indeed."
10 photographs to show to anyone who doesn't believe in climate change

Show all 10
Major scientific bodies around the world agree unanimously that rising levels of carbon dioxide and other greenhouse gases have been adding to the atmosphere's ability to trap heat – the main driver behind global warming.
A joint statement issued by Nasa and the US National Oceanic and Atmospheric Administration (NOAA) in January, said the latest figures show Earth's average surface temperature has risen by about 1.1 degrees Celsius since the late 19th century.
They added that the warming was "driven largely by increased carbon dioxide and other human-made emissions into the atmosphere".
The UK Met Office shared similar figures reached using different measures at around the same time.
"Carbon dioxide concentrations are rising every year because of emissions from burning fossil fuels, deforestation and cement production," it says on its website.
Mr Sanders also put out a call to action on Facebook, following his on-air interview.
"Secretary Pruitt is more concerned with his friends in the fossil fuel industry than protecting our planet," he said. "Don't mourn. Organize."
Register for free to continue reading
Registration is a free and easy way to support our truly independent journalism
By registering, you will also enjoy limited access to Premium articles, exclusive newsletters, commenting, and virtual events with our leading journalists
Already have an account? sign in
Join our new commenting forum
Join thought-provoking conversations, follow other Independent readers and see their replies