New WikiLeaks emails show more negative remarks against Bernie Sanders from Clinton campaign
The emails from Clinton campaign chairman John Podesta were released Wednesday
Rachael Revesz
New York
Wednesday 12 October 2016 20:43 Comments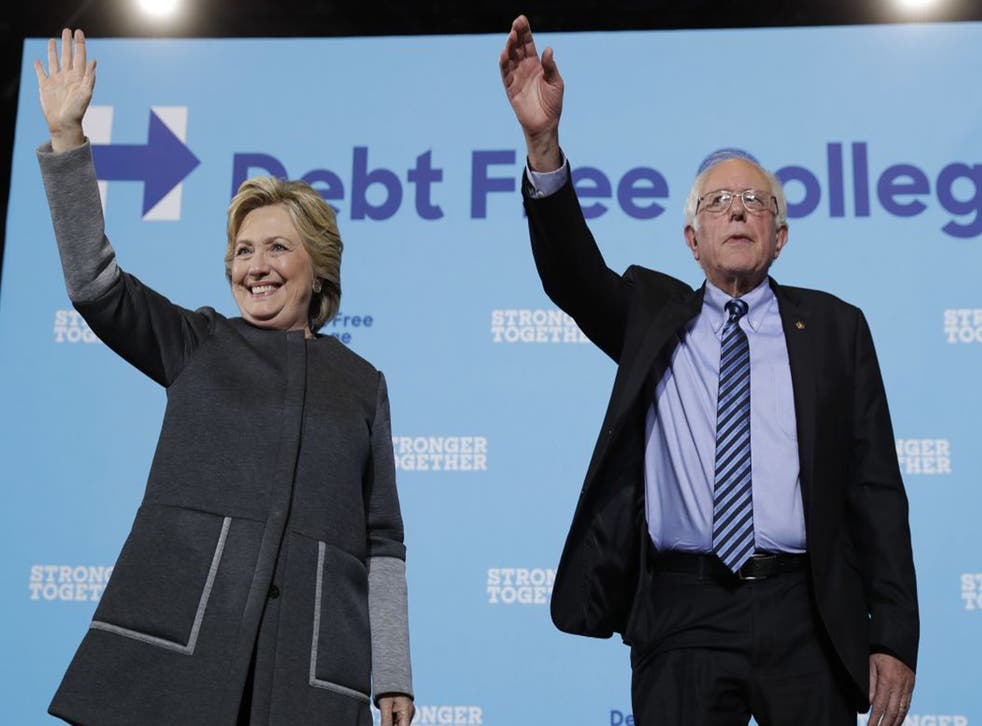 WikiLeaks' latest batch of emails belonging to Hillary Clinton's campaign chairman John Podesta has highlighted more strategies and negative remarks against Bernie Sanders.
The leak makes up almost 2,000 emails and is the fourth batch from Mr Podesta.
An email chain from January 2016 showed Ms Clinton's speechwriter, Dan Schwerin, discuss how to best approach Ms Clinton's supposed ties to Wall Street.
Ms Clinton reportedly told Mr Schwerin that she wanted to "go after" Mr Sanders on the topic as she considered his Wall Street plan "naive" and "unworkable", but communications adviser Mandy Grunwald said the better approach was not to "give him a fight".
"Our polling shows this is one of our weakest areas. Further, our Wall Street approach has always been to agree about the problem, show passion about it, and say we have a better approach to holding the rascals accountable," she wrote.
"We don't need to prove he's bad on Wall Street – that's not really credible. We need to prove we're ok. Most of all, we don't want this fight," she added.
After it was decided in February that the Iowa caucus would be decided on a coin toss, Tina Floury, CNN director of political research, emailed campaign manager Robbie Mook: "And now he's fundraising off of it."
Mr Mook replied: "Yet again, they fundraise off lies. Christina is pushing this around."
In an email from 20 March 2014, Mark Siegel, a former executive director of the Democratic National Committee, advised former Clinton aide Tamera Luzzatto on how best to keep the "Bernie people … marginally on board."
How Wikileaks shone light on world's darkest secrets

Show all 4
"If we 'give' Bernie this in the Convention's rules committee, his people will think they've 'won' something from the Party Establishment," Mr Siegel wrote.
"And it functionally doesn't make any difference anyway. They win. We don't lose. Everyone is happy."
The Bernie Sanders campaign could not be immediately reached for comment.
The emails also showed the Clinton campaign's apparent influence over certain media outlets.
Christina Reynolds, deputy communications director, was seen to communicate with publications like the New York Times, advising journalist Patrick Healy not to point to states where Donald Trump could do well.
"I think the first point is ok, but don't love pointing to states where we think he'll do well, unless that's just a total done deal," she wrote.
One day after the newspaper revealed that emails from Ms Clinton's private email server contained top secret information in July 2015, the Associated Press received an email from former Clinton adviser Neera Tanden to be thanked for their help in diffusing an unidentified situation.
"I do think that if Hillary doesn't speak to this today, people will assume she's guilty though," Ms Tanden wrote.
"With normal people, if you are accused of being a criminal, they expect you to deny it pronto."
Ms Clinton was cleared of criminal charges by the Justice Department this year after it was discovered she had misused her personal email server during her tenure as secretary of state.
Register for free to continue reading
Registration is a free and easy way to support our truly independent journalism
By registering, you will also enjoy limited access to Premium articles, exclusive newsletters, commenting, and virtual events with our leading journalists
Already have an account? sign in
Join our new commenting forum
Join thought-provoking conversations, follow other Independent readers and see their replies