Bernie Sanders urges Congress to stop Donald Trump launching nuclear arms race
Democrat speaks out after President-elect appears to reverse decade's-old policy of disarmament
Charlotte England
Saturday 24 December 2016 10:51 Comments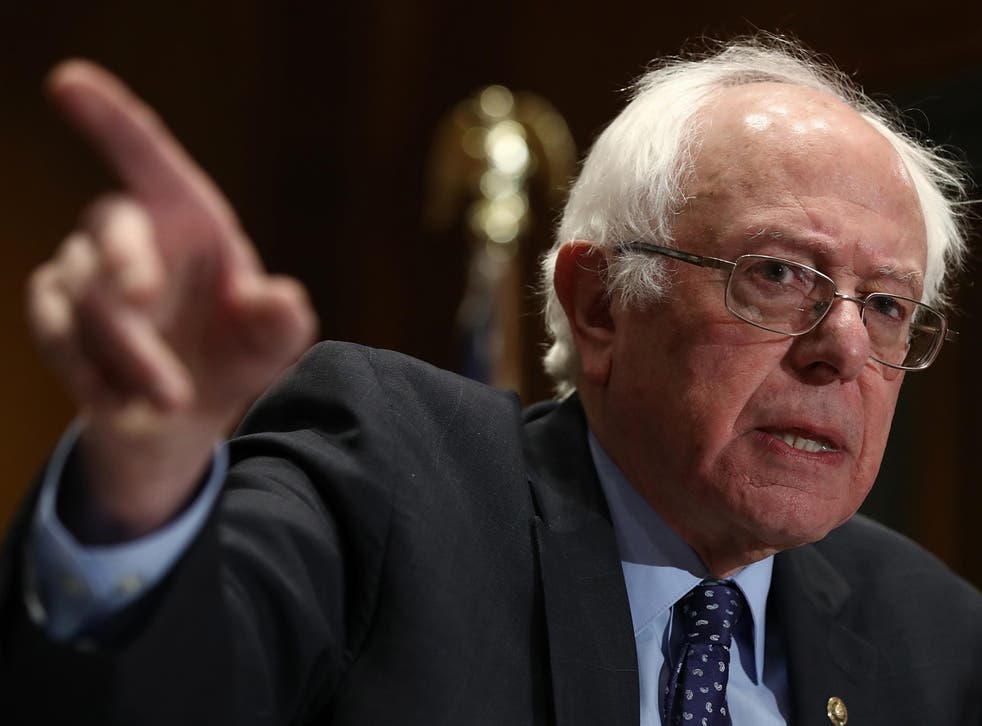 Bernie Sanders has urged Congress to stop Donald Trump launching a Cold War-style nuclear arms race.
"It's a miracle a nuclear weapon hasn't been used in war since 1945," the Vermont Senator said in a post on Twitter. "Congress can't allow the Tweeter in Chief to start a nuclear arms race."
Earlier on Friday, the US President-elect was asked to clarify the meaning behind an ambiguous tweet in an interview with MSNBC.
"Let it be an arms race," he is reported to have told co-host Mika Brzezinski,in a telephone call.
He did not specify which country or countries he was referring to, but his post on the social media site on Thursday used very similar language to a statement made by Russian Premier Vladimir Putin just hours earlier.
"The United States must greatly strengthen and expand its nuclear capability until such time as the world comes to its senses regarding nukes," Mr Trump said in a tweet read by some as a challenge to the former Soviet Union country.
Laicie Heeley, a nuclear expert at the Stimson Center, a nonpartisan anti-nuclear proliferation think-tank in Washington, told AFP news agency it was "reckless" for Mr Trump to tweet on the topic without offering details.
"To make such a loaded statement without context or follow-up is irresponsible at best," she said.
"We could be talking about a return to the Cold War here, when the threat of a nuclear catastrophe was very real," she said. "Russian rhetoric is already moving in that direction. It wouldn't take a lot to bring us back there."
Minutes after Mr Trump's follow up remarks were reported on MSNBC, his secretary Sean Spicer said in several television interviews that there would be no arms race because the President-elect would make sure that other countries trying to step up their nuclear capabilities, such as Russia and China, would decide not to participate.
"He's going to ensure that other countries get the message that he's not going to sit back and allow that," Mr Spicer told NBC. "And what's going to happen is they will come to their senses, and we will all be just fine."
In his annual news conference on Friday, Russian President Vladimir Putin downplayed suggestions there was a risk of a new Cold War-style weapons race, dismissing comments made by the US President-elect as "nothing new".
He added that his plan to bolster Russia's nuclear weapons was simply a necessary response to the US missile defence system.
"It's not us who have been speeding up the arms race," he said.
Which countries have nuclear weapons?

Show all 14
He added that he did not have a problem with the President-elect, saying that if Mr Trump invited him, he would even visit the US.
Mr Trump also made it clear that on a personal level he still feels something of an affinity with Mr Putin, quoting the Russian president in an unrelated tweet posted to his account late on Friday night.
During his election campaign, Mr Trump suggested the US expand its nuclear arsenal.
He also suggested that "better off" other countries that are traditionally US allies, including Japan and South Korea, should have nuclear capabilities, to make them less dependent on Washington.
Register for free to continue reading
Registration is a free and easy way to support our truly independent journalism
By registering, you will also enjoy limited access to Premium articles, exclusive newsletters, commenting, and virtual events with our leading journalists
Already have an account? sign in
Join our new commenting forum
Join thought-provoking conversations, follow other Independent readers and see their replies