Bill Cosby knew alleged assault victim was incapacitated 'because he had done it so many times before', court told in closing statements
Defence calls accuser Andrea Constand a "pathological liar"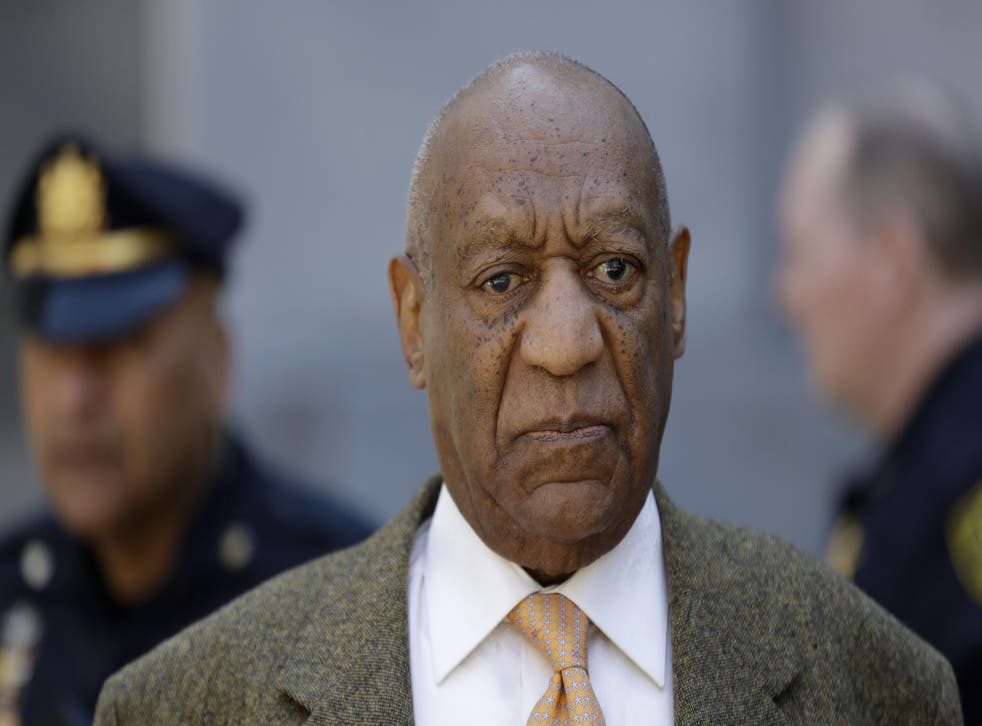 Prosecutors prepared to hand over the sexual assault case against comedian Bill Cosby to a jury for the second time in less than a year, calling Mr Cosby's alleged deeds a "carefully practiced con".
Attorneys for Andrea Constand, the 45-year-old former basketball player accusing Mr Cosby of sexual assault, claimed on Tuesday that the entertainer had used his fame and power to lure women into situations he controlled – a claim five other women were called on to support over the course of the trial. Mr Cosby has pleaded not guilty.
"She told all of you the truth," Assistant District Attorney Kristen Feden said of Ms Constand. "She told you that the defendant drugged and sexually assaulted her in the same exact way he had done so many times before."
Mr Cosby's lawyers, meanwhile, painted Ms Constand as a "pathological liar" who was only looking for a settlement. In closing statements, they called the prosecution a "lynching" and decried the "mob rule" of the Me Too movement – an anti-sexual assault campaign that started years after Mr Cosby's 2015 arrest.
Mr Cosby is charged with three counts of aggravated indecent assault, each of which carries up to 10 years in prison. If convicted, the 80-year-old comedian could spend the rest of his life in jail. Mr Cosby, who did not speak in his own defence, has pleaded not guilty.
An attempt to try the case last year ended in a mistrial, when jurors were unable to agree on a verdict.
Bill Cosby: Career in pictures

Show all 20
The charges stem from an incident at Mr Cosby's Philadelphia home in January of 2004. Ms Constand – the director of the women's basketball programme at Mr Cosby's alma mater at the time – says the comedian invited her over that night to discuss career plans.
When she arrived, she claims, Mr Cosby gave her drugs that he said were herbal, but which left her incapacitated. She claims she awoke to find him sexually assaulting her.
Mr Cosby's lawyers say the encounter was consensual, and that the comedian only gave Ms Constand the over-the-counter allergy medication Benadryl.
Bill Cosby: Mistrial declared
During the retrial in a Pennsylvania courthouse this month, prosecutors called in five other women who claimed to have been assaulted by Mr Cosby – an attempt by prosecutors to demonstrate a pattern of predatory behaviour by a man once known as "America's dad". All five women testified that the comedian had plied them with drugs or alcohol before sexually assaulting them.
Ms Feden reminded jurors of the women's claims in her closing remarks.
"[Mr Cosby] knew that they were in an incapacitated state because he had done it so many times before," she said, according to reporters in the courtroom. "This was his MO. This was a common scheme. This was the execution of his carefully practiced con."
Bill Cosby arrives at court
Mr Cosby's attorneys, meanwhile, have tried to paint the accusers as the con artists, claiming the women only wanted fame or money.
"You're dealing with a pathological liar, members of the jury," attorney Tom Mesereau said of Ms Constand. "You are."
The attorneys reviewed more than a dozen inconsistencies in Ms Constand's account over the years, as well as phone records and travel logs for both her and Mr Cosby. They claimed this evidence showed the incident could not have occured when Ms Constand said it did, and suggested the entire event may have happened outside of Pennsylvania's 12-year statute of limitations on sexual assault.
Ms Bliss also addressed the power of the Me Too movement, which has brought down notable Hollywood figures such as Harvey Weinstein and Kevin Spacey in a cloud of sexual harassment claims.
"Questioning an accuser is not shaming a victim. Gut feelings are not rational decisions. Mob rule is not due process," Ms Bliss said, according to the Philadelphia Inquirer. "When you join a movement based primarily on emotion and anger, you don't change a damn thing."
Ms Feden called the defence's accusations a "horrible character assassination" of Ms Constand and the other accusers.
Addressing Ms Bliss directly, the prosecutor said: "She's the exact reason that women and victims of sexual assault don't report this crime. How dare she call these women moralless?"
The trial continues.
Register for free to continue reading
Registration is a free and easy way to support our truly independent journalism
By registering, you will also enjoy limited access to Premium articles, exclusive newsletters, commenting, and virtual events with our leading journalists
Already have an account? sign in
Register for free to continue reading
Registration is a free and easy way to support our truly independent journalism
By registering, you will also enjoy limited access to Premium articles, exclusive newsletters, commenting, and virtual events with our leading journalists
Already have an account? sign in
Join our new commenting forum
Join thought-provoking conversations, follow other Independent readers and see their replies