Bill Gates: Why do we care more about baldness than malaria?
Gates blames capitalism for channelling more money into curing minor ailments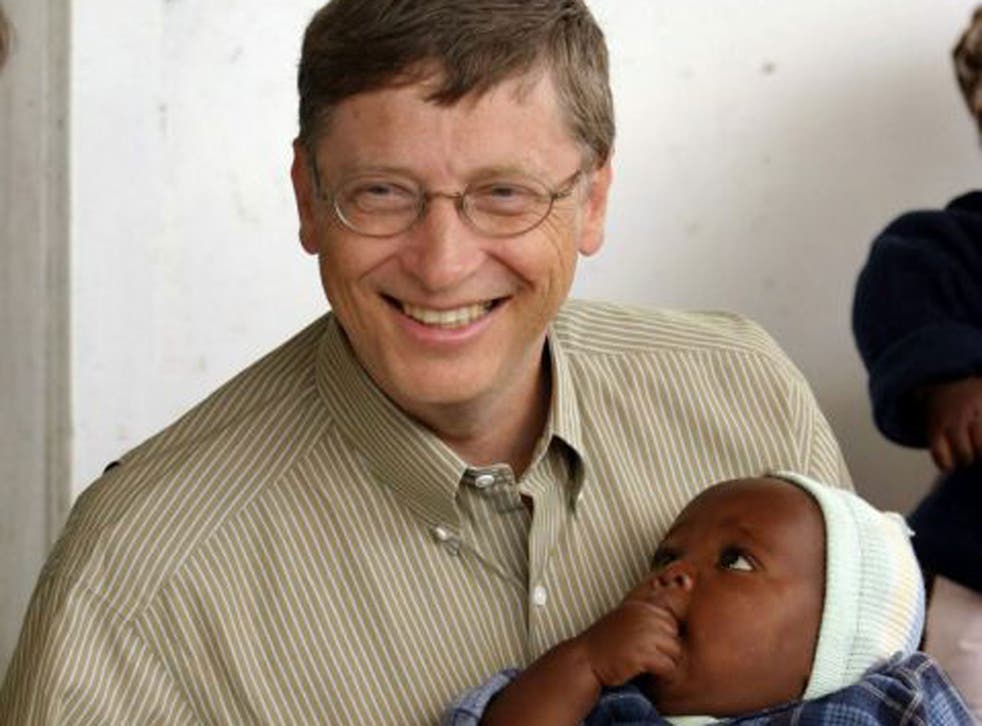 Bill Gates has declared capitalism "flawed" because it channels more resources to curing minor ailments such as male baldness than to addressing the diseases that destroy millions of lives every year.
The billionaire founder of the software giant Microsoft, who is now one of the world's most prominent philanthropists, told a conference in London last week that it was an indictment of the economic system that dominates most of the planet that more money is spent on research to reverse hair loss than on tackling scourges of the developing world such as malaria.
"Our priorities are tilted by marketplace imperatives," he said at the Royal Academy of Engineering's Global Grand Challenges Summit.
"The malaria vaccine in humanist terms is the biggest need, but it gets virtually no funding. If you are working on male baldness or other things you get an order of magnitude more research funding because of the voice in the marketplace than something like malaria."
Every year $2bn (£1.3m) is spent worldwide on surgical procedures for hair loss according to the International Society of Hair Restoration Surgery. By contrast, in 2010, just $547m was spent on malaria research according to the World Health Organisation. About $1bn was spent on the search for a cure for HIV/Aids.
Mr Gates, who is one of the world's richest men with an estimated $67bn fortune, said governments should act to offset what he described as this "flaw in the pure capitalistic approach". His comments will be interpreted as another blast at the large pharmaceutical companies, which have long been criticised for ploughing money into developing "lifestyle drugs" and neglecting research that could save the lives of the world's poorest.
Mr Gates' complaint is echoed by the Global Forum for Health Research, which estimates that only 10 per cent of worldwide expenditure on health research is devoted to the problems that afflict 90 per cent of the world's population – the so-called 10/90 gap. Malaria is estimated to have killed 660,000 people in 2010, most of them African children. About half of the world's population is at risk. The transmission of the disease can be controlled by distributing cheap mosquito nets treated with insecticides. Research into a vaccine for the disease has so far failed to yield any results.
Yet commercial research teams around the world are working on ways to stimulate the follicles in the heads of bald men. Last year dermatologists at Pennsylvania University announced that they had discovered the enzyme that instructed the follicles to stop producing hair.
Drugs firms have been eyeing huge profits from selling treatments to the four in five men who will experience hair loss by the time they reach the age of 70. Other lifestyle drugs that have been big earners for pharmaceutical firms in recent decades include a cure for male erectile dysfunction. After the United States National Institutes of Health, the Bill and Melinda Gates Foundation, which Mr Gates founded with his wife in 1994, is the largest funder of research into neglected diseases such as malaria in the world. In 2010 the Foundation contributed $455m to searching for vaccines, drawn from its $36bn endowment.
Last year the WHO recommended governments around the world should commit to spending at least 0.01 per cent of their annual GDP on health research and development. Developed nations such as Britain, it said, should aim to spend between 0.15 and 2 per cent of GDP.
Research into diseases has produced spectacular results since the Second World War. The polio vaccine, developed in the 1950s, wiped out the disease in the developed world. And since 1998 2.5 billion children in poorer countries have been vaccinated and cases have fallen by 99 per cent.
The bald truth: Skewed priorities
Charlie Cooper
Malaria and male pattern baldness: both affect millions worldwide, but you can only die from one of them.
Nevertheless, it's the latter that receives more funding. According to the International Society of Hair Restoration Surgery, every year $2bn (£1.3bn) is spent worldwide on surgical procedures for hair loss alone.
That figure dwarfs the £547m spent on research into fighting malaria in 2010, according to the World Health Organisation. Add on the millions of dollars of investment that goes into funding research into hair follicle science – several research groups claim to be close to a cure – and it is clear that it is baldness, not malaria, that the world spends more money on.
Androgenetic alopecia, or male pattern baldness, affects 6.5 million men in the UK and 35 million in the US. A cure for baldness is "at least a decade away" according to Dr Robert Leonard, chief surgeon at Leonard Hair Transplant Associates in New England.
By comparison, malaria affected an estimated 219 million people in 2010 and killed 660,000 – mostly children in Africa, where a child dies every minute from the disease.
Malaria is preventable and curable, but the WHO's Rolling Back Malaria Partnership has reported that a $5bn funding gap stops them providing universal coverage for malaria interventions.
Biting the hand that fed: The big billionaire backlash
Bill Gates is not the first billionaire to rail against the capitalist system in which he made his fortune. Hedge-fund manager George Soros (net worth $19.2bn, or £12.7bn) argued as far back as 1997 that "the untrammelled intensification of laissez-faire capitalism and the spread of market values into all areas of life is endangering our open and democratic society". He was also reportedly a financial backer of Occupy Wall Street.
Richard Branson (net worth $4.6bn, or £3bn), founder and chairman of the Virgin group, argued in 2011 that capitalism had "lost its way" and suggested that profit should not be big business' sole driving force.
Warren Buffett meanwhile, widely regarded as the wisest investor of the 20th century and with a net worth $53.5bn (£35.4bn) has said that the free market disproportionately benefits the rich and has made philanthropic payments in his lifetime totalling $17.3bn (£11.4bn). He gave $1.5bn (£1bn) to the Bill and Melinda Gates foundation last year.
Join our new commenting forum
Join thought-provoking conversations, follow other Independent readers and see their replies