Tennessee governor says he 'regrets' dressing as Confederate soldier in college yearbook image
Photo resurfaces as racist imagery including blackface and Ku Klux Klan outfits discovered in dozens of college yearbooks from 1970s and 80s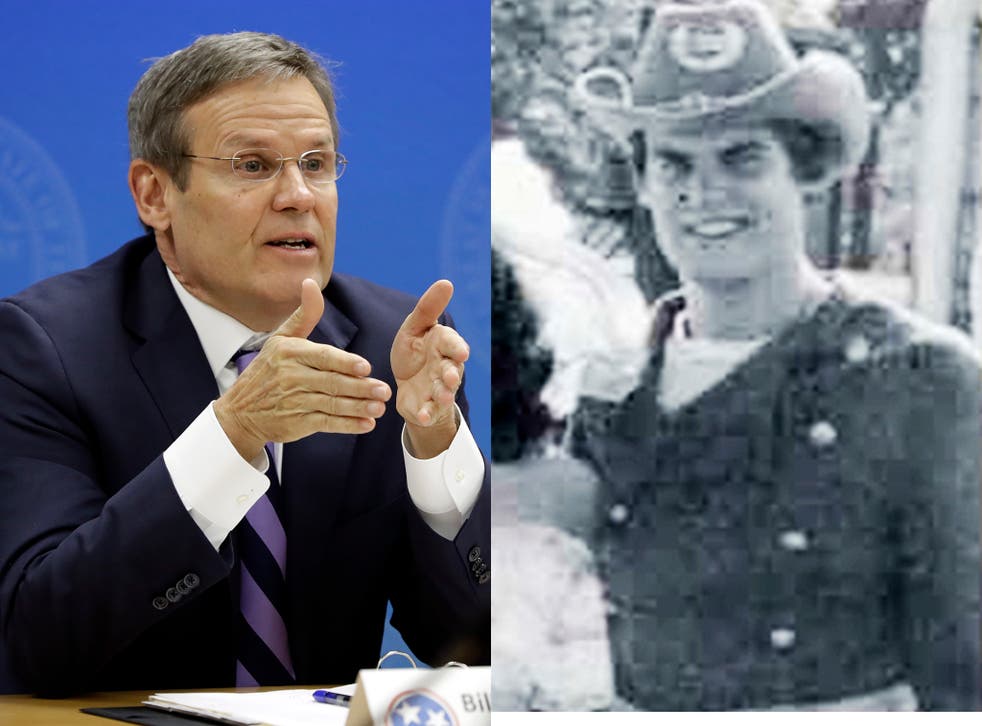 The Republican governor of Tennessee has said he regrets attending "Old South" fraternity parties in college after a photograph surfaced from a 1980 yearbook showing him dressed as a Confederate soldier.
The photo of Bill Lee, who was elected in November, shows him smiling in a Confederate uniform at Auburn University, along with another man in similar uniform and two women also dressed in period attire.
"I never intentionally acted in an insensitive way, but with the benefit of hindsight, I can see that participating in that was insensitive and I've come to regret it," Mr Lee said in a statement to The Tennessean, of Nashville, after the photo was discovered.
Mr Lee did not respond to phone calls and emails requesting comment on Friday.
The governor's statement comes as racially insensitive photographs in old yearbooks have increasingly raised demands for accountability and explanation from the prominent individuals associated with them.
Charlottesville one year on

Show all 15
USA Today published a nationwide review this week of 120 college yearbooks from the 1970s and '80s confirming that racist imagery, such as people dressed in Ku Klux Klan robes or in blackface, appeared in dozens of the publications.
That review prompted USA Today's editor-in-chief to apologise for overseeing the publication of a blackface photograph in an Arizona State University yearbook in the late 1980s.
Also this week, a Wake Forest University administrator apologised after a 1982 yearbook photo surfaced showing her in front of a Confederate flag.
The heightened public scrutiny over old yearbooks stems largely from a black-and-white photograph found in the 1984 medical school yearbook page of Governor Ralph Northam of Virginia. It shows one student dressed as a Ku Klux Klan member and another in blackface.
Mr Northam, who has said he was not in the photo, has faced pressure to resign.
An increased public understanding of racial dynamics is helping drive the attention to such photographs, said Julian Maxwell Hayter, a professor of leadership studies and historian at the University of Richmond.
"These are kind of old-school glimpses into what social media is capturing nowadays," Ms Hayter said.
Ms Hayter said Confederate-themed parties were once ubiquitous, particularly at Southern universities. Finding Confederate imagery on college campuses is still widespread, he said, though more private.
The Kappa Alpha Order, Mr Lee's fraternity, has repeatedly drawn criticism for members glorifying the Confederacy at parties and other events.
The fraternity was founded in 1865 and credits General Robert E Lee as its "spiritual founder." Today it has more than 100 active chapters, including at many universities in the South.
Support free-thinking journalism and attend Independent events
The fraternity banned the display of Confederate flags in 2001. In 2010, it banned Confederate uniforms and parades. In 2016, it banned social events with names associated with the Civil War period, like "Old South" parties.
In response to questions about the photo of Mr Lee and "Old South" parties, Jesse S Lyons, a spokesman for the fraternity, said in a statement Friday that the events were "never required, nor condoned".
He added: "For everyone, the collective revelation of these activities have served to educate us all on the past, punctuate the changes that have been made by our Order and in society, and direct us to continue to closely follow our values today."
New York Times
Register for free to continue reading
Registration is a free and easy way to support our truly independent journalism
By registering, you will also enjoy limited access to Premium articles, exclusive newsletters, commenting, and virtual events with our leading journalists
Already have an account? sign in
Register for free to continue reading
Registration is a free and easy way to support our truly independent journalism
By registering, you will also enjoy limited access to Premium articles, exclusive newsletters, commenting, and virtual events with our leading journalists
Already have an account? sign in
Join our new commenting forum
Join thought-provoking conversations, follow other Independent readers and see their replies