Billie Holiday to perform live in Los Angeles 58 years after her death
The 200-seat Hollywood Boulevard theatre has been set up as America's first all-hologram venue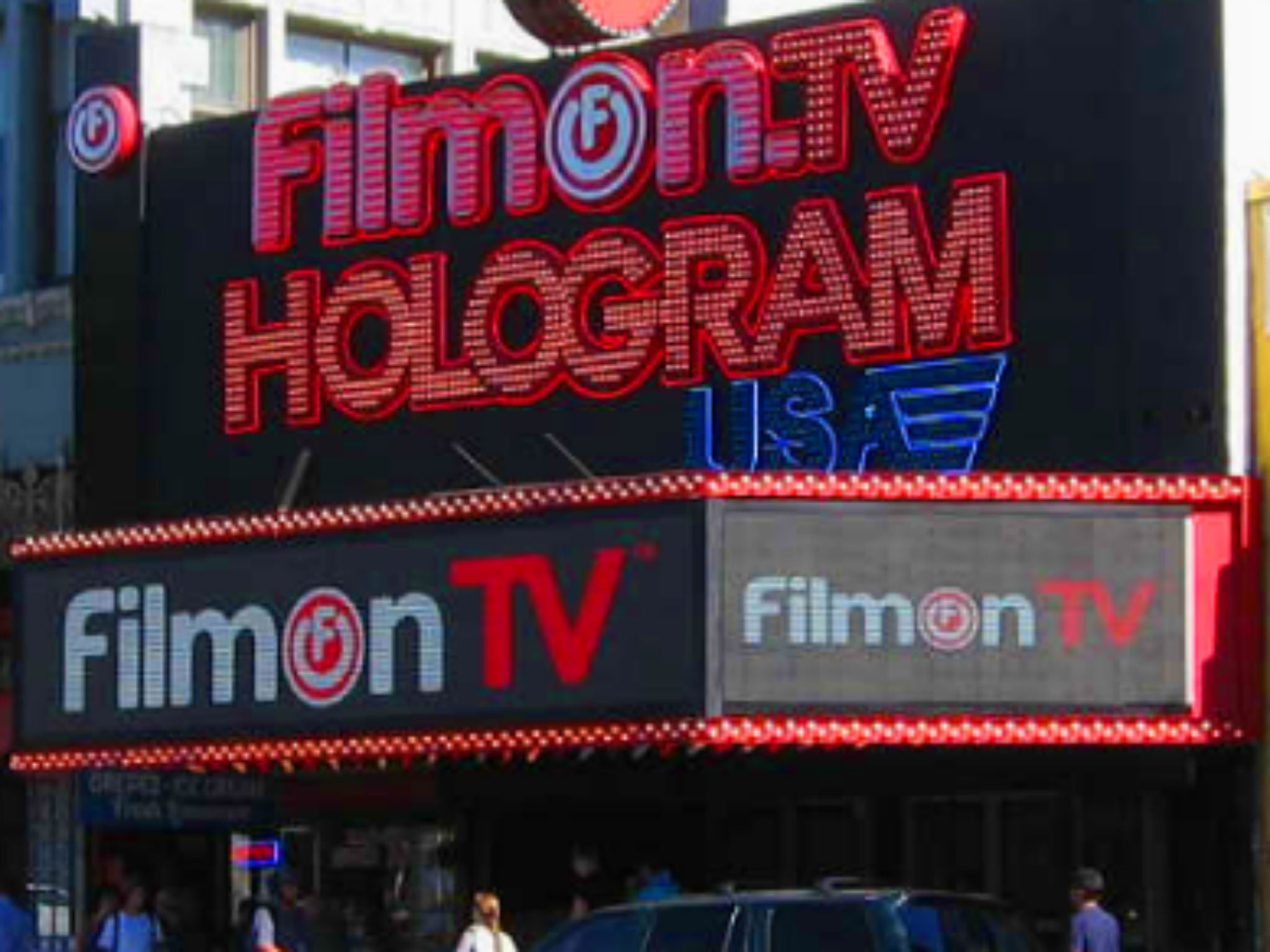 Billie Holiday has been dead for more than half a century, but she was scheduled to perform in Los Angeles on Wednesday night.
The jazz singer is one of the headliners for the opening night of a new theatre which, even in a town with no shortage of options for glitz and diversion, stands out for its novelty: it is America's first all-hologram venue.
"When I saw this technology, it blew anything I had ever seen in audio and video technology way out the water. It's really inspired me to pursue what is a totally new paradigm in live entertainment," said Alki David, the founder and owner of Hologram USA. "It's a really visceral, exciting experience when you really see it."
Preparing the 200-seat Hollywood Boulevard space for holographic performances cost about $1m (£750,000), Mr David said. Other planned features include holographic comedians – including, down the road, the late Bernie Mac – fights, and "freak shows".
Hologram USA is already known for resurrecting dead celebrities. Its technology conjured the departed rapper Tupac Shakur at the Coachella music festival in 2012 and beamed a revivified Michael Jackson onto the stage at the 2014 Billboard Music Awards (the holographic King of Pop was the subject of a since-settled patent infringement dispute).
Mr David's ambitions are not limited to the West Coast of America. He is backing an effort in Chicago to reopen the now-defunct New Regal Theatre as the Avalon Regal Theatre, a venue that will offer both in-the-flesh and holographic shows. Owner Jerald Gary said he was inspired by a mural on the side of the historic structure depicting late African-American musical legends like Holiday, Redd Foxx and Nat King Cole.
"I said, 'What if I could bring those guys back to life to really showcase in the neighbourhood what black music was in the past?'" Mr Gary said, although he acknowledged locals don't always share his excitement. "People think I'm completely out of my mind," he said with a laugh.
But what seems bizarre to some Chicagoans looks to others like a lucrative new industry. The Chicago and Los Angeles theatres are at the vanguard of Mr David's goal of opening 150 new or retrofitted holographic theatres around the country in the next year and a half, a national scope paralleling the industry's global advancement. Around the world, entertainment entrepreneurs have already realised similar visions.
The Australian company Euclideon last year launched a holographic entertainment centre, called Holoverse, that allows visitors to stroll through Africa or play an interactive video game set on another planet. Multiple venues in Seoul, South Korea, feature holographic concerts.
Another California company, Eyellusion, specialises in holographic effects for live music. Its show uniting a hologram of the late Ronnie James Dio with the surviving members of the Dio band is about to embark on a world tour. Beyond allowing fans to see already-dead legends, the company's executives say, holograms open new vistas of inventiveness.
"We can do things technologically with our holographic projections that are different than what an artist who was alive can actually do, because really anything can happen in time and space inside the projection area on stage," said Ahmet Zappa, who oversees the company's global business development and is the son of late rocker Frank Zappa.
For a forthcoming show recreating Frank Zappa, a performance of the song "Stink-Foot" could "literally have his foot inflate like a balloon to be 700 feet tall and sing the song", Ahmet Zappa offered.
The technology's applications extend beyond entertainment into marketing. A Van Nuys, California company called VNTANA lets companies entice or serve customers by having them interact with holograms.
Holograph USA has also done more than just titillate. Its technology summoned Indian Prime Minister Narendra Modi's image simultaneously in multiple locations across the country and transported WikiLeaks' Julian Assange, from the Ecuadorian Embassy in London, to a forum in Nantucket, Massachusetts.
But Mr David said the technology's most economically viable future is in venues like the Los Angeles space, something he hopes will offset a steady decline in the number of theatregoers.
"It's time to take advantage of this enormous drop in theatre attendance," Mr David said, "and help re-invigorate that business model a little bit."
Join our commenting forum
Join thought-provoking conversations, follow other Independent readers and see their replies