Peregrine Falcon photo captured in California wins Bird Photographer of the Year 2023
This dynamic and dramatic image taken in Southern California is a "rare sight" that captures nature at its finest moment.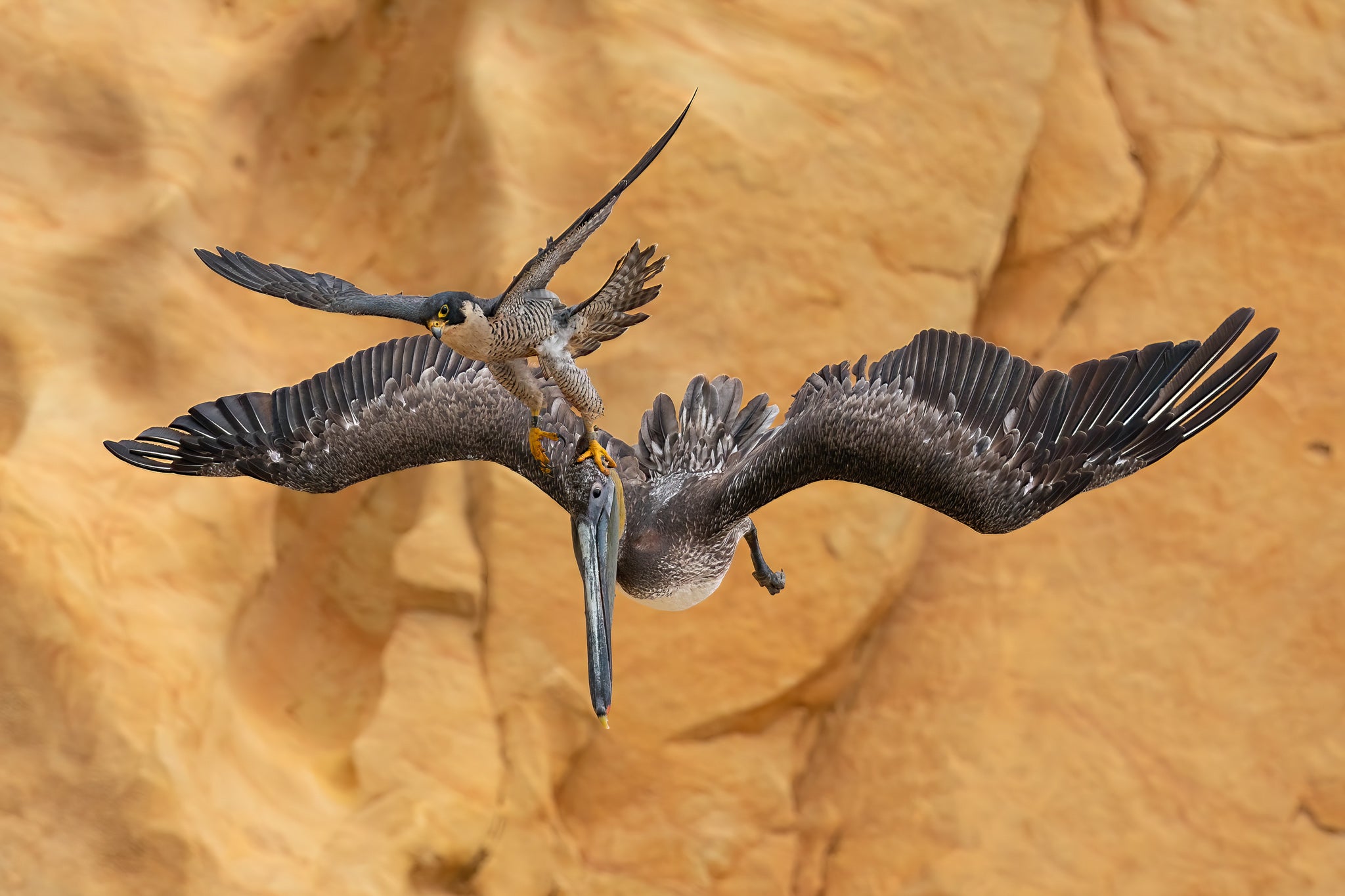 A spectacular sight indeed as the peregrine falcon photo has taken the crown for the Bird Photographer of the Year 2023.
In the prize-winning image captured by Photographer Jack Zhi, from the US, the falcon is seen tackling a brown pelican that ventured too close to its nest.
This dynamic and dramatic image taken in Southern California is a "rare sight" that captures nature at its finest moment.
"For four years, I attempted to capture the rare sight of the female falcon attacking large brown pelicans with incredible speed and agility," said Mr Zhi.
"I love the eyes of the pelican in this image – surprised and scared. The action was fast, and over in the blink of an eye. But I'll remember that moment forever."
Will Nicholls, director of Bird Photographer of the Year, said each image is "not merely a testament to the immense talent of our photographers, but a poignant reminder of the breathtaking beauty of birds."
"The astonishing calibre of these photographs underscores a vital message: let us champion the cause of conservation, so that future generations can marvel at the real-life inspirations behind these extraordinary images," he added.
Photographers competed in eight different categories in the adult competition, including a Conservation Award, Portfolio Award, and Video Award.
The Young Bird Photographer of the Year 2023 was awarded to German photographer Anton Trexler,17, for his striking atmospheric image of a blackbird silhouetted against the moon.
Here is a selection of images that were awarded gold, silver or bronze, with descriptions by the photographers.
Blue-footed booby - Baja California Sur, Mexico
Taken by Henley Spiers.
"In early autumn, a sardine shoal at Los Islotes attracted seabird predators. Amid the shoal, I waited patiently for the elusive shot of a Blue-footed Booby rising with a sardine in its beak.
"Finally, a crash came down close to me, and I instinctively captured the moment," Spiers said.
A mother's love – Great Grey Owl Strix nebulosa, Zhejiang, China
Taken by Qiuqing Mu.
"A Great Grey Owl adult was hunting in a wheat field, and a juvenile flew to the edge of the field to be fed. Suddenly, the parent caught some prey.
"I quickly pressed the shutter and captured a heartwarming moment between the parent and the next generation," Mu said.
Glistening Green – Tanager Chlorochrysa phoenicotis, Mashpi Amagusa Reserve, Ecuador
Taken by Nicolas Reusens.
Mr Reusens said: "Venturing into the tropical forest, I was excited to spot the rare Glistening - green Tanager. After hours of waiting, I saw the vivid - green bird on a perfect heart-shaped leaf. Its shimmering feathers reflected a dazzling array of colours.
"I captured every detail, grateful for this magical moment amid the lush jungle backdrop."
Parenting Goals – Emperor Penguin Aptenodytes forsteri, Antarctica
Taken by Thomas Vijayan.
"Before capturing this image, I spent two days observing these penguins, lying flat on the ice to avoid scaring them. Waiting for the chick to appear, I finally got this touching shot of parental love," Vijayan said.
"I trekked eight hours a day on soft snow to reach this colony and even made friends with some penguins."
Flying Sword-billed Hummingbird Ensifera, Bogotá, Colombia
Taken by Rafael Armada.
Armada said: "The Sword-billed Hummingbird, common in the Andean forests, has the world's longest bill relative to its size. This bird's unique bill, adapted to feed on flowers with long corollas, makes it a vital pollinator, as bees and butterflies can't reach the nectar and so don't pollinate these plants.
"This image captures the bird approaching a feeder, with natural backgrounds and lighting."
A moment of prayer – Great Grey Owl Strix nebulosa, Helsinki, Finland
Taken by Arto Leppänen.
"During winter migration, owls from northern Finland often head to the south where they can find more food due to less snow. This Great Grey Owl chose a cemetery with abundant voles as its hunting ground," Leppänen said.
"While hunting, the owl would often stop on tombstones or other structures to observe the area. Keeping a safe distance, I followed the owl and managed to capture a fleeting moment when it landed briefly on a beautiful angel statue."
More Fish Please! King Penguin Aptenodytes patagonicus, Saunders Island, Falkland Islands (Malvinas)
Taken by Levi Fitze.
"When observing King Penguins, I was struck by how their behaviour sometimes resembles that of humans. This juvenile constantly begged until the annoyed adult walked away.
"However, the fact that the juvenile was more massive than the adult suggests good parenting overall," Fitze said.
Join our commenting forum
Join thought-provoking conversations, follow other Independent readers and see their replies