Donald Trump protesters sue campaign for $1m after getting beaten up at rallies by attendees
Two black men were allegedly beaten after Mr Trump urged the crowd to kick them out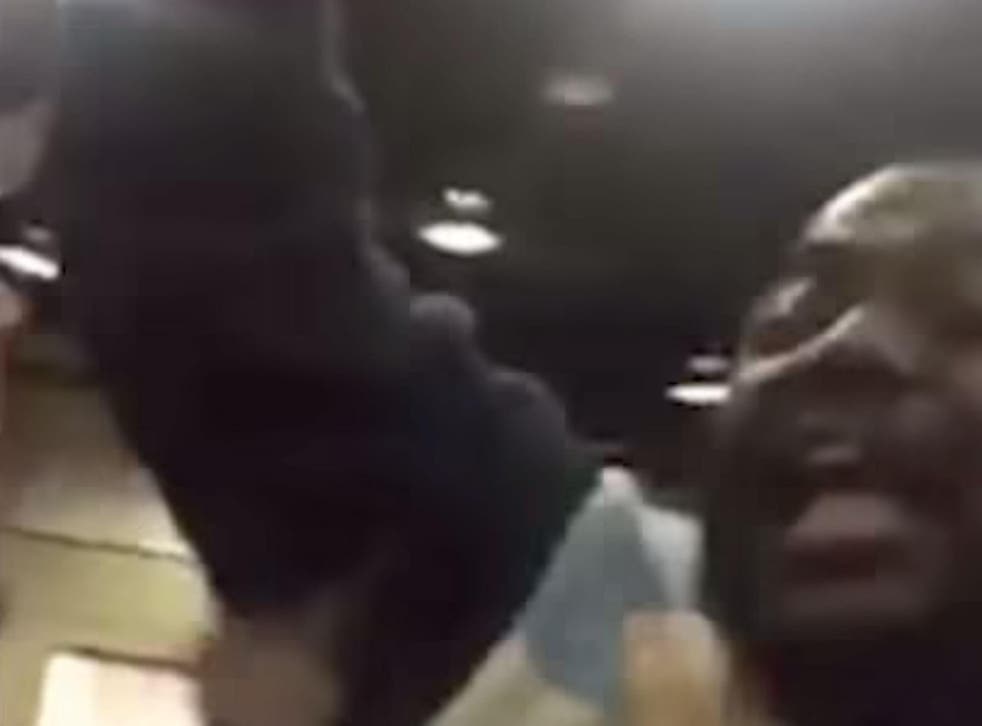 Two black men have filed a lawsuit against Donald Trump's campaign and an affiliated venue after they were allegedly beaten up at his rally.
The lawsuit comes the same week that the Republican nominee accused Hillary Clinton of paying people to protest at his events.
Last November in Birmingham, Alabama, Mr Trump saw the protester and said to the crowd: "Get him the hell out of here, will you please?"
Activist Carlos Chaverst was allegedly then pushed from the venue by other attendees, chanting "all lives matter".
At the same event, fellow activist Mercutio Southall called out "black lives matter" from the back of the room, and he was pushed to the ground and beaten on camera.
"It is shocking to see that at a rally at ... a publicly funded facility, black residents were brutally attacked by a white mob," the lawsuit read.
The two men, who are suing the Trump campaign and the Birmingham convention centre for $1 million worth of damages for negligence and premises liability, said the incident reminded them of the racial violence of the 1960s.
"Southall was then kicked, choked, shoved, punched, scratched and referred to as nearly every racial slur known," the suit against Trump and the Birmingham Jefferson Convention Center claims. "[Southall] pushed the mob back but he was substantially outnumbered."
The Trump campaign could not be immediately reached for comment.
Cindy Crawford, a spokesperson for the convention center, told AL.com that they do not comment on pending litigation.
According to the legal document which was filed in federal court by Birmingham attorney Richard Rice, Mr Southall "suffered severe personal injuries including lacerations to his face, head and neck, concussion, bruises to his back and torso areas".
Only the beating was captured on camera as Mr Chaverst was using his phone to film Mr Southall.
The lawsuit lists other incitements of violence from Mr Trump at his rallies, including: "Knock the crap out of him, would you? Seriously"; "I'd like to punch them in the face, I tell you"; and "I love the old days. Do you know what they used to do to guys like that in a place like this? They'd be carried out on a stretcher, folks."
Mr Trump once promised to pay legal fees for anyone at his rallies who attacked a protester.
His accusations against Ms Clinton at the third debate were in reference to an edited video from undercover reported James O'Keeffe, who claimed that a Clinton campaign member was discussing violence at Trump rallies, "bussing people in" and orchestrating trouble for decades.
Mr Trump previously blamed protesters on Bernie Sanders' campaign.
Register for free to continue reading
Registration is a free and easy way to support our truly independent journalism
By registering, you will also enjoy limited access to Premium articles, exclusive newsletters, commenting, and virtual events with our leading journalists
Already have an account? sign in
Register for free to continue reading
Registration is a free and easy way to support our truly independent journalism
By registering, you will also enjoy limited access to Premium articles, exclusive newsletters, commenting, and virtual events with our leading journalists
Already have an account? sign in
Join our new commenting forum
Join thought-provoking conversations, follow other Independent readers and see their replies