SXSW
'A little act of revolution': How Mattel came to make the first Black Barbie
Beulah Mae Mitchell was on the first Barbie production line at Mattel before becoming one of the first Black employees at the company's corporate offices. In a new documentary, she reveals the journey to creating the first Black Barbie – and how it was about so much more than hair, clothes and Ken. Sheila Flynn reports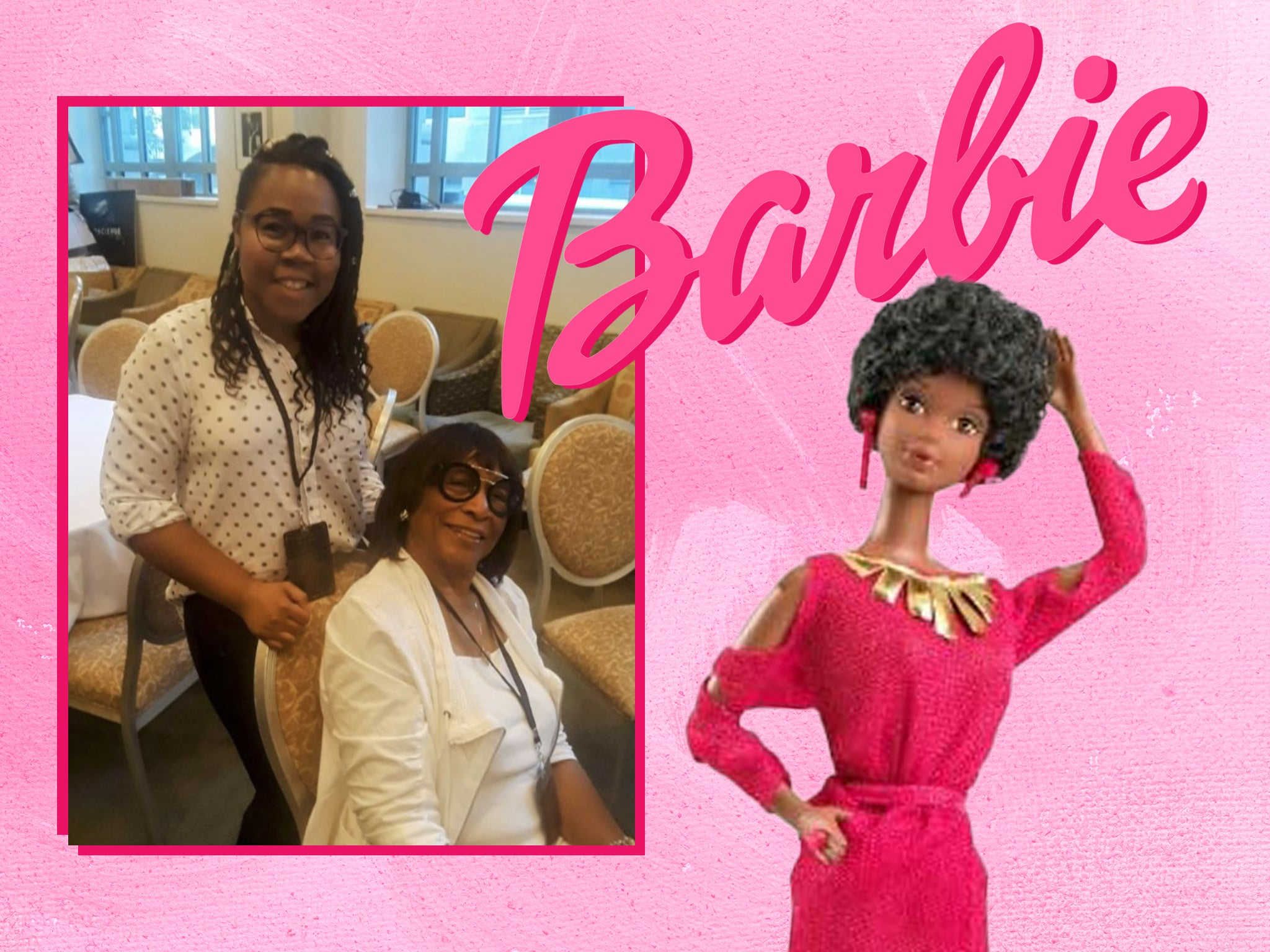 When Lagueria Davis decided to move to Los Angeles to further her film career, she implored her mother to ask their older cousin — Beulah Mae Mitchell, called "aunt" by the filmmaker and 30 years her senior — whether she could temporarily stay in her Englewood apartment while finding her feet in the City of Angels.
Ms Davis didn't know her aunt very well, but she knew that she had worked for Mattel, and she remembered at least one childhood visit when Ms Mitchell had turned up with a doll.
Even as a child, the filmmaker had never really been a doll person – but her aunt certainly was.
Ms Davis arrived at Ms Mitchell's Englewood home to find a collection of Barbies and other dolls, particularly Black ones, so extensive that it left her "a little concerned."
When she asked about it, Ms Mitchell broke out a bottle of Manischewitz wine, and Ms Davis discovered her family's close contribution to the birth of Black Barbie — a doll that has far more cultural, historical and social significance than a simple child's plaything.
Now, more than a decade after that first conversation, the women have watched Ms Davis' debut documentary, Black Barbie: A Documentary, premiere at the South by Southwest (SXSW) festival in Ms Mitchell's native Texas.
The film explores not only Ms Mitchell's 45-year career at Mattel but the creation and evolution of Black Barbie herself.
"My aunt is kind of like the key that unlocks the door which is Black Barbie, which we can walk through and explore the greatest themes of representation and self-determination and intergenerational conversation on progress — through the prism of dolls," Ms Davis tells The Independent.
Ms Mitchell certainly saw it all firsthand, offering a unique and revelatory perspective that began with her childhood in heavily segregated Fort Worth, where she was born in 1938. She attended Black schools and, by the age of 13, was working in the home of a white family, before she moved to California with her mother and sister.
The family heard about jobs at Mattel through connections, and Ms Mitchell fibbed about her age, pretending to be 18 to land a job at the toy company.
She began working at the factory in 1955 and soon got to personally know owners Ruth and Elliot Handler.
"We just loved Ruth, because she was such a strong woman," Ms Mitchell says in the documentary. "She went overseas and came back and wanted to make this doll with breasts."
That's exactly what the Handlers did, and they named the new doll Barbie when she debuted in 1959.
"She named those dolls Barbie and Ken after her two children; I remember them when they were small," Ms Mitchell continues in the film, pointing out a book in which Ms Handler namechecks the employee.
"I worked on the lines, and she would come through and watch us," she says. "And we'd be working so fast, and she was saying, 'Do you have any suggestions of what I should do?'
"And she would ask us questions: 'Do you think that this would be a good seller? What else do you think we should do to make this work?' She thought as much [of what] we thought as she did the people in the office, because we will make the toy."
It was around 1960 when Ms Mitchell says that she and other workers suggested: "We want a Black doll."
She says the Mattel owner answered: "We'll see."
"Asking Ruth Handler to consider incorporating a Black Barbie into the product line, that was a little act of revolution," Dr Patricia Turner, an African American studies professor and dean of UCLA College, says in the film.
A few years later in 1968, Mattel introduced its first Black doll, a friend of Barbie's named Christie.
That same year, the company helped finance the Shindana Toy Company, which was formed in the wake of the Watts riots as part of Operation Bootstrap; businesses such as Mattel were impacted and alarmed by the riots and offered financial help in response.
At the same time, the American public was still grappling with the results of a "doll test" that had helped sway the Supreme Court's 1954 Brown vs Board of Education decision desegregating schools. In a powerful experiment, psychologists Kenneth and Mamie Clark had presented 253 Black children aged between three and seven with both Black and white dolls — and the preference for lighter-skinned dolls provided shocking early evidence of internalised racism.
Shindana, according to co-founder and activist Lou Smith, would make toys reflecting real Black people and aimed to help the community "move from self-hatred to self-love," he told The New York Times.
"They gave them everything to work with," Ms Mitchell says of Mattel. "They sent people from our company over there to show them how to make Black dolls."
As Mattel's Christie doll became more visible alongside Barbie and other Black friends debuted with names like "Julia" and "Francie," Shindana made great leaps in normalising and popularising Black dolls throughout the US. Its very first doll, Baby Nancy, was inducted into the Toy Hall of Fame in 2020.
But it would still be more than a decade before the creation of Black Barbie, and, by then, Ms Mitchell had moved from the production line to Mattel's corporate offices.
"I always kind of told myself, well, they needed somebody of colour, because they had one Black guy that was a programmer up on the sixth floor, and I was the second person, being Black," Ms Mitchell says in the film. "I always loved people, and everybody felt comfortable with me. I'm just that type of person."
Seven years after Ms Mitchell moved to the offices, Mattel hired its first Black designer, Kitty Black Perkins, who would design the company's first Black Barbie.
"What Beulah Mae did, she laid the groundwork for Kitty to come in as a professional," UCLA's Dr Turner says in the film.
"They're acclimated to the presence of a strong, competent Black woman in the workplace; that enables the next step, which is a strong, competent Black woman as a designer. Whether or not Kitty would have been welcomed, had Beulah not been there, I'm not sure you can say."
Ms Perkins joined the company in 1976 after applying to a blind ad and left thinking: "I have to have this job. I can't do anything else."
In the film she explains: "They asked me to bring one design, take a doll, dress it, bring the flat patterns back, as well as the sewn garment. I came back with six designs instead of one."
She got the job and met Ms Mitchell around the second day, the designer says.
"Those days were so exciting for me and everybody who was Black in the company, didn't matter what their position was, and it was very few, was coming to find me," she adds. "Which I thought was so nice."
"We were proud of her, because she drove a sports car, and she matched our Black Barbie," Ms Mitchell says in the film about Ms Perkins.
"We thought she was a Black Barbie — the real Black Barbie."
Ms Perkins, who would spend 28 years at Mattel, was considering a Black Barbie more and more seriously.
Ms Mitchell recalls in the film how the designer "called us together and she said: 'Don't you think they should be able to make a doll of Black features?'"
Less than five years after joining the company, Ms Perkins successfully designed that doll with the help of a Black hair designer and a designer in sculpturing who was also a man of colour, she says. They were all thinking back to their childhoods and considering the impact on future generations of Black youth.
"There was a need for the little Black girl to really have something she could play with that looked like her," Ms Perkins says in Black Barbie: A Documentary.
"I wanted her just to reflect the total look of a Black woman. With regular Barbie, the gown was always full, and the hair was always long. I wanted her to be the complete opposite of Barbie and the complete opposite of Christie, in that I gave her bold colors, bold jewelry, short hair and a wrap skirt that could actually show skin. One of my favorite singers was Diana Ross; my fashion that I did kind of looked like something that Diana Ross would wear."
The trio "came up with the short natural; I had a short natural myself at the time ... We made her lips a little bit fuller; we made her nose a little bit wider. So if you really kind of put the two dolls side by side, you can really tell the difference. Her skin is a little bit lighter than the darkest that we could have done. It was really a preference, and I preferred that color."
And so, in 1980, Black Barbie was born. The packaging proclaimed: "She's Black! She's beautiful! She's dynamite!"
"For me, the step forward that was made when they called the Black doll 'Barbie,' and not 'Francie' or another name, was it allowed the Black girl to be the heroine of the story," Dr Turner says in the documentary. "In all of the imagined play with Barbie, she's the centre of attention. She's the belle of the ball. She's who you would want to be. And I don't think, in anyone's life, you should want to be the belle's best friend."
The presence of the doll on toy store shelves, for young Black girls, was "sort of acknowledgement of your existence and that you're here and that you are valued," public historian Yolanda Hester says in the film. "And I think those were the ideas that were wrapped up in that joy that I would not have been able to explain as a kid."
While Black Barbie came out while Ms Davis was a toddler and increased in popularity and variety as she got older, the fascination never held for her — until she spoke with Ms Mitchell and realised the larger ramifications of the doll.
"Going into this, I one hundred percent did not like dolls," Ms Davis tells The Independent.
"I did not think of its relevance or importance at all. So I think that the average person might walk into this expecting something and getting something different that I hope they really appreciate, and to see what it means — the importance behind it, and the history behind it, and the importance of this history being told, and Black Barbie having an opportunity to have a spotlight."
The documentary traces not only the journey to Black Barbie's creation but its trajectory in the four decades since. It also examines current childhood attitudes, raising questions about the pace and breadth of progress, while exploring media and other representation.
"I was hopeful that the needle had moved a bit further than we actually see it has in the film," she says. "I do think that the progress in the actual physical doll itself has exponentially progressed from where we were ... behind the scenes, it hasn't as much progressed ... the numbers are still pretty skewing towards the 80s. And then also, we learned that the media is not as inclusive as well."
Her aunt, however, has seen drastic leaps and bounds since her time at Mattel, and Ms Davis says the 12-year process of making the documentary "brought my aunt and I closer".
"She introduced me to her world of dolls, and I introduced her to my world of filmmaking," she says.
Ms Davis believes that the finished product "is layered and nuanced, and there are many impactful tidbits the audience could walk away with — and I just hope they enjoy the journey and experience watching the film, and will be inclined to engage in discourse ... that is kind of like a baseline hope."
As she discovered herself, she says there is a lot more to the doll than just clothes, cars and Ken.
"I hope that, by gazing at Barbie through the lens of a Black woman and through the lens of Black women, that we get a better sense of and find a way to relate to what it means for people of color to navigate white spaces," she says.
"And what it means beyond, say, a bottom line — and what's at stake."
Join our commenting forum
Join thought-provoking conversations, follow other Independent readers and see their replies