Black churches destroyed by arson see huge spike in donations after Notre Dame fire
Crowdfunding campaign is aiming to raise nearly £1.4 million
Karen Zraick
,
Niraj Chokshi
Wednesday 17 April 2019 09:02 Comments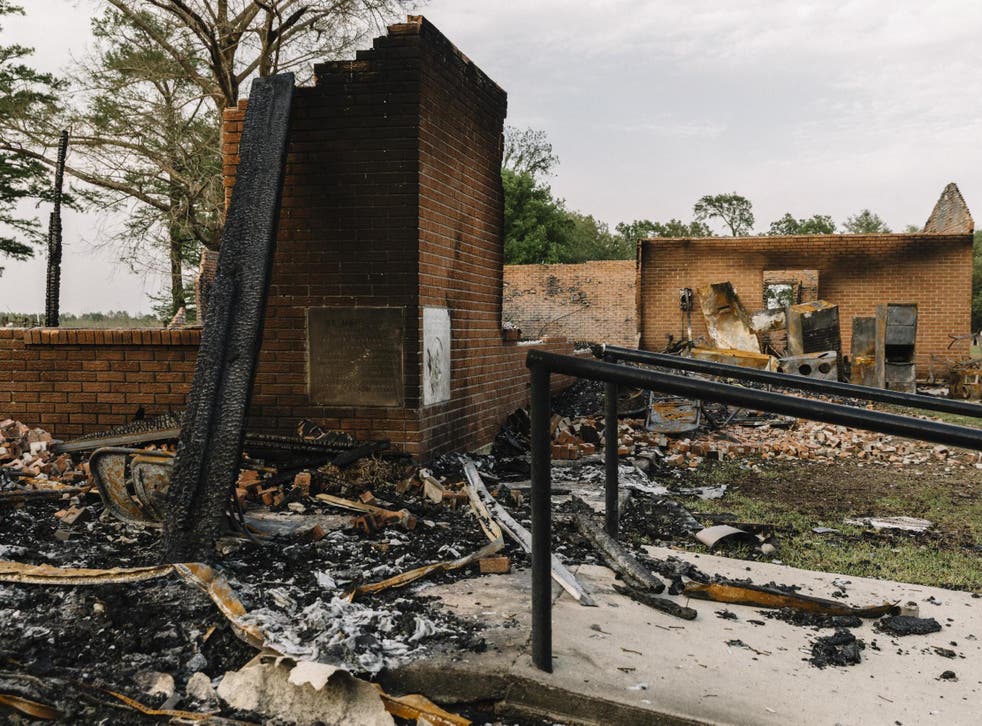 The fire at Notre Dame cathedral on Monday prompted immediate pledges of millions of euros to help rebuild it.
On Tuesday, it spurred donations to do the same for much smaller places of worship thousands of miles away that were recently destroyed by arson.
A crowdfunding campaign for three fire-ravaged black churches in Louisiana received more than $940,000 (£720,000) after it was widely shared on social media on Tuesday.
Many users noted that while hundreds of millions of euros had already been pledged to rebuild the famous cathedral, the small churches in Louisiana were still struggling.
"These communities need to know that people care about them and what they're going through," Jessica Piombo, a professor who lives in Monterey, California, wrote on the campaign's page.
World news in pictures

Show all 50
"Every little bit counts."
The campaign was posted on GoFundMe last Wednesday by the Seventh District Baptist Association, which includes 54 Baptist churches in southwest Louisiana, including the three that were burned.
The association noted that donations would go to rebuilding and replacing what was destroyed, from pews to sound systems and musical instruments.
A screen shot of the campaign's page from early on Tuesday morning showed that it had raised $92,939 (£71,000).
That number shot upward as the day wore on, including many smaller donations.
More than 15,000 people had donated as of 11pm Eastern Time, and a spokesman for GoFundMe said the campaign had received donations from all 50 states.
Those who shared the campaign on Twitter included Hillary Clinton, the former secretary of state and first lady; journalist Yashar Ali; and Jake Tapper, the CNN anchor.
The fires occurred on 26 March, 2 April and 4 April in St. Landry Parish, north of Lafayette.
The first was at St. Mary Baptist in Port Barre; the two others were at Greater Union Baptist Church and Mount Pleasant Baptist in Opelousas, the St. Landry Parish seat.
The churches had been the spiritual homes of generations of black families.
Self-described white supremacist and paedophile Nathan Larson running for US congress says he wants to decriminalise incest
The man accused of setting them, Holden Matthews, 21, is the son of a deputy sheriff and has been charged with arson and hate crimes.
"Let me say it like this: the only building that had any sign of any furniture remaining was Mount Pleasant," said Freddie Jack, president of the association and the pastor of St. John Baptist Church in Ville Platte, Louisiana.
"St. Mary and Greater Union, all you see is charcoal. It's a total, complete loss at all three sites."
While the churches had insurance, the coverage is limited. Greater Union Baptist Church was also paying down a mortgage taken out for a recent renovation.
To complicate matters further, the new churches will have to meet stricter building codes imposed after Hurricane Katrina, Mr Jack said.
At first, he set a fundraising goal of $600,000 (£460,000), but on reflection he decided to triple that number to $1.8 million (£1.38 million), based on his own experience building his church more than a decade ago.
Whatever money is raised will be split among the three destroyed churches, each of which has more than 100 regular members, according to Mr Jack, who met with the pastors of those churches on Monday night.
"They have a long road ahead of them," he said. "They're a long way from full recovery, but the generosity of the people seems to be speaking volumes."
The New York Times
Register for free to continue reading
Registration is a free and easy way to support our truly independent journalism
By registering, you will also enjoy limited access to Premium articles, exclusive newsletters, commenting, and virtual events with our leading journalists
Already have an account? sign in
Join our new commenting forum
Join thought-provoking conversations, follow other Independent readers and see their replies