Black Friday: Survival guide to busiest US shopping day that's coming over to the UK
Black Friday shopping events start from 28 November
Lamiat Sabin
Tuesday 18 November 2014 17:45 Comments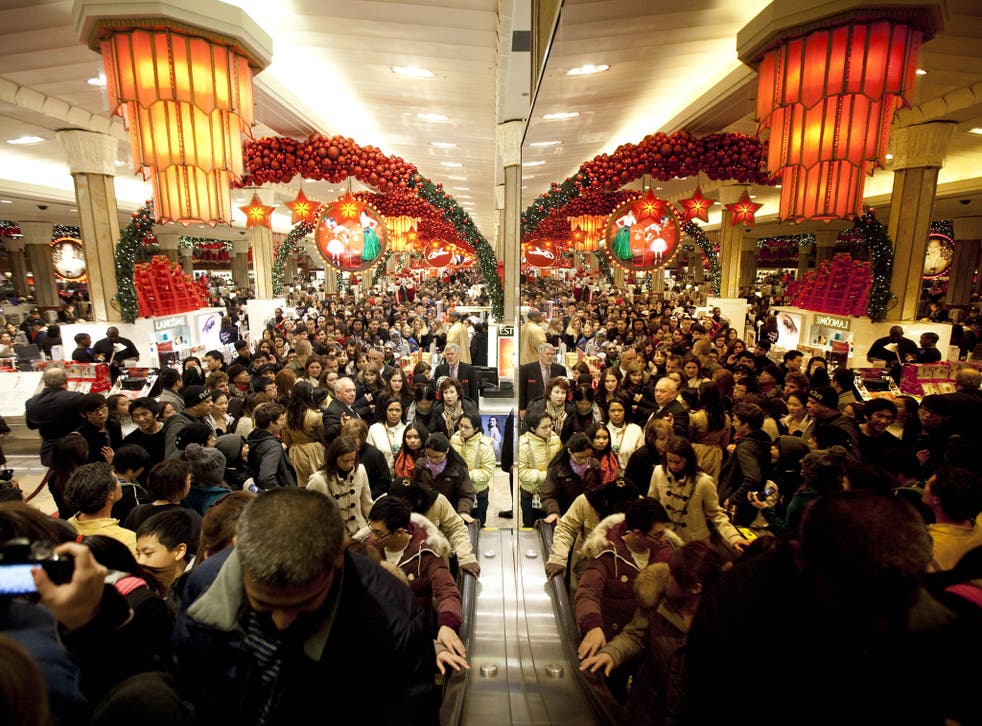 Black Friday, the day after Thanksgiving, sees bargain-hungry shoppers flood through shops in search for discounted goods on what is considered to be the most chaotic annual shopping day in the US.
This year, on what marks the first day of the Christmas shopping season, stores are expecting heavy footfall and car park traffic on 28 November as dedicated shoppers rush to grab the best deals from as early as 4am.
Cut price deals include a Smart LED TV originally priced at $1,899 discounted by $800 in Samsung and a two-person infrared home sauna with a price fall to $1,299 from $1,699 at Sam's Club.
Walmart is reportedly stretching their Black Friday sales into five-day events and online retailers such as Amazon are banking on shoppers flexing the credit and debit cards from one minute past midnight.
And if you think that Boxing Day sales in Britain are bad enough, the Black Friday trend is already looming over the UK with Amazon already offering discounts and Asda - owned by US supermarket giant Walmart - hosting their own "Black Friday" shopping event on Saturday 29 November.
British companies John Lewis and Shop Direct also jumped on the Black Friday bandwagon last autumn and now as many as 72 per cent of UK consumers are aware of the "gimmick", as reported by Marketing Week.
In the same research, it was found that 22 per cent of British shoppers bought an item in the Black Friday sales last year.
Preparation is key, if you want part of the action, says Melissa Littler from BrandAlley.co.uk, the UK's leading e-tailer for discounted designer living. Looking on retailers' websites for potential purchases ahead of visiting stores will cut down on wandering about amid the crush of hundreds of other people.
And with reports of violence between shoppers in the US and workers threatening corporations to walk out due to increased working hours, it pays to keep calm and collected when vying for the last gadget or pair of shoes amid rising tensions.
Carrying a bottle of water and a few snacks will keep hunger and thirst at bay while wearing appropriate clothes and shoes, with easy-to-remove layers for sweltering shopping centres, will help ensure maximum comfort and protection from others' sharp elbows.
There have been seven Black Friday deaths, three of which were caused by car crashes involving tired shoppers, and around 90 injuries since 2006. Getting enough sleep is advised before driving, especially on icy and wet roads, and the extra kip will help you keep your cool with overzealous shoppers a bit more easily.
Cyber Monday on 1 December is said to be the answer for those who want to avoid the hustle and bust-ups that comes along with shopping during the sales.
Retailers in the US are expecting record sales after last year drew in $2.29 billion in online orders from shoppers buying gifts ahead of Christmas.
And buying presents is not the only way to express your festive cheer for your loved ones this winter as experiences and non-physical gifts can count for a lot.
Ms Littler from BrandAlley said: "Of course, you don't always have to give gifts to unwrap. Think about how to spend time together with your favourite people and book afternoon tea or a manicure, which are great pick-me-ups in the New Year."
Register for free to continue reading
Registration is a free and easy way to support our truly independent journalism
By registering, you will also enjoy limited access to Premium articles, exclusive newsletters, commenting, and virtual events with our leading journalists
Already have an account? sign in
Join our new commenting forum
Join thought-provoking conversations, follow other Independent readers and see their replies