Black man dies after being tasered twice by police in California
An investigation is underway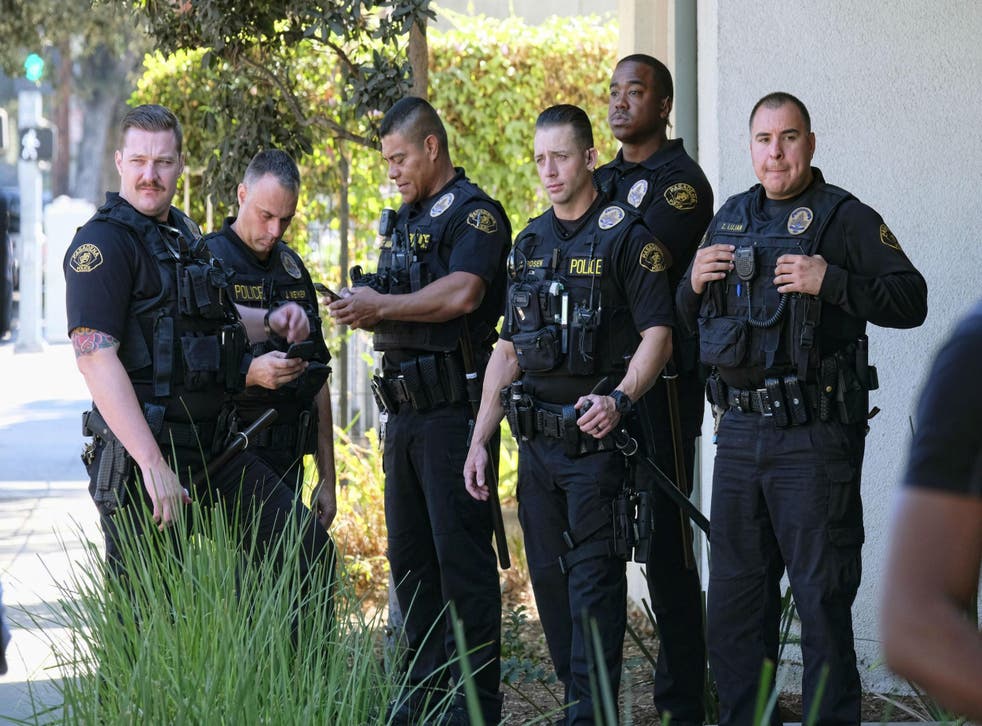 A man has died after being tasered twice by police in Pasadena, California.
The unidentified man died around 2am Friday morning outside an apartment block in Orange Grove, according to a statement from the Los Angeles County Sheriff's Department.
Footage showed at least eight police vehicles parked outside the apartment block, according to ABC, and police officers were seen in a courtyard to the property which they had taped off.
Shainie Lindsay, who told KTLA that she was the mother of four of his children, said he had called 911 to get help and he was bipolar.
Police arrived and asked the man to drop the fire extinguisher and the knife he was holding. When he did not, he was tasered twice.
He reportedly shut the door on officers, who pried it open, asked Ms Lindsay to leave the room and started beating him.
"They was wrestling with him, was kicking him in the head and beating him with the baton stick," she told KTLA. "Then, after that, they was doing CPR and then he was dead."
The incident is being investigated by the police and homicide detectives.
Captain Steven Katz said they received two 911 calls, the first about 2am. The calls were made by a man, but police have not identified the caller.
The second call indicated a domestic disturbance, possession of a knife and narcotics. Mr Katz said a struggle could be heard on the phone.
He confirmed that a taser was used twice as a "physical restraint", but did not confirm that a baton was used.
Six officers came to the man's house, and a woman and two teenage boys were inside the house when they entered it.
Ms Lindsay said the victim has eight children, and called him a "good father" who just wanted "help".
"They didn't have to kill him," she told reporters through tears. She is six months pregnant, she said.
Residents are calling to see footage captured by cameras inside the apartment complex.
The news follows the death of 21-year-old Tawon Boyd in the suburbs of Baltimore. After calling 911, five officers arrived and were accused of ultimately beating him to death.
Register for free to continue reading
Registration is a free and easy way to support our truly independent journalism
By registering, you will also enjoy limited access to Premium articles, exclusive newsletters, commenting, and virtual events with our leading journalists
Already have an account? sign in
Register for free to continue reading
Registration is a free and easy way to support our truly independent journalism
By registering, you will also enjoy limited access to Premium articles, exclusive newsletters, commenting, and virtual events with our leading journalists
Already have an account? sign in
Join our new commenting forum
Join thought-provoking conversations, follow other Independent readers and see their replies