Outrage grows after police confiscate bikes from Black teenagers and arrest one of them in viral video
Social media users including an ACLU director condemn police in Perth Amboy, New Jersey for their treatment of a group of teens on bicycles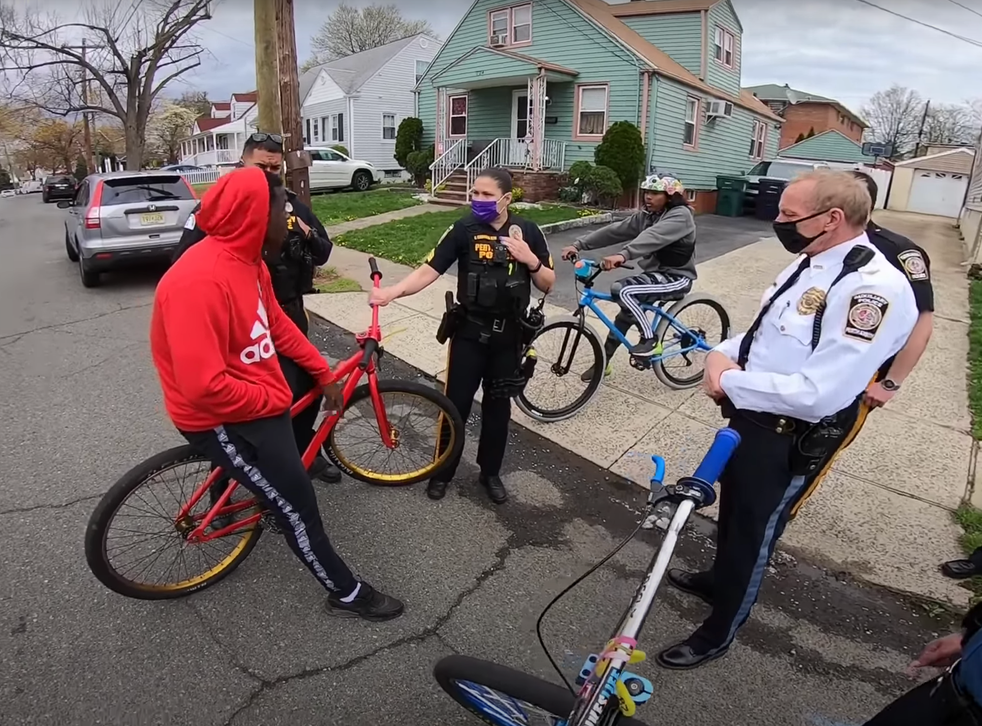 Police in a New Jersey town are facing outrage on social media after they seized the bicycles of several Black and hispanic teens and then arrested one of them.
A video that has now gone viral shows a group of about 15 or 20 teenagers riding their bicycles through Perth Amboy, New Jersey, when some police cars start following them. The teens then pull over, and a policeman in a white shirt steps out.
"Guys, we're not gonna take your bikes, all right?" the cop says. "You guys know when there's 30 or 40 of you together, it creates a problem for people driving."
He then warns the youths to ride more safely, and to avoid cutting off drivers or disturbing traffic. He makes no arrests, thanks the group for stopping, and gets back in his car as the teens clap sarcastically.
Then there's a gap in the footage, and a new policewoman is on the scene.
"Take their bikes," she says.
The teens are visibly surprised.
"He just said no!" one of them, a Black teenager in a red hoodie, exclaims. "What do you mean?"
The white-shirted cop tries to step back in, but the policewoman, who he at one point refers to as a sergeant, repeats that the bikes must be confiscated. Cross-talk between the bikers and police becomes increasingly heated.
Eventually the red hoodie-wearing teen steps off his bike and allows the sergeant to take it. After another gap in the footage, the sergeant is suddenly putting handcuffs on him and leading him into a police car.
As the car doors slam shut, the rest of the teens, their bikes now confiscated, wonder aloud how they're going to get home. They tell the police they're from Edison, which is about ten miles from Perth Amboy.
In the next shot, the group is seen walking.
"We literally just got pulled over by cops," the teen filming the video says. "One of them said we could leave, and then some other girl came. Supposedly she's the sergeant or whatever, and told them to take all the bikes when the one guy said we could leave. And now we have no bikes. Look at us, walking!"
Later in the video, the young man in the red hoodie is seen being released from the police station, and the rest of the group gets their bikes back.
By Tuesday afternoon, the video had been viewed over two million times.
Though the Perth Amboy Police Department made no mention of the incident on its social media, its Facebook page quickly filled up with angry comments.
"You surrounded children and took their bikes??" one Facebook user posted. "Jesus, wtf is wrong with you guys. This is not a good look for NJ. What aholes!!"
"Your cops are so brave! Taking bicycles from kids. So heroic!" another wrote.
"Do you arrest white kids on bikes?" another asked. "Or just Black kids?"
Amol Sinha, the head of the American Civil Liberties Union in New Jersey, condemned the police's actions.
"This is Perth Amboy, NJ," Mr Sinha tweeted. "Are the police really arresting kids over bike registrations? Does it really require this many officers to address whatever situation this is? Police CANNOT continue to be our response to EVERYTHING."
The Perth Amboy Police Department did not immediately answerThe Independent's request for comment.
Join our new commenting forum
Join thought-provoking conversations, follow other Independent readers and see their replies