Black Missouri student goes on hunger strike after swastika drawn with human faeces
Jonathan L Butler will only drink water until University of Missouri President Tim Wolfe steps down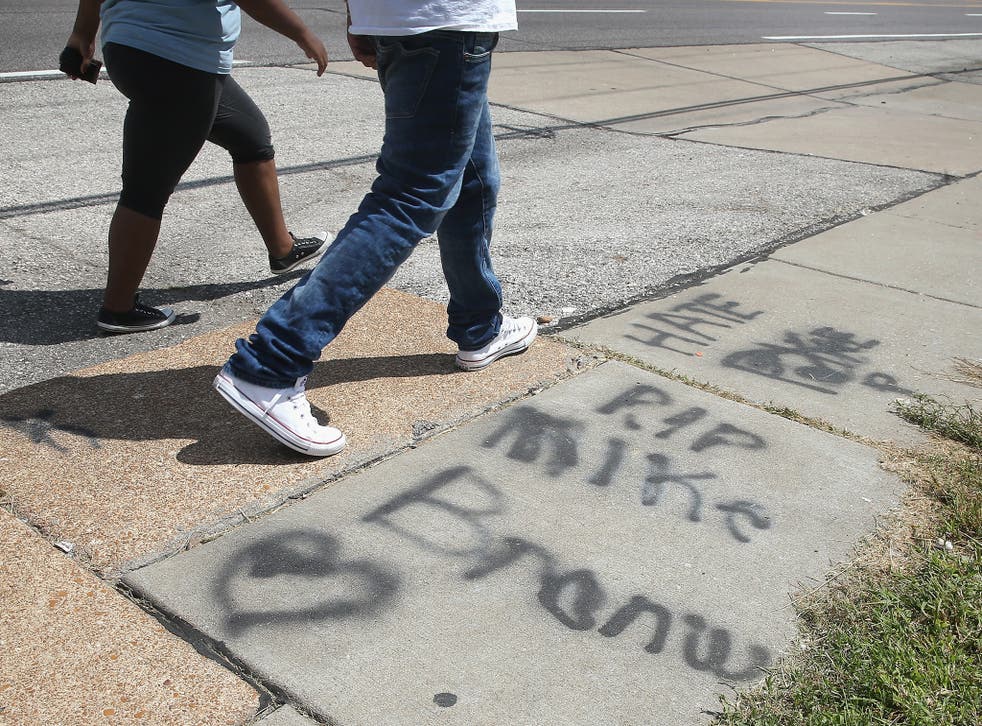 The swastika appeared overnight, drawn with human faeces on a college dorm's brand new white wall.
But the racial tension had been brewing for months.
Once ranked among the best places to live in America, Columbia has witnessed a flurry of racist incidents in recent months, culminating with the swastika scrawled in excrement on Oct. 24.
Now a graduate student says he is on a hunger strike and is willing to die unless the school's president steps down.
"My body feels like it's on fire," Jonathan L. Butler, 25, told The Washington Post on Thursday night, four days into his one-man protest. "I have pain all over. I'm exhausted. Of course, I'm hungry. I've got an ongoing headache."
Butler said he was just drinking water — no multivitamins, no painkillers — until University of Missouri President Tim Wolfe steps down. Butler and other black students blame Wolfe for what they say is the school's failure to address the rising tide of racism on campus.
"I already feel like campus is an unlivable space," said Butler, who is African American. "So it's worth sacrificing something of this grave amount, because I'm already not wanted here. I'm already not treated like I'm a human."
University Chancellor R. Bowen Loftin said in a statement that his "heart is heavy" with concern for Butler's health, and agreed that "racism has deep roots at our university." He promised to "find solutions" to "make our university an inclusive and welcoming environment for all."
Butler's hunger strike may be the most dramatic recent action against racism on American college campuses, but it is far from the only one. In the 15 months since African American teenager Michael Brown was fatally shot by a white police officer in Ferguson, Mo., universities around the country have become home to protests the likes of which haven't been seen since the civil rights movement of the 1960s.
Young protesters, many of them students of color, have swelled speakers circles and occupied quads to criticize police officers, politicians and university administrators for allegedly prejudiced policies or practices.
But as the Black Lives Matter movement and others like it have drawn attention to lingering racism in the United States, they have also drawn a backlash.
In pictures: Michael Brown shooting nationwide protests

Show all 10
Nooses have been left hanging on trees at Duke University and the University of Mississippi. Students at multiple schools have hosted "blackface parties." The University of Southern California's student body president was called an "Indian piece of s—." Even Yale, a supposed bastion of Ivy League etiquette, saw swastikas scribbled across its campus.
As in the '60s, colleges and universities have again become the front line of America's culture war.
And in Columbia, Mo., Jonathan Butler soon could become a casualty.
Columbia is a quaint college town. It is the home of the University of Missouri-Columbia, also known as Mizzou: the state system's flagship and the first state university west of the Mississippi River. Every autumn, roughly 35,000 students — of whom 7 percent are black — from around the state swell the city of around 115,000. Some come from the left-leaning urban centers of Kansas City and St. Louis, each around two hours away. Others come from the conservative-leaning countryside.
Lately, however, this diversity has become divisive.
Butler says the problems began in Ferguson, about two hours east, but quickly made their way to Columbia. When white police officer Darren Wilson fatally shot 18-year-old Brown on August 9, 2014, the incident shook the entire nation. But it also affected Columbia. Many Mizzou students come from the Ferguson/St. Louis area. Many others, including Butler, nonetheless drove to Ferguson to protest.
Butler was just starting a Master's degree in educational leadership and policy analysis when protests erupted in Ferguson. He had attended Mizzou as an undergrad as well and liked it enough to stay.
But even as he and his friends were holding signs and chanting on Ferguson's streets, he was surprised, as he sees it, to see his university do little to address the racial tensions simmering in the same state.
"There was national coverage, so for the school to not cover that or really address that, and we are only two hours away, I think was a huge mistake on their part and contributed to the current cultural environment that we have," he said. "It just shows that there are racially motivated things — murders, assaults, other things — that happen and we are just going to sweep them under the rug."
Mizzou has its own history of racism. When the university was founded in 1839, Missouri was a slave state. The state capitol was built by slaves and the university also used slave labor. Several of its founders were ardent slavery supporters.
Butler is well aware of this history. He is also aware of an incident in 2010 when cotton balls were strewn around Mizzou's Black Culture Center because he was an undergrad at the time.
But nothing prepared him what would happen this semester.
This summer was another tense one for race relations in America. On June 17, self-declared white supremacist Dylann Roof slaughtered nine African American parishioners in Charleston, S.C., setting off a several month-long debate over the Confederate flag. Then there was the anniversary of Brown's death and more protests in Ferguson.
The problems in Columbia began on Sept. 11. That's when Payton Head, the Missouri Students Association president and an African American, was racially abused as he walked home.
"Last night as I walking through campus, some guys riding on the back of a pickup truck decided that it would be okay to continuously scream N—– at me," Head wrote on Facebook the next day. "I really just want to know why my simple existence is such a threat to society."
African American students became upset when it took university chancellor R. Bowen Loftin nearly a week to respond to the incident. After several other black students experienced similar abuse, Butler and others organized a rally.
"The University of Missouri does not care about black students," Danielle Walker shouted into a microphone. "Racism lives here. Not in Ferguson. Not in Baltimore. Not in South Carolina. Here. Right here."
Not everyone was happy with the protest.
"If you are not comfortable at MU please leave," wrote a commenter on an article covering the protest. "This racist issue is sure getting old and tiresome."
Barely a week later came another ugly on-campus incident.
Shortly after midnight on Oct. 5, members of the Legion of Black Collegians (LBC) were in a campus plaza rehearsing for a play the following night when "an inebriated white male" called them "n—–s."
This time, the university responded more promptly, with Loftin issuing a statement denouncing the incidents. "We support free speech in the context of learning, spirited inquiry and intellectual discussion, but acts of bias and discrimination will not be tolerated at Mizzou," he wrote.
"It's happened again," he said in a video address. "Hate and racism were alive and well at Mizzou."
A few days later, the white student was identified and "moved from campus,"according to the university.
The removal of the student did little to make Butler or his friends feel better. He told The Post of other recent incidents, including an instance when black journalism students were called the n-word and threatened with comments about the Ku Klux Klan.
"The culture on campus has been deteriorating really fast," he said. "It's just gotten to the point on campus where it's really not safe for black students or really all marginalized students. Me personally, I won't feel safe on campus until there is an urgency that things need to change and be taken seriously.
"It's just a very hostile environment for black students," he said. Although some Mizzou administrators responded to black students' complaints, Butler felt the school wasn't going far enough.
"We are facing a lot of negativity and oppression on a daily basis," he said. "And then you students go to a diversity forums, you see them write letters, you see them write e-mails and send tweets and do all these things, we bare our souls and tell very painful stories but … our lives are still not valued. At some point, after spending all that energy telling people that I deserve to be recognized as a human, like my existence matters, at a certain point you are putting people in a corner and you keep poking them with a stick, things escalate until people feel like they are hurt."
Another group of student protesters covered a statue of Thomas Jefferson with sticky notes with words such as "racist," "rapist" and "hypocrite" in protest, Fusion reported.
But Butler and his friends took another route. They were hurt, so they hatched a plan to make University of Missouri system President Tom Wolfe pay attention to their pain.
Protest stops parade from Columbia Missourian on Vimeo.
On Oct. 10, with the LBC abuse still fresh in their minds, Butler and 10 other African American students interrupted Mizzou's homecoming parade by surrounding Wolfe's gleaming red convertible.
"We will be here until we are heard," Butler shouted into a megaphone as Wolfe and his wife sat awkwardly on top of the back seat, "and our people are protected and they feel safe on this campus."
Butler and his fellow students chanted until Columbia Police pushed them out of the way, threatening to arrest them and rattling cans of pepper spray in their faces. (Cops did not spray anyone and nobody was arrested, Butler said.)
"We had drunk bystanders come and push us around, curse us out, say some really disgusting things," Butler said of the demonstration. "Tim Wolfe allowed his driver to rev his engine, and by revving his engine and going back and forth, he ended up bumping one of us twice. The Columbia Police Dept threatened to arrest us even though we were being peaceful. You can see in the photos, we had our hands up and just wanted to do our demonstration and leave."
When Wolfe didn't hear them out, Butler became even more frustrated.

"I thought, 'What else do I have to do to prove my humanity'?" Butler told The Washington Post. "What else do I have to do, just because I'm a black person, to prove to you that I deserve to have a good experience on campus? That's when I started to think about the action of the hunger strike."
Then, two weeks later, Mizzou's racial tensions flared again when someone used their own faeces to smear a swastika on a communal bathroom wall in a brand new residence hall. The incident seemed to capture the college's predicament: each attempt at a fresh start besmirched by old prejudices.
"This individual used a symbol that targets cultural and religious minorities in a place where students call their home," wrote Residence Halls Association President Billy Donley in a news release, adding that the vandalism was "an act of hate."
A university spokesman downplayed the incident, however.
"It was some vandalism that was discovered several days ago in a residence hall in a restroom," Christian Basi told the Columbia Missourian.
For Butler, the disgusting incident, and the university's response, was the last straw.
On Nov. 2, he tweeted out a letter announcing that he was going on hunger strike.
"You may or may not know me," it began. "Since Mr. Wolfe joined the UM system as president in 2012, there have been a slew of racist, sexist, homophobic, etc., incidents that have dynamically disrupted the learning experience for marginalized/underrepresented students at the University of Missouri."
"The revolting acts that are occurring at Mizzou are a result of a poisonous infestation of apathy that has been spawning from University of Missouri system leadership," Butler wrote. "Starting today … I will be embarking on an indefinite hunger strike in opposition to Tim Wolfe as the University of Missouri system president. During this hunger strike, I will not consume any food or nutritional sustenance at the expense of my health until either Tim Wolfe is removed from office or my internal organs fail and my life is lost."
Butler said he didn't consult with his fellow activists ahead of time because he "didn't want to bring undue concern to them."
For the past four days, he has consumed nothing but water.
"I'm going about my regular daily life, only as of recently a lot slower, just 'cause I don't have the energy," he told The Post.
The response to his hunger strike has helped keep up his spirits, even as his body has lagged. Butler said he has received prayers and messages of support from people across the country and even a group of students in South Korea.
Most importantly, Butler's hunger strike drew a response from Wolfe — but not the one Butler hoped.
"We have got to create an environment on this beautiful campus and the other three campuses that we have where all students can be successful regardless of where they came from, their race, or their degree program," Wolfe told a group of students on Tuesday. "We have got to maximize everything that we can do focusing on student success and I can only do that through conversation and understanding the hurdles and obstacles that are in front of Jonathan or anyone else."
Wolfe told the students that he would like to meet with Butler and said he was open to arranging a meeting between the hunger striker and the university's board of curators, according to KBIA.
But Butler said he will only eat when Wolfe is gone and the university takes other steps to address racism on campus.
"I don't think Tim Wolfe is worth my life," he told The Post. "But I do believe that when it comes to fighting for justice, you have to be willing to have a level of sacrifice."
Asked if he was really prepared to die, Butler claimed he was.
"It's a very real reality," he said. "It's a very real reality."
© Washington Post
Join our new commenting forum
Join thought-provoking conversations, follow other Independent readers and see their replies