'Blacks for Trump' leader spotted at US President's Florida rally is former member of murderous cult
A fringe political figure in Florida, 'Michael the Black Man' was accused of murdering two people in 1990
Chloe Farand
Tuesday 21 February 2017 02:42 Comments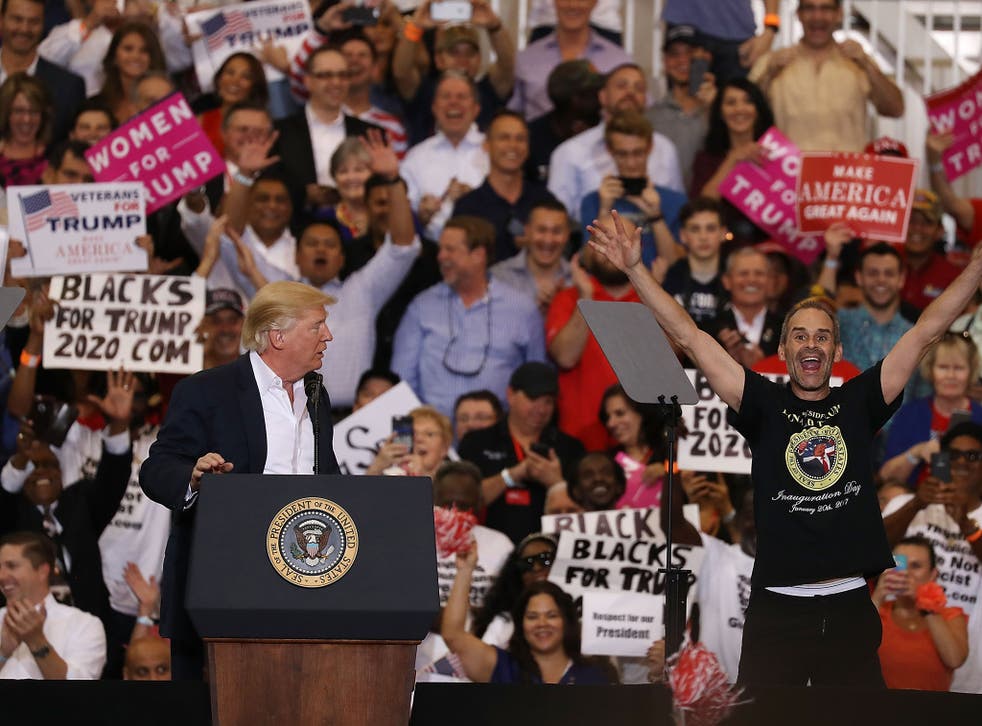 The leader of the group "Blacks for Trump", which held a prime spot immediately behind the US President during his Florida rally, is a former member of a murderous cult.
Frenetically waving signs with the message "Blacks for Trump 2020 Com", pictures of this weekend's Florida rally are similar to a previous event held last October on Donald Trump's campaign trail.
During that rally the same man can be seen behind the US President holding a "Blacks for Trump" placard.
A fringe political figure in Florida, he is known as "Michael the Black Man", an anti-gay and anti-liberal preacher, previously known as Maurice Woodside, according to the Miami New Times.
He is former member of the murderous Yahweh ben Yahweh cult, which means "The Lord Son of the Lords" in Hebrew and was led by the preacher Hulon Mitchell Jr.
In 1990, Michael, along with 15 other Yahweh ben Yahweh followers, was accused of conspiring in two murders. His brother also told the court Michael had stabbed a man in the eye with a sharp stick but the jury found him innocent.
He has since been charged with four other felonies but has never been sentenced and he started his own religious enterprise, the Miami newspaper reported.
In the 1990s, Mr Mitchell, leader of the black separatist sect, who adopted the name of Yahweh and declared himself the Messiah, was accused of three counts of federal racketeering and extortion charges, including 14 killings, two attempted killings, extortion and arson.
Members of the group, who disagreed with its leader, were said to be killed, including on one occasion beheaded, the New York Times reported.
Two years later, Yahweh was convicted of conspiracy to commit murder and was sentenced to 18 years in prison.
The preacher died in Miami in 2007 at the age of 71-years-old.
Michael has also made a name for himself for his vehement criticism of Barack Obama, who he referred to as "The Beast", an apocalyptic figure in the Bible.
People strike across America for A Day Without Immigrants

Show all 16
Michael was 21-years-old when he first met the Yahweh preacher.
"He got me by just walking up and saying, 'All white people are the Devil'. I was a real militant race warrior right then, so I said, 'Whoa! Yeah, that's right!'," he previously told the Miami New Times.
Blacks for Trump run a couple of websites, including GODS2.COM on which it promotes Mr Trump's reelection in 2020.
It is unclear to what extent Mr Trump knows about the nature of the group and its leader.
Register for free to continue reading
Registration is a free and easy way to support our truly independent journalism
By registering, you will also enjoy limited access to Premium articles, exclusive newsletters, commenting, and virtual events with our leading journalists
Already have an account? sign in
Join our new commenting forum
Join thought-provoking conversations, follow other Independent readers and see their replies