Blindfolded Muslim asks people to 'show trust with hug' in heartwarming social experiment
Man stood in Toronto with signs that read 'I trust you. Do you trust me?'
Victoria Richards
Wednesday 11 February 2015 13:27 Comments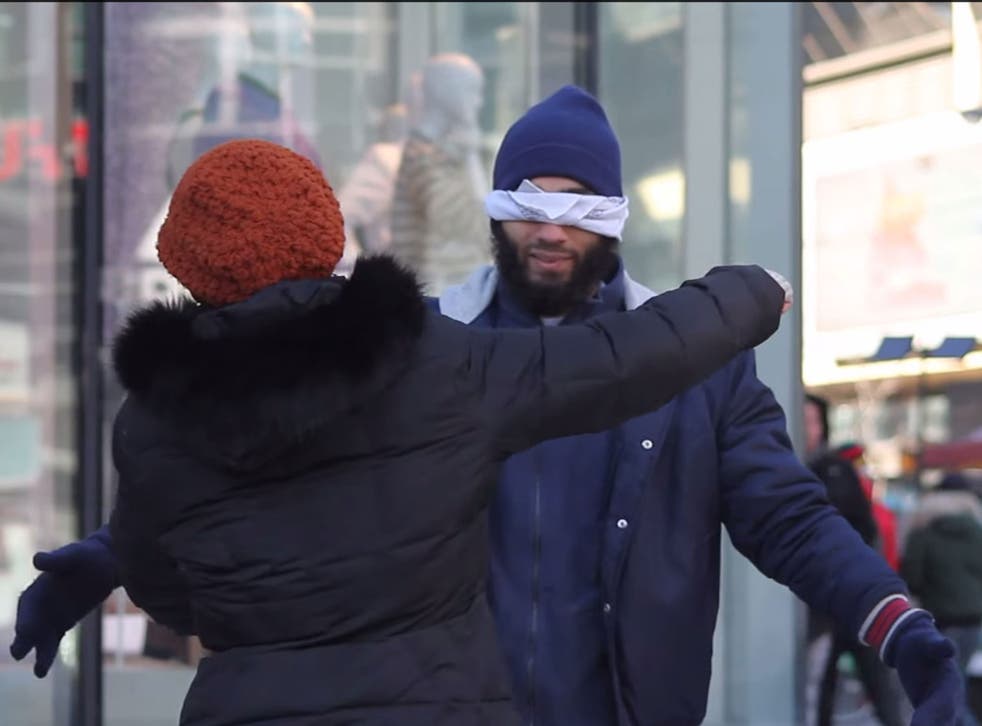 A Muslim man stood blindfolded in the street in Toronto with signs which read, 'I am a Muslim. I am labelled as a terrorist', and 'I trust you. Do you trust me? Give me a hug' as a social experiment to see how people would react.
And as this heartwarming video footage shows, Canadians – who already have a reputation for being some of the world's kindest people – didn't let him down.
As Mustafa Mawla waited in Toronto's busy Yonge-Dundas Square, his arms outstretched, several strangers moved forward to embrace him.
The video, which was posted on YouTube last week with the description: "We wish to break down barriers and spread awareness about Islamophobia", has been viewed more than 770,000 times.
Assma Galuta, 24, came up with the idea for the 'Blind Trust Project' – and teamed up with production company Time Vision to carry it out.
"A lot of us have been made to feel like outcasts," she told HuffPost. "Western-born Muslims have to deal with this identity crisis of trying to fit into Canadian culture, but hold on to their faith as well."
She said that the purpose of the blindfold was for him to give "complete trust" and to show Canadian society that he feels like he's part of the community.
"Blindfolded, anyone could harm him or feel very angered," she added. And she said she was "very touched" that people responded so positively, rather than shouting Islamophobic obscenities.
"At the end of the day, it's about co-existing," she said.
In October, a similar experiment, in which an actor posed as an Islamophobe in the wake of the Ottawa shooting, went wrong after he was punched in the face. But it served to show that Canadians are prepared to defend Muslims in the face of overt racist abuse in the wake of a recent terror attack.
Register for free to continue reading
Registration is a free and easy way to support our truly independent journalism
By registering, you will also enjoy limited access to Premium articles, exclusive newsletters, commenting, and virtual events with our leading journalists
Already have an account? sign in
Join our new commenting forum
Join thought-provoking conversations, follow other Independent readers and see their replies