Bob Woodward faces backlash after disastrous Me Too-focused event
The audience was not happy with his questions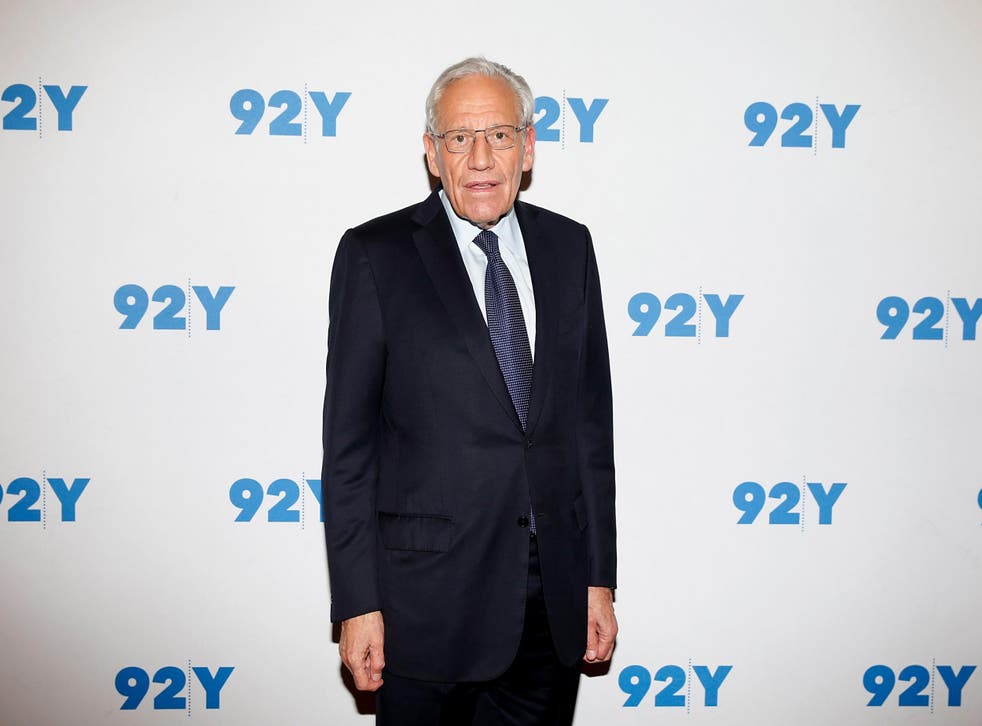 Veteran journalist Bob Woodward is facing harsh criticism after moderating an event with Jodi Kantor and Megan Twohey, the New York Times reporters who broke the Harvey Weinstein story that ushered in the Me Too movement.
The trio were set to discuss Ms Kantor and Ms Twohey's new book She Said: Breaking the Sexual Harassment Story That Helped Ignite a Movement, which tracks their reporting on Harvey Weinstein's decades of sexual harassment and ensuing court settlements and cover-ups.
The book is, essentially, a guide to investigative journalism and focuses as little as possible on the actual forced sexual interaction for which Weinstein became notorious.
But audience members in Washington DC left the event questioning whether Mr Woodward had in fact read the book at all, as his questions focused on Weinstein's sexual inclinations, seemingly ignoring the victims, as well as the scope of the authors' reporting.
According to several tweets from journalists attending the event, Mr Woodward interrupted his interviewees during many of their questions, eventually prompting one woman in the audience to call out "You're interrupting her!"
In pictures: Chaos and fury at Brett Kavanaugh's confirmation hearing

Show all 21
The heckling continued, as the audience groaned and called out "Stop!" for more of Mr Woodward's interruptions. At one point, an audience member yelled "Let her finish!" when Mr Woodward again cut into one of the authors.
But most of the complaints came when Mr Woodward began to press the Ms Kantor and Ms Twohey on the sexual intent behind Weinstein's actions, obsessing over the lurid details which the book didn't dwell on at all.
Kira Lerner, a reporter attending the event, tweeted that Mr Woodward was "repeatedly asking them why Weinstein did this, and audience is protesting/yelling back/walking out."
The authors said that his questions might be interesting for a psychologist before deftly steering back to their central thesis, calling their book an "x-ray into power."
Mr Woodward then cut in, saying "But it's also about sex?"
According to Ms Lerner's tweet, the crowd responded by shouting "No!"
But Mr Woodward would not stop, continuing to ask questions about the motivation behind Weinstein's "perverted sexual crimes," including asking what the authors felt was his "Rosebud," a reference to the classic film Citizen Kane.
After yet another question about why Weinstein did the things he did - which was not a part of the reporters' extensive work on the subject - The Washington Post reports that an audience member called out "Let's get the Q&A!"
Later in the conversation, Mr Woodward also asked if the authors "believe" Christine Blasey Ford, the doctor who accused Supreme Court Justice Brett Kavanaugh of sexual misconduct during his confirmation hearing.
"What I can tell you is that Christine Blasey Ford is probably the most precise and diligent source subject that certainly I have ever reported on," Ms Twohey responded.
Following the event's widespread backlash, Ms Kantor and Ms Twohey told The Washington Post that they "welcome all questions, from them and especially from the audience, because each one is an opportunity to relate the wrenching decisions that many of our sources had to make and grapple with MeToo as an example and test of social change in our time."
The venue, Sixth and I, declined to comment on the event, which many attendees reportedly complained about to management while waiting for their books to be signed. Mr Woodward did not respond to The Independent's request for comment.
Register for free to continue reading
Registration is a free and easy way to support our truly independent journalism
By registering, you will also enjoy limited access to Premium articles, exclusive newsletters, commenting, and virtual events with our leading journalists
Already have an account? sign in
Register for free to continue reading
Registration is a free and easy way to support our truly independent journalism
By registering, you will also enjoy limited access to Premium articles, exclusive newsletters, commenting, and virtual events with our leading journalists
Already have an account? sign in
Join our new commenting forum
Join thought-provoking conversations, follow other Independent readers and see their replies