Bolivian police join anti-government protesters' on streets after re-election of Evo Morales
Several units declare mutinies and join demonstrators demanding president resigns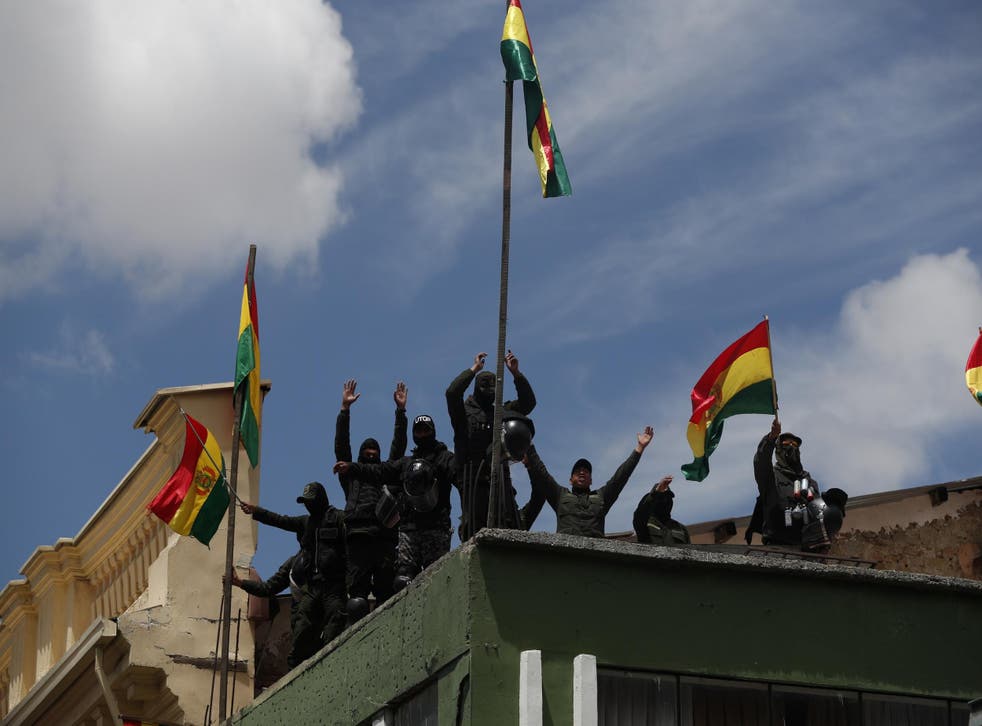 Police in several Bolivian cities appear to have joined growing protests against the president, Evo Morales, after last month's disputed presidential election.
Some local forces have openly joined the demonstrations in the streets, while other officers simply returned to their stations against orders.
Although the head of the police insisted there was no widespread mutiny, witness reports and videos shared on social media show police officers joining the anti-government protests.
In the city of Cochabamba, the scene of violent clashes during earlier demonstrations, police officers climbed onto the roof of their headquarters and waved Bolivian flags in an apparent act of insubordination.
Elsewhere, videos online appear to show officers in uniform marching in the streets and chanting songs popular with the opposition movement.
World news in pictures

Show all 50
Mr Morales, who won a disputed fourth term in office in the controversial election, has claimed a violent coup is underway.
"Sisters and brothers, our democracy is at risk due to the coup d'etat that violent groups have launched that undermine the constitutional order," the president tweeted in the early hours of Saturday.
"We denounce this attempt against the rule of law before the international community."
The standoff began after Mr Morales claimed victory in the 20 October election. Suspicions were raised after the vote count was inexplicably halted for a day, and when the counting began again Mr Morales's vote was significantly boosted.
Ultimately, he won just enough votes to secure a ten percentage point lead over his rival and avoid a second run-off vote.
The head of a regional election observation team, Manuel Gonzalez, said it was a "drastic and hard-to-explain change in the trend".
The EU and the Organisation of American States (OAS) have both called for a run-off to be held anyway between Mr Morales and the leader of the opposition, former president Carlos Mesa.
Although the OAS is currently conducting an audit of the vote, a series of protests, strikes and violent clashes have followed, now lasting more than two weeks.
Another leading opposition figure, Luis Fernando Camacho, has demanded Mr Morales resign immediately, and has even personally written a resignation letter for the president to sign.
Police in Santa Cruz, the largest city in Bolivia and a hotbed of support for the opposition, announced they were joining a mutiny began by their fellow officers in Cochabamba, while in the de facto capital La Paz some police have garrisoned themselves in the central police station.
Support free-thinking journalism and attend Independent events
Mr Camacho tweeted his thanks to those officers who switched sides, hailing them for "siding with the people".
At least three people have died since the protests erupted last month and hundreds more have been injured.
Despite the growing pressure, Mr Morales's government has insisted it would not call in the army "at this time" and the embattled president has vowed to resist the calls to stand down.
"The Right says 'Evo has to resign.' I want to tell you, sisters and brothers, to all of Bolivia and the world, I will not resign," Mr Morales has told his supporters at a public event. "We are elected by the people and we respect the constitution."
Register for free to continue reading
Registration is a free and easy way to support our truly independent journalism
By registering, you will also enjoy limited access to Premium articles, exclusive newsletters, commenting, and virtual events with our leading journalists
Already have an account? sign in
Register for free to continue reading
Registration is a free and easy way to support our truly independent journalism
By registering, you will also enjoy limited access to Premium articles, exclusive newsletters, commenting, and virtual events with our leading journalists
Already have an account? sign in
Join our new commenting forum
Join thought-provoking conversations, follow other Independent readers and see their replies