Bolsonaro casts doubt on Brazil re-election bid as he laments left-wing surge
Far-right president remains conspicuously silent over Joe Biden's victory over ally Donald Trump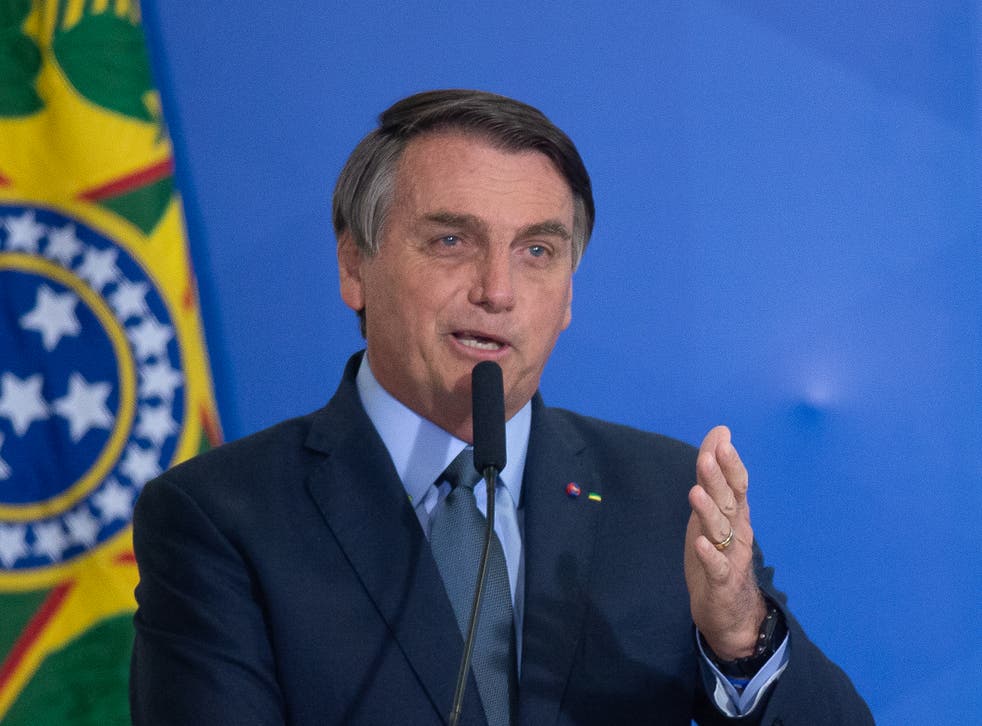 Jair Bolsonaro has cast doubt on his prospects of remaining president of Brazil, amid an election in the US that has seen his far-right ally Donald Trump lose emphatically to his centre-left opponent.
Despite Joe Biden's ascent to US president-elect, Mr Bolsonaro has remained conspicuously silent on the result, despite messages of congratulations from other leaders from across the globe.
Instead, Brazil's 65-year-old president – just hours after TV networks officially called the US race for Mr Biden on Saturday – lamented an "advance from the left" in South America and suggested he may not run for re-election in 2022.
"See how the world is. In South America, there are several countries again painted in red," Mr Bolsonaro said in a Facebook video, according to a translation by Latin American TV network Telesur.
"Many times, the president has no way to change, as I would like to happen, the destiny of Brazil. There are people who want the destination to be another and they may be right."
He added: "I don't know if I will be a candidate for re-election – 2022 is still a long way off."
Mr Bolsonaro's refusal to congratulate Mr Biden was in stark contrast to opposition political figures in the country, including its former leftist president Luiz Inacio Lula da Silva, who hailed the "very important" victory "against Trumpism and everything it represents".
"I salute Biden's victory and I hope that he will assume, not only within his country but with Latin America and the world, the humanistic values that characterised his campaign," Mr Da Silva added.
Twitter reacts to Joe Biden winning election
Joao Doria, Sau Paulo's governor and a likely challenger to Mr Bolsonaro in 2022, tweeted he was "happy" at Mr Biden's victory, which was "good for the USA, good for Brazil".
Mr Biden taking the White House is likely to prevent problems for Mr Bolsonaro, who has presided over a dramatic escalation of deforestation in the Amazon, and appears little concerned with environmental issues and the climate crisis.
Mr Biden, on the other hand, has put both issues at the heart of his foreign policy, and as recently as September warned the world would need to stop the Amazon "being torn down".
Mr Bolsonaro at the time reacted with fury to the comment, telling "Mr John Biden" he does not accept "bribes" or listen to "coward threats".
Those left-wing governments in South America assailed by Mr Bolsonaro were also quick to congratulate Mr Biden and vice-president-elect Kamala Harris, including leaders in Venezuela, Cuba, Nicaragua and Bolivia, which saw its new leftist president Luis Arce inaugurated on Sunday.
"We look forward to better relations that translate into the wellbeing of our people," Mr Arce tweeted on Sunday.
Dr Elena Lazarou, an expert on Brazilian politics at think tank Chatham House, told The Independent Mr Bolsonaro would "have to be extremely careful" now Mr Trump is on the way out.
"He has generally used his relationship with Trump and his support of his policies to appeal to a section of his supporters - those who hold a more conservative, nationalist and anti-globalist view of the world," Dr Lazarou said.
"Now, he will have to tread carefully to manage to balance out a good relationship with Biden's US, without making that section of his voters feel betrayed."
Brazil, Dr Lazarou said, would be left with no option but to return to pro-environmental policies now its three major trading partners - the European Union, China and the US - will all be once again committed to fighting climate change.
Join our new commenting forum
Join thought-provoking conversations, follow other Independent readers and see their replies