Bomb cyclone latest: Snow storm batters northeast, grounding flights and sparking scramble to clear roads
A number of deaths have been reported across the country, as the storm dumps snow on the East Coast
Clark Mindock
New York
Friday 05 January 2018 00:23 Comments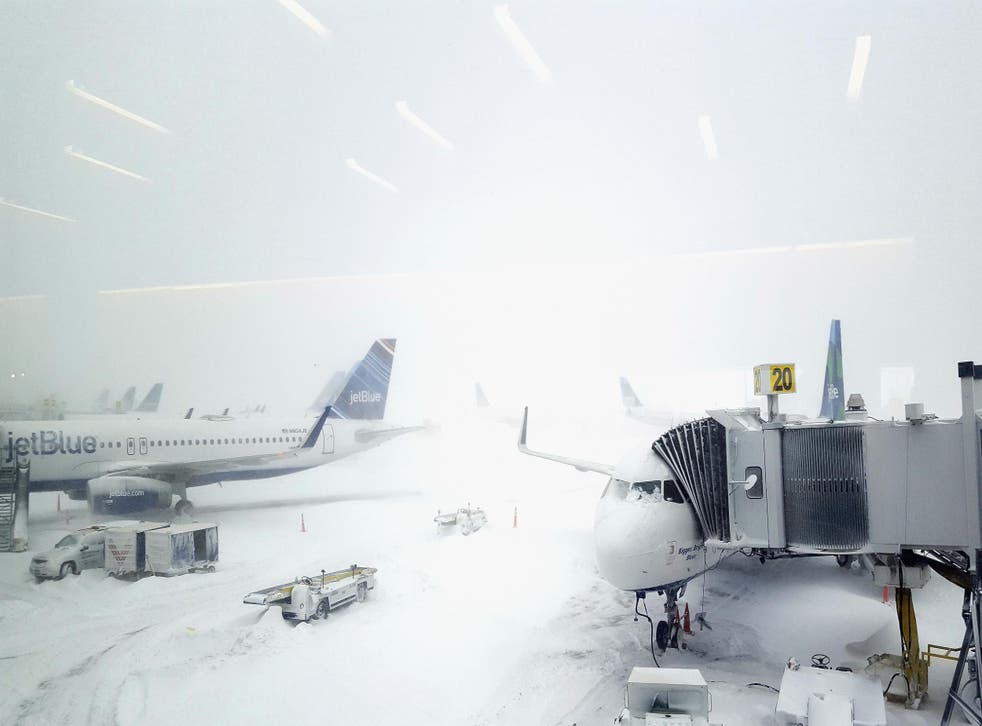 A fierce winter storm blasted the East Coast of the United States, bringing with it screaming winds and whiteout snows that left those in its path scrambling to keep roads and pathways clear while grounding thousands of flights.
In the northeast, flights out of some of America's busiest airports were cancelled as the travel hubs themselves essentially shut down. At least one airport, New York's LaGuardia, had lifted those suspensions by the end of the day.
The storm – which strengthened rapidly on Wednesday night before hitting the northeast United States on Thursday, garnering it the peculiar designation of "bomb cyclone" – triggered blizzard and winter storm warning conditions along much of the coast between the mid-Atlantic region and the Canadian Atlantic.
As the storm descended, bringing up to 24 inches of snow in some areas and warnings of hurricane force winds, residents in some of the areas expected to be hardest hit prepared for power outages – or did their best to keep warm in areas where the harsh winds and snow had already knocked out that access further south.
More than 100,000 homes and businesses lost power at some point. Connecticut opened more than 100 warming centres in 34 towns for those deprived of heat. More than half of the outages – mostly in the South – were restored by Thursday afternoon.
Forecasters expected the storm to be followed immediately by a blast of face-stinging cold air that could break records in more than two dozen cities. The National Weather Service noted that as snow receded, some of the "coldest air of the season" would likely move in.
Blizzard warnings and states of emergency were in wide effect, and wind gusts hit more than 70 mph (113 kmh) in some places. Eastern Massachusetts and most of Rhode Island braced for as much as 3 inches of snow per hour.
The storm had been billed as one of the strongest winter storms in modern history, and followed a peculiar path that led it past states further south before it picked up speed and ferocity as it made its way north.
That path led to 1,500 miles of coastline to be slapped with severe weather advisories in the US. From Maine to Florida, officials issued weather advisories, winter storm watches, winter storm warnings or blizzard warnings. Those bone chilling temperatures led to snowfall in the normally warm Tallahassee. It was so cold in south Florida that iguanas fell from their perches in trees in suburban Miami. The reptiles became immobile when temperatures dipped below 5C.
All told, 4,945 flights were cancelled on Thursday in the US, with another reported 12,339 delayed, according to the online flight tracker FlightAware.com, which also noted as many as 2,700 preemptive cancellations. Much of those were reported out of New York City and Boston airports.
World news in pictures

Show all 50
In New York, the three major airports reported 50 per cent cancellations or more, with the LaGuardia and Newark airports reporting 76 per cent and 78 per cent outgoing flight cancellations, respectively. New York's John F Kennedy International airport clocked in 50 per cent cancellation for its outgoing flights. In Boston, the Logan International Airport reported that 74 per cent of its outgoing flights being cancelled.
At least 12 people have died in the United States this week as a result of the freezing temperatures in midwestern states including Texas, Missouri, Wisconsin and North Dakota. It was also reported on Thursday that four people were killed in North and South Carolina after their vehicles ran off snow-covered roads. Another death was reported near Philadelphia when a car could not stop at the bottom of a steep, snow-covered hill and hit a commuter train. A passenger in the vehicle was killed. No one on the train was hurt.
The winter storm represents just the latest in severe cold weather conditions felt in the country – and more is expected to come.
Much of the northeast is bracing for another, even colder snap this weekend when temperatures fall well below freezing. The National Weather Service said record low temperatures were predicted for 28 major cities across New England, eastern New York and the mid-Atlantic states by dawn on Sunday.
The heavy storms have required a massive cleanup effort in the major cities, and New York City – where 4 to 6 inches were initially expected before that was adjusted to up to 10 inches – was reportedly prepared with 2,200 snow plows to keep roads clean as the snow pasted the city.
In Boston, just hours north of New York, as much as 12 to 18 inches is forecast in some areas. Officials there said they expected between 1 and 2 inches of snow to fall in the city.
The high winds caused coastal flooding from Massachusetts to Maine, overwhelming fishing piers, streets and restaurants and trapping people in their cars, and in some cases, their homes.
The Massachusetts National Guard said it helped rescue a woman and her two children from a car in Marshfield. The high tide in Portland, Maine, reached 13.79 feet, the third-highest ever recorded.
Joe Weatherly, a 40-year-old artist from Los Angeles, was in Boston's Seaport district. searching for a seafood restaurant. Part of the district was flooded.
"For someone in California, this is really, really scary. Mind blowing," he told the Associated Press. "We don't live in a state where things shut down with the weather. I've just never seen this much snow in my life."
Associated Press contributed to this report
Register for free to continue reading
Registration is a free and easy way to support our truly independent journalism
By registering, you will also enjoy limited access to Premium articles, exclusive newsletters, commenting, and virtual events with our leading journalists
Already have an account? sign in
Join our new commenting forum
Join thought-provoking conversations, follow other Independent readers and see their replies