Bombardier wins trade dispute with Boeing amid fears huge tariffs could cost UK jobs
Ruling had been expected to go in favour of the US aerospace giant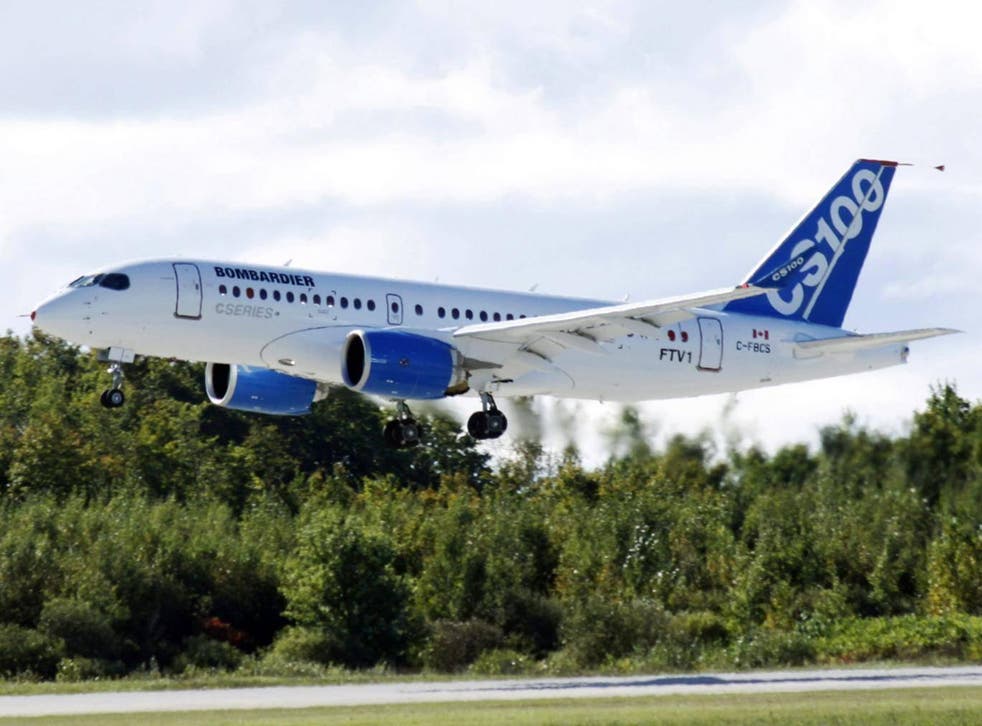 Bombardier has won a trade dispute with rival Boeing in a move that potentially safeguards hundreds of jobs in Northern Ireland.
​Tariffs of 292 per cent will not be imposed on orders of the Bombardier C-Series airliner by US-based carriers.
The ruling had been expected to go in favour of the US company.
Wings for the aircraft are made in Northern Ireland, prompting the union Unite to warn that thousands of jobs would be at risk if the imposition of the extra duty had led to the loss of sales.
Four commissioners from the International Trade Commission rejected Boeing's injury claims, voting unanimously to overturn the decision.
In a statement following the decision, a spokesperson for Bombardier said: "Today's decision is a victory for innovation, competition, and the rule of law.
"It is also a victory for US airlines and the US travelling public.
"The C Series is the most innovative and efficient new aircraft in a generation.
"Its development and production represent thousands of jobs in the United States, Canada, and the United Kingdom.
"We are extremely proud of our employees, investors and suppliers who have worked together to bring this remarkable aircraft to the market.
"With this matter behind us, we are moving full speed ahead with finalising our partnership with Airbus."
Theresa May tweeted: "I welcome this decision, which is good news for British industry.
"Bombardier and its innovative workforce play a vital role in the Northern Ireland economy."
Unite assistant general secretary Steve Turner said: "Bombardier workers in Northern Ireland and throughout the supply chain in UK will be breathing a huge sigh of relief that the International Trade Commission has seen through Boeing's baseless complaint."
"The C Series is a world beating aircraft made by world-class workers.
"There can be no backsliding from the US government on this decision."
The TUC has welcomed the announcement, but warned the affair has demonstrated that the Trump administration is a threat to UK workers and could threaten the UK's ability to support good jobs in strategic industries if the UK does not remain in the single market.
TUC general secretary Frances O'Grady said: "This is great news for thousands of Bombardier workers, as well as workers in their supply chain.
World news in pictures

Show all 50
"But we must not be complacent. The Trump administration has shown it wants to shut down Britain's ability to support good jobs in strategic industries.
"If the government keeps pursuing its bad Brexit strategy, we will be left isolated outside the single market. And that will clear the way for Trump to use trade negotiations to attack our right to support important industries.
"To get the best Brexit for working people, the Government must keep single market membership on the negotiating table."
Register for free to continue reading
Registration is a free and easy way to support our truly independent journalism
By registering, you will also enjoy limited access to Premium articles, exclusive newsletters, commenting, and virtual events with our leading journalists
Already have an account? sign in
Register for free to continue reading
Registration is a free and easy way to support our truly independent journalism
By registering, you will also enjoy limited access to Premium articles, exclusive newsletters, commenting, and virtual events with our leading journalists
Already have an account? sign in
Join our new commenting forum
Join thought-provoking conversations, follow other Independent readers and see their replies