Boston bombing survivor Victoria McGrath killed in car crash in Dubai
McGrath, 23, received severe shrapnel injuries to her left leg from the first of two bombs placed near the marathon finish line on 15 April, 2013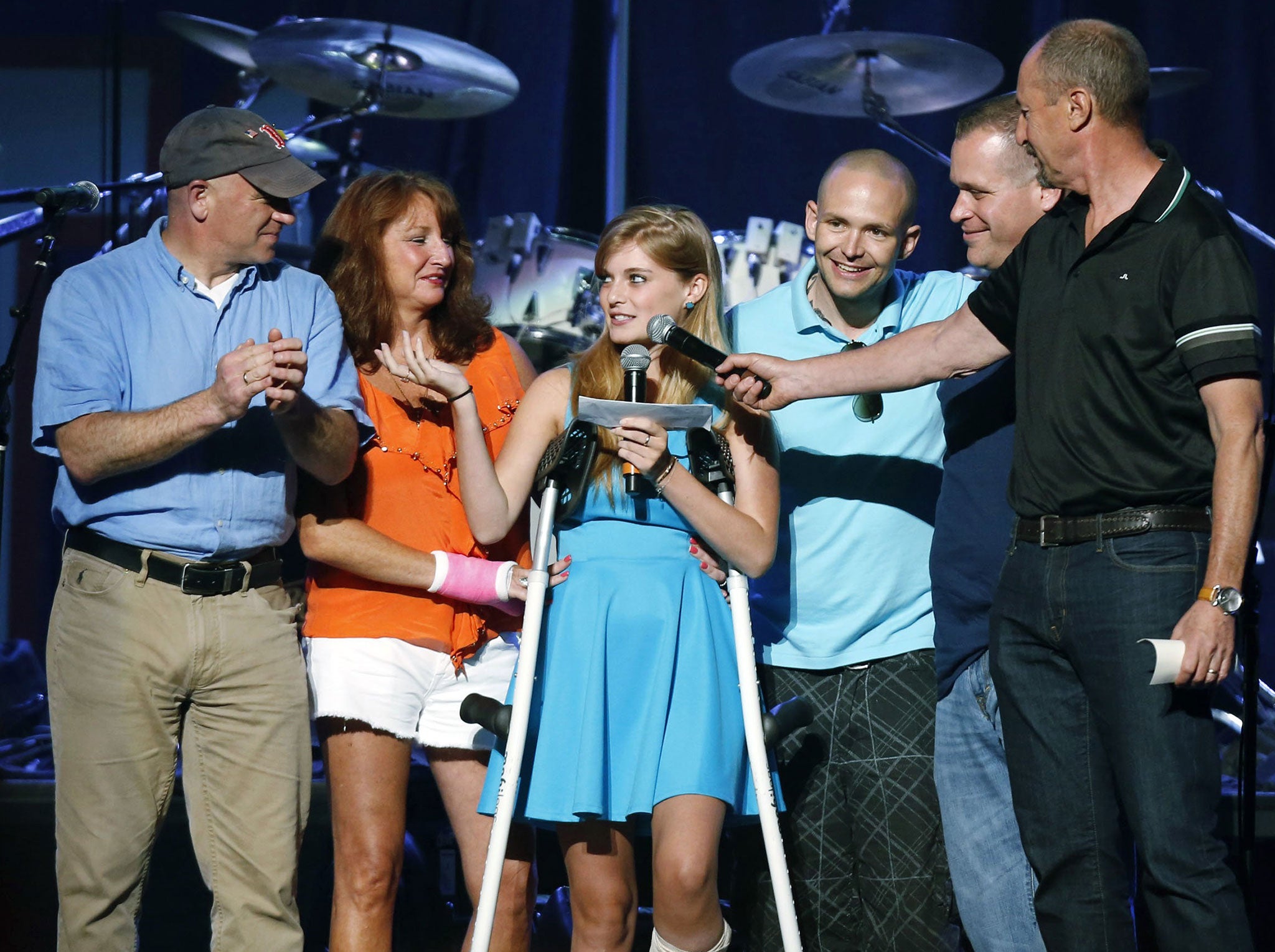 A college student who survived serious injuries in the Boston Marathon bombing has been killed in a car accident in Dubai.
Victoria McGrath was killed on Sunday, along with her roommate at Northeastern, Priscilla Perez Torres, a spokesman for Northereastern University in Boston confirmed.
McGrath and Torres were on a personal trip and not studying abroad.
McGrath, 23, received severe shrapnel injuries to her left leg from the first of two bombs placed near the marathon finish line on 15 April, 2013. Three people were killed and more than 260 others were injured in the bombing.
Bruce Mendelsohn, who was attending a post-marathon party in a building overlooking the finish line, rushed outside to help and saw McGrath lying on the ground, bleeding heavily from her left leg. Mendelsohn said he tied a scarf or T-shirt he found nearby around her leg as a tourniquet to stop the bleeding, a move McGrath's doctor later told him saved her life. Mendelsohn flagged down a firefighter, who carried McGrath away from the scene in what became one of the most widely used photographs from the bombing.
McGrath later tracked down her rescuers and formed friendships with them, Mendelsohn said.
"At the time, I was angry that anyone could do such a thing," Mendelsohn said of the bombing. "Now I'm angry that she's been taken from us."
A Northeastern spokesman said McGrath was scheduled to graduate this spring from Northeastern's school of business. She was originally from Weston, Connecticut.
The US Embassy in Abu Dhabi declined to comment.
Northeastern President Joseph E Aoun sent a letter on Monday notifying the Northeastern community of the students' death.
"She was devoted to helping others through leadership in student organizations and community service work," Aoun said of McGrath.
Torres, who was also scheduled to graduate this spring, came to Northeastern from Guaynabo, Puerto Rico, and was passionate about travel and working on issues related to nutrition and women's health, Aoun said.
JP and Paul Norden, brothers who each lost a leg in the bombings, posted a photo of McGrath on their Facebook page.
"Life can change in an instant...we know this only too well. Those who survived the Boston Marathon bombings of April 15, 2013 all had a special bond...our hearts are heavy tonight after hearing that one of our fellow survivors lost their life in a car accident," reads a posting under the photo.
"A young energetic beautiful soul gone too soon...God bless you Victoria...until we meet again."
AP
Join our commenting forum
Join thought-provoking conversations, follow other Independent readers and see their replies