Boston Marathon bombing trial: Court shown distressing video footage of the immediate aftermath of the blasts
Footage shot by Colton Kilgore showed some of the gruesome injuries suffered by the victims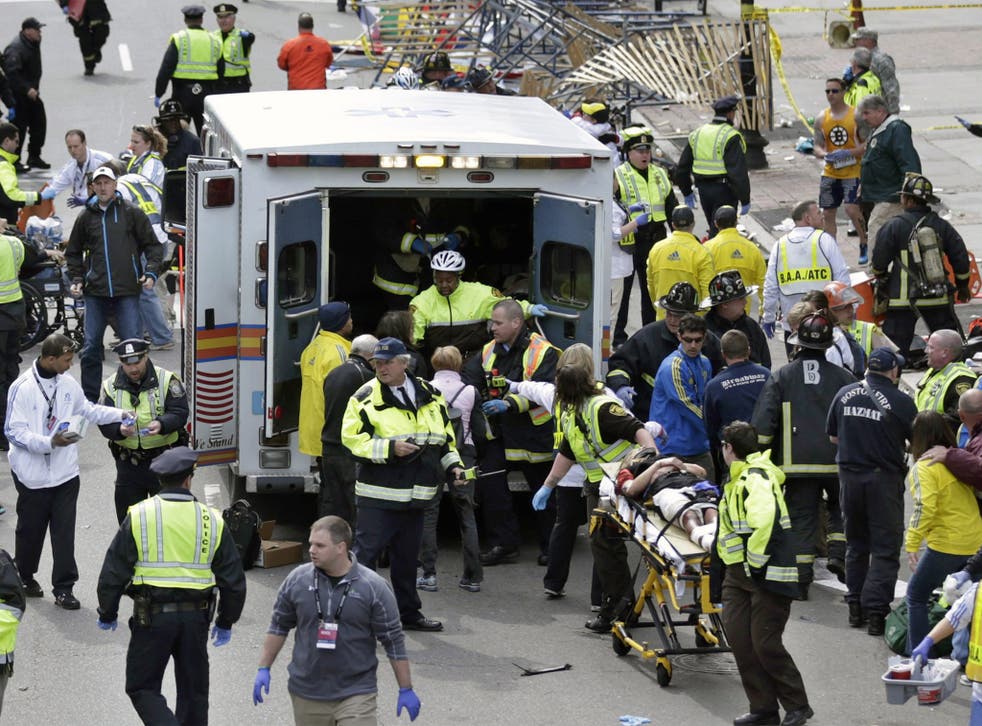 A Boston courtroom saw graphic and frequently distressing video footage of the immediate carnage caused by one of the devices detonated at the finish line of the city's marathon nearly two years ago as prosecutors opened their case against the single surviving defendant, Dzhokhar Tsarnaev.
Showed both with and without sound to jurors as well as to a public gallery that included some survivors of the attack, the footage was shot by Colton Kilgore who was in the immediate vicinity of one of the two blasts let off on Boylston Street on 15 April 2013. He was one of the first witnesses to take the stand this afternoon after opening statements were completed in the morning,
"I was blown through the air," he testified. "I remember just kind of seeing faces and bodies tumbling through the air. I had no idea what was going on." After his video camera was shut down at the moment of the explosion, he switched it straight back on again and captured several minutes as people around him, including members of his family and friends, fell to the ground with injuries.
The footage afforded a never-before seen glimpse into the very heart of the bedlam that played out on the pavements in Boston at one of the blasts on that day. Mr Kilgore filmed not only the chaotic events as a whole, with those still standing rushing to those lying bloodied on the ground, but also took some close-ups of damage done to human limbs that frankly would be hard for anyone to look at.
Some frames showed bone sticking out of one leg of his sister-in-law.
Rebekah Gregory, another witness, later took the stand after walking across the courtroom with a prosthetic on the lower half of her left leg. She lost that part of her limb when one of the bombs went off that day on an area of pavement outside an optician shop. She was in Boston to see a friend run.
"I couldn't see my legs, my bones were literally lying next to me on the sidewalk," she said of the moment she was hurt. "People's body parts were also lying everywhere. At that point I thought that that was the day I would die." She was there with her five-year-old son Noah, whom she tried to reach out in spite of her grave injuries, to find out if he was alright.
In pictures: Boston Marathon bombing anniversary

Show all 15
She said that as she tried to lift her left arm it didn't work. "My bone and all of my flesh was sticking out of my left arm… at that point I was helpless as a mother and I could do nothing to help Noah."
She also recalled seeing one of the three victims who was killed at the scene, Krystle Campbell. "As I was scanning the crowd for my little boy… I saw Krystal Campbell and she was dead," said Ms Gregory, struggling to hold back tears on the stand. Ms Gregory related that she was later rushed to a hospital where she was put into a medical induced coma for a week. She had 17 surgeries on her left leg before doctors concluded it could not be saved and it was amputated. That was in November last year.
She said that she has pieces of shrapnel from the blast still in her body.
Join our new commenting forum
Join thought-provoking conversations, follow other Independent readers and see their replies