Bowe Bergdahl: Idaho hometown cancels homecoming celebrations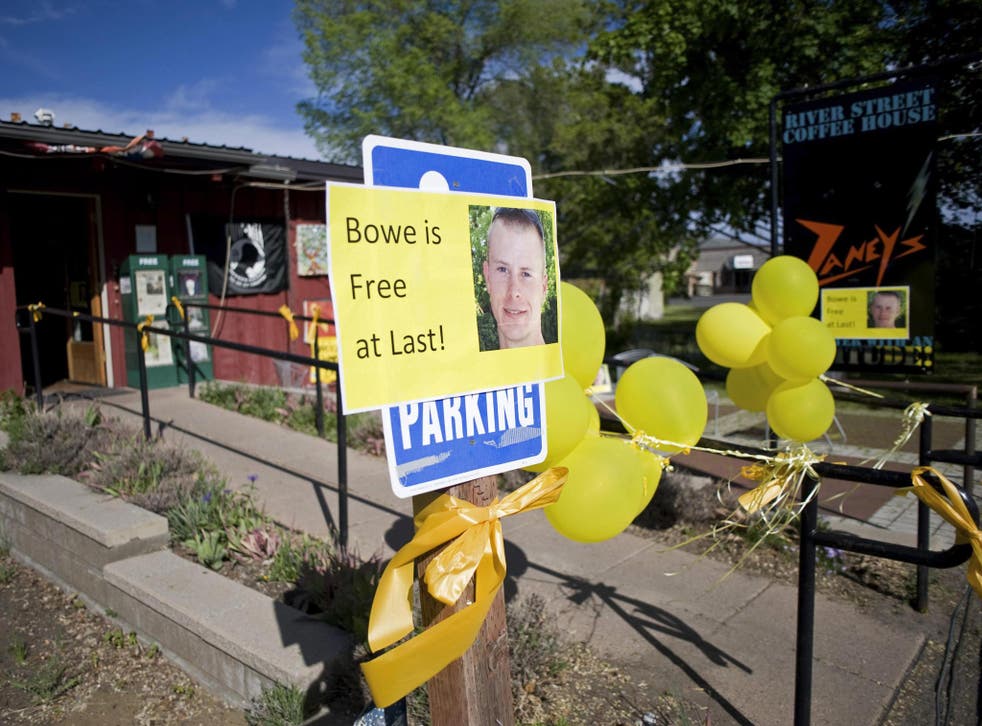 There were celebrations in Hailey, Idaho today, as this town of 8,000 people a few miles from the famous Sun Valley ski resort marked high school graduation day with a "Hometown Carnival". But there will be no such celebration for one young man who calls Hailey his hometown: this week, organisers called off a welcome home parade for 28-year-old Bowe Bergdahl, the US soldier released by the Taliban in Afghanistan last Saturday after five years as a prisoner of war.
Hailey has waited half a decade to see Sgt Bergdahl freed, holding a "Bring Back Bowe" parade each summer to show its solidarity with the Bergdahl family. Wherever there's a lamppost, a yellow ribbon has been tied around it in remembrance, while posters proclaiming "Bowe is free at last" are posted in shop windows all along Main Street. Zaney's, the café where Sgt Bergdahl once worked as a barista, has become a makeshift headquarters for his supporters.
Yet as he finally prepares to return home, the manner of his capture and of his release have made Sgt Bergdahl's welcome back both complicated and controversial. The front page of Wednesday's Idaho Mountain Express featured a photograph of joyful locals and the words "Valley celebrates release of native son". By Friday the headlines were different: "Hailey cancels Bergdahl celebration in face of political firestorm," the paper announced.
Sgt Bergdahl was captured close to the Afghanistan-Pakistan border in 2009. Some fellow soldiers accused him of deliberately leaving his unit and, though it does not suggest he intended to desert, a military report compiled after his capture claimed he had previously walked away from his post and returned. He was freed in exchange for the release of five senior Taliban from Guantanamo Bay, a decision that drew criticism from members of the military and the GOP.
Sgt Bergdahl is expected to undergo weeks or months of reintegration before he comes home, on a timetable designed for POWs by the military. In public comments, his father Bob Bergdahl compared the process to a deep sea diver's slow rise to the surface. Only after stints at US Army medical centres in Germany and Texas will the 28-year-old return to the Rocky Mountain town that he once compared to Afghanistan's landscape in a letter.
Hailey is a mixed community of wealthy and working class, liberal and conservative, and was once home to the Hollywood actors Bruce Willis and Demi Moore. The Bergdahls, too, moved here from California before their son was born. As a young man Bob Bergdahl, 54, was a talented cyclist with the potential to go professional. In Hailey, however, he was known as a friendly delivery man, who lived with his wife Jani, now 56, and their children, Bowe and daughter Sky, in a picturesque canyon close to town. As a child, Sgt Bergdahl had diverse interests that were served by the small town, where he learned both fencing and ballet.
During his son's captivity, Mr Bergdahl became famous in Hailey for his beard, which he vowed not to shave until Bowe was freed. He retired from his job with UPS and worked part-time at a local bike shop, Sun Summit South. Meanwhile, he studied the Koran and the Pashto language spoken by his son's captors.
Chip Deffé, who runs Sun Summit South, said yesterday, "Bob and Jani have a lot of support here because of the type of people they are: very kind, very normal. A lot of individuals, communities and governments could learn a lot from their persistence, their positive outlook, their ability with grace and gratitude to deal with their situation. They understood there would be a backlash, but it wasn't going to sway them from their mission as parents, to bring home their son."
The "Bowe is Back" parade planned for 28 June would have featured a performance by Carole King, who lives nearby. But as news of the celebration got out, the town's authorities were inundated with angry calls and emails, which Mayor Fritz Haemmerle described as a mix of "thoughtful and articulate" and "vile and hateful".
Views of Sgt Bergdahl may be mixed, even in Hailey, but none here share the vitriol of outsiders, some of whom suggested Mr Bergdahl, a devout Christian, had converted to Islam. Others threatened to boycott Hailey, which relies in part on the tourist trade. "The blowback was unexpected," Kirsty Heitzman, director of the town's chamber of commerce, told reporters. "They say we're kind of a disgrace, or what a shame is to have a celebration for a traitor."
In a statement, Mayor Haemmerle urged people not to "pre-judge" Sgt Bergdahl. "Bowe Bergdahl's family is a part of our community," he said. "We celebrate the return of their son to his hometown." Mr Deffé added that Hailey would find a way to commemorate Sgt Bergdahl's homecoming, "at some point, in our own quiet way – and if we can keep it out of the limelight, that would be good."
Join our new commenting forum
Join thought-provoking conversations, follow other Independent readers and see their replies