BP: Energy giant hopes drop in oil price will result in lower fine for Deepwater Horizon spill
Company's cash flow is hurting because of lower global prices
Payton Guion
Monday 19 January 2015 19:19 Comments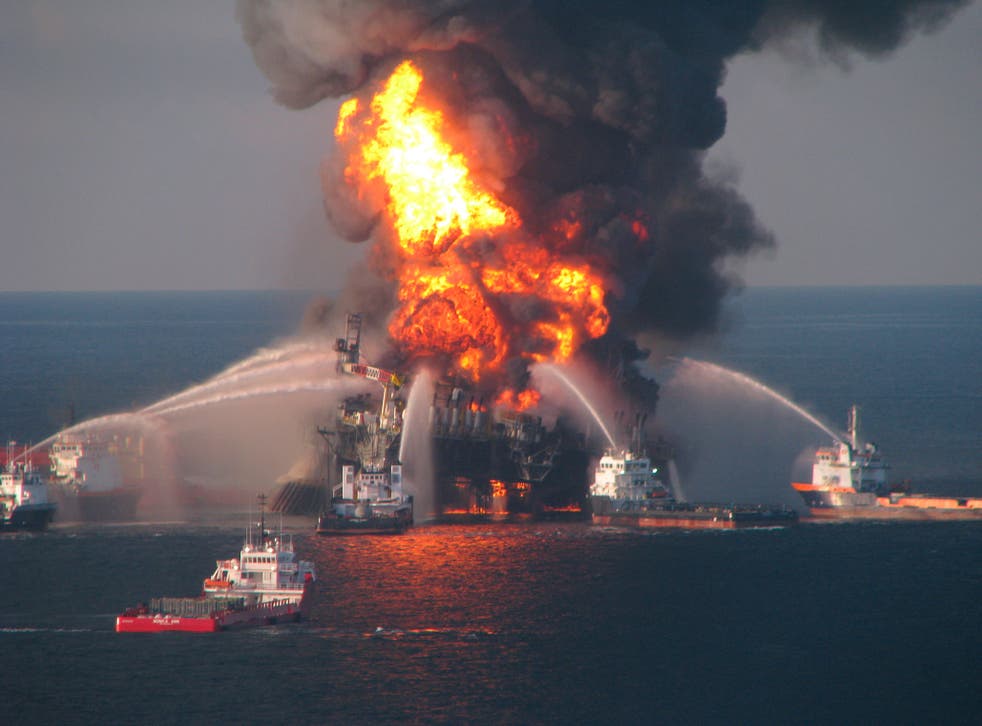 Energy giant BP is hoping that a US federal court takes into account the precipitous drop in global oil prices when it hands the company a fine for the Deepwater Horizon oil spill in the Gulf of Mexico in 2010.
The company is scheduled to go to trial on Tuesday at a federal court in New Orleans, where BP will be told how much it owes to the US government per barrel of oil spilled, according to a report from the Wall Street Journal. BP faces a maximum fine of $13.7bn (£9.5bn) for the spill as part of the US Clean Water Act.
The upcoming trial is the final litigation in the case stemming from the April 2010 explosion on the Deepwater Horizon oil rig, that killed 11 people and caused an oil leak that lasted for 87 days, spewing out millions barrels of oil in what was the worst spill in US history.
BP has already spent around $43bn expenses related to the spill, including settlements and a $14bn Gulf-cleanup initiative. But last month the US Justice Department said the company should face the maximum fine.
The defence team says that the drop in oil prices over the last several months has significantly hurt the cash flow of the penalized party, BP Exploration & Production Inc., a subsidiary of BP. It also plans to argue that the assets of the parent company should not be considered when fining a subsidiary.
To that, the Justice Department replied that the subsidiary "can readily access equity, capital, or borrowing from BP, it can pay the maximum penalty".
BP's bottom line has taken a hit since 2010, as crude oil is now selling for about 40 percent less than it was at the time the oil spill began. The company is carrying $53.6bn in debt, $21bn more than at the time of the spill, the Journal reported. The company also said it would be laying off about 300 employees in Scotland and analysts are lowering their forecasts for the company.
Aside from settlements, BP has been facing litigation related to its violation of the Clean Water Act. District Court Judge Carl Barbier divided this case into three parts, the last of which begins on Tuesday.
Previously, the judge ruled that BP is responsible for 3.19mn barrels of oil spilled. The US government wants a fine of $4,300 per barrel, but BP is asking that the fines be capped at $3,000 per barrel, or a total fine of $9.57bn.
"BP believes that considering all the statutory penalty factors together weighs in favor of a penalty at the lower end of the statutory range," the company said in a statement.
Even if the fine is capped at BP's request, it would be by far the largest settlement in the history of the Clean Water Act. The current record is the $1bn paid by Transocean Ltd. in 2013 for its part in the same oil spill.
Register for free to continue reading
Registration is a free and easy way to support our truly independent journalism
By registering, you will also enjoy limited access to Premium articles, exclusive newsletters, commenting, and virtual events with our leading journalists
Already have an account? sign in
Join our new commenting forum
Join thought-provoking conversations, follow other Independent readers and see their replies