Brazil's Bolsonaro calls Amazon fires a 'lie' despite surge in blazes
Rainforest too wet to catch fire, suggests far-right populist, dismissing evidence of his own government
Vincent Wood
Thursday 13 August 2020 01:50 Comments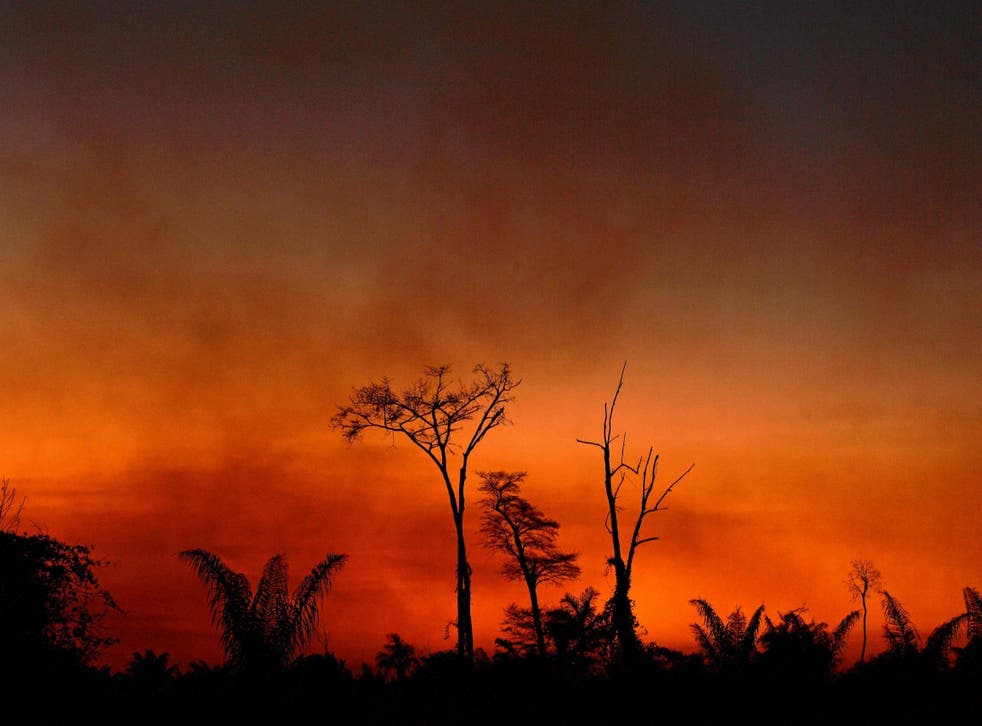 Brazil's president Jair Bolsonaro has insisted there are no fires in the Amazon rainforest, calling evidence produced by his own government showing thousands of blazes a "lie".
The right-wing populist has long resisted evidence showing the world's largest rainforest is being burnt - with logging and farming believed to be behind much of the destruction.
Brazil's national space research agency Inpe has said fires across August reached a nine-year high in 2019, with researchers expecting the scale of the blazes to be even worse this year.
More than 10,000 fires have been recorded in the first 10 days of August, up 17 per cent per cent from the same period a year ago, according to the agency.
However in a speech to South American leaders Mr Bolsonaro said foreign representatives who travelled to the farthest flung cities in the region would see no evidence of the fires.
Amazon rainforest swept by fires: In pictures

Show all 25
"They won't find any spot of fire, nor a quarter of a hectare deforested," Mr Bolsonaro told a meeting of members of the Leticia Pact, an agreement between Amazon countries to protect the rainforest. "This story that the Amazon is going up in flames is a lie and we must combat it with true numbers".
He went on to suggest that, as the Amazon was a wet forest, it does not catch fire - and claimed media and foreign governments were presenting a false narrative around the natural wonder.
Experts say that fires are not a natural phenomenon in the rainforest, but are usually man-made in order to clear deforested land for pasture.
Earlier this month analysis by advocacy group Greenpeace Brazil said it had recorded a total of 6,803 fires in the Amazon rainforest last month, compared to 5,318 in the same month of 2019.
"It's a terrible sign," Ane Alencar, science director at Brazil's Amazon Environmental Research Institute told Reuters.
"We can expect that August will already be a difficult month and September will be worse yet."
Additional reporting by agencies
Register for free to continue reading
Registration is a free and easy way to support our truly independent journalism
By registering, you will also enjoy limited access to Premium articles, exclusive newsletters, commenting, and virtual events with our leading journalists
Already have an account? sign in
Join our new commenting forum
Join thought-provoking conversations, follow other Independent readers and see their replies