Dilma Rousseff impeachment: Brazil Senate votes to remove President for breaking fiscal laws
The decision is the culmination of a year-long fight that paralysed Latin America's most powerful economy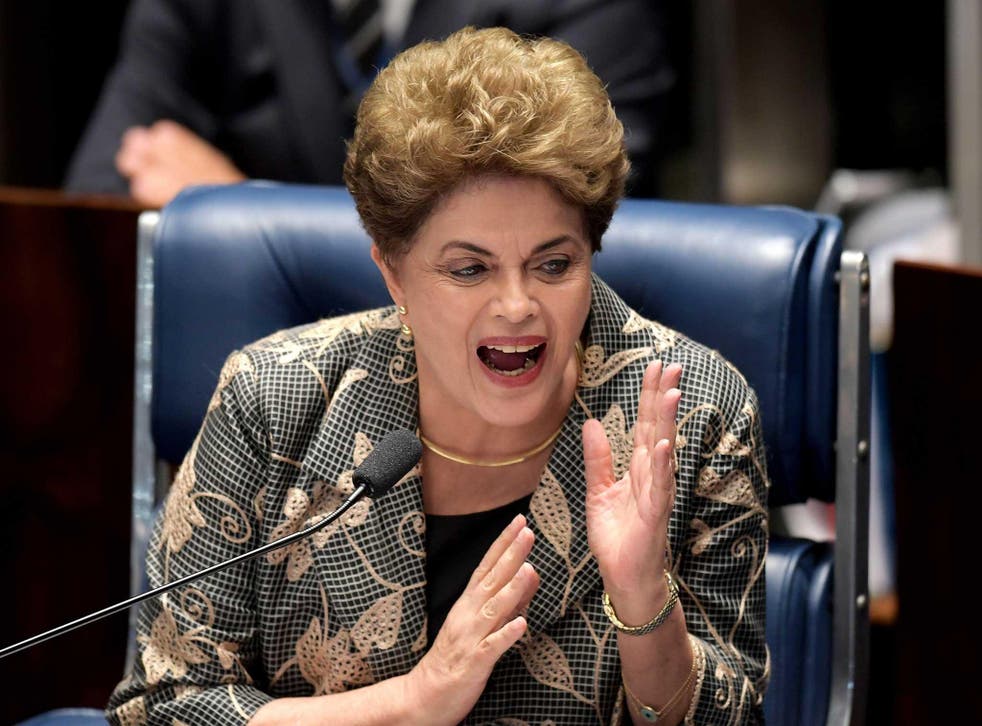 Brazil's Dilma Rousseff has been removed from presidential office after senators in Brasilia voted to impeach her.
She lost her effort to stay in power after a year-long struggle as senators voted 61-20 to remove her. The vice president, Michel Temer, 75, who has been serving as interim President of South America's largest economy since May, was sworn in as Brazil's new leader later on Wednesday and will serve out what would have been the remainder of Ms Rousseff's term.
"They think that they beat us, but they are wrong," a still defiant Ms Rousseff told supporters outside the presidential palace hours after the vote, saying no fewer than 14 times that she had been the victim of a coup. In the process, she vowed also to form "the strongest, most tireless and most active opposition that a coup government could suffer." Her comments echoed her testimony at her trial on Monday when she warned Brazilian democracy was in danger as she addressed senators.
The ousting of Ms Rousseff also marks the final extinguishing of 13 years of government control by her own Workers Party in Brazil, which under the stewardship first of President Luiz Inácio Lula da Silva, or simply Lula, who took power in 2003, and then herself reinforced a social safety net and helped to lift millions of Brazil's poorest into the middle classes. She told her supporters that her ouster was an attack on "social movements and unions and against those who fight for their rights."
Earlier, Ms Rousseff sent a tweet saying that "today is the day that 61 men, many of them charged and corrupt, threw 54 million Brazilian votes in the garbage," making a reference to the number of voters in Brazil who voted for her re-electon in 2014.
Riot police clash with supporters of Dilma Rousseff

Show all 10
It was the souring of the economy, and the reversal of fortunes for many of those who at first benefited from those polices, that helped first stir the rebellion that has now unseated her.
After years of boom, that gave Brazil a spot among the so-called BRIC group of newly emerging economic powers, the nation's economy was already descending into an equally remarkable tailspin by the time she began campaigning for re-election two years ago.
Her eventual victory over her opponent Aécio Neves in December 2014 was a narrow one. She was brought to trial on the charge that she fiddled the books to disguise the extent of the country's fast-growing deficit. Her opponents argued that if she hadn't she would not have won that second term.
But the swell of opposition to her continuing in office was fuelled by more than just that. She found herself blamed for the economic downtown which by last year had ballooned into the worst recession Brazil has experienced in decades, with soaring inflation, lending rates that have brought whole industries to a standstill and joblessness now rampant once again.
Moreover, some of her political foes were motivated - as the release of recorded telephone conversations between them have shown - by a fear of a sprawling corruption investigation, known as "carwash", that she herself unleashed. That probe, which mostly involves bribes paid by the state energy giant Petrobras, still threatens many in the political class in Brasilia with disgrace and imprisonment.
The impeachment proceedings, which culminated with the historic vote against her on Wednesday, were begun in December 2015, just one year after she won her second term. In May this year, the Senate in Brasilia voted to suspend Ms Rousseff from her office as president pending the full trial, which began almost as soon as the Olympic Games in Rio de Janeiro were over.
Mr Temer, her former running mate and vice president, was installed in May as acting president. As of Wednesday, he will become the country's official leader. From a more moderate Brazilian Democratic Movement Party, he has already turned his back on many of the social policies instigated first by Lula and maintained by Rousseff, drawing loud protest from her supporters.
Only Mr Temer, who is 75 but whose wife, Marcela, is more than 40 years his junior, is more unpopular among ordinary Brazilians today than Ms Rousseff, public opinion polls show. He also drew early opprobrium for appointing an all-white, all-male cabinet. Two of its members were forced to resign after they surfaced in the recorded phone calls engaging in conversations that seemed to show precisely that they wanted Ms Rousseff out of the way so they could end the "carwash" probe.
Supporters of the former leftist guerrilla, who fought for democracy during Brazil's military dictatorship and later became President Lula da Silva's chief of staff, insisted that the charges laid against her have always been a pretext for removing her from power without an election.
Ms Rousseff was defiant throughout, consistently characterising the impeachment proceedings as a coup. As she testified in her defence to the Senate earlier this week she declared: "Now the only thing I fear is the end of democracy". She added agan that she could not "accept a coup".
Coup or not, the deed is done. The movers were to draw up at the presidential palace - the occupation of which was the only perk she was allowed to retain after her suspension in May - within a few hours.
Register for free to continue reading
Registration is a free and easy way to support our truly independent journalism
By registering, you will also enjoy limited access to Premium articles, exclusive newsletters, commenting, and virtual events with our leading journalists
Already have an account? sign in
Register for free to continue reading
Registration is a free and easy way to support our truly independent journalism
By registering, you will also enjoy limited access to Premium articles, exclusive newsletters, commenting, and virtual events with our leading journalists
Already have an account? sign in
Join our new commenting forum
Join thought-provoking conversations, follow other Independent readers and see their replies