Disinformation and fake news spreads over WhatApp ahead of Brazil's presidential election
The smartphone messaging application owned by Facebook was used as a tool to target millions of Brazilians ahead of the presidential election, which takes place 28 October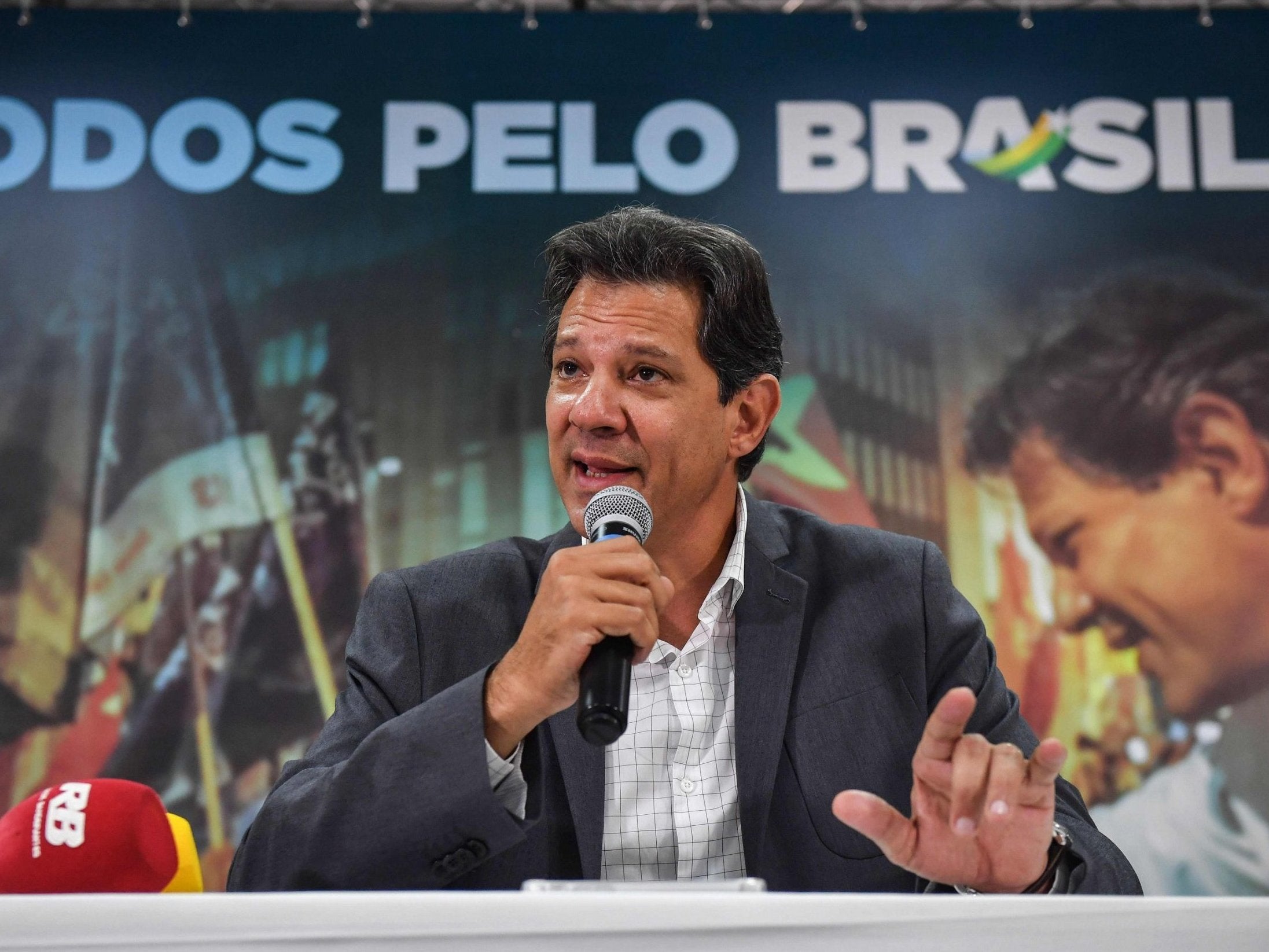 Over the past few months, the 120 million Brazilians who use WhatsApp, the smartphone messaging application owned by Facebook, have been deluged with political messages.
The missives, spread through the country by the millions, have targeted voters before Brazil's fiercely contested presidential election. A final runoff between a far-right candidate, Jair Bolsonaro, and Fernando Haddad, the leftist Workers' Party candidate, will be on 28 October.
One popular WhatsApp message displayed the name of a presidential candidate, Luiz Inácio Lula da Silva, next to the number 17. When Brazilians vote, they punch in a number for a candidate or party in an electronic voting machine.
But the information in the photo was wrong. The number 17 was for Bolsonaro's party. Da Silva was no longer even in the race. His running mate, Fernando Haddad, had taken his place. Brazil's top electoral court ruled on August that da Silva, who is serving a 12-year sentence for corruption, cannot run for a third term.
The misleading message was just one of millions of photos containing disinformation believed to have reached Brazilians in recent months. A study of 100,000 WhatsApp images that were widely shared in Brazil found more than half contained misleading or flatly false information.
Whether the tide of disinformation can be curbed before the election is a crucial test for Facebook, WhatsApp's parent company. As the midterm elections in the United States grow closer, Facebook sees its handling of Brazil's election issues as a way to convince the public it is far more prepared to deal with organised disinformation campaigns than it was before the presidential election two years ago.
Brazil is the latest in a string of countries where social media disinformation has been used to influence real-world behaviour. In India, the spread of false news has led to violence in a number of parts of the country. In Myanmar, Facebook has been used as a tool of the military to aid in the ethnic cleansing of thousands. And in the United States, disinformation continues to be an issue on a range of social media platforms.
WhatsApp presents particular challenges for people trying to prevent disinformation, which is usually spread among small groups of up to 256 people, lending it a sense of authenticity.
The app is also an end-to-end encrypted service, which means outsiders cannot see what is in a message — including WhatsApp and Facebook. This makes it impossible to determine the true amount of false news. Fact-checkers cannot rebutt viral hoaxes and misinformation they cannot see.
It does not help that many Brazilians view the work of the fact-checkers as part of a nefarious effort by big corporations like Facebook to shield Brazilians from the truth.
"When we do the debunking, a lot of times people just don't trust the debunk," said Leonardo Cazes, an editor working on the "Fato ou Fake" news literacy project with O Globo, a Brazilian newspaper.
World news in pictures
Show all 50
Brazilian authorities began warning about the threat posed by online disinformation months ago. False and misleading information had already been landing on the phone screens of Brazilians with startling regularity.
There were doctored photos and videos edited out of context. There were stories exaggerating Bolsonaro's heroism and spreading rumours about his rivals. There were conspiracy theories promoting the rumour that Bolsonaro, who was stabbed at a rally in September, had faked his own injuries as part of a preplanned stunt.
There were even accusations that George Soros, the liberal billionaire and activist who has become a lightning rod for conservatives around the world, was funding attempts to interfere in the elections.
"People entered this election with a sense of hyper-polarisation," said Roberta Braga, an associate director at the Adrienne Arsht Latin America Center at the Atlantic Council, a Washington-based foreign policy think tank. "There is a lot of distrust in politics and politicians and political establishments in general."
Bolsonaro, who has earned many comparisons to President Donald Trump, has played on that distrust. He has been an avid user of social media, recording daily Facebook live videos in which he implored his followers to help him "make Brazil great."
Bolsonaro's campaign, as well as those of competitors like Haddad, have long been suspected of spreading the misleading photos, said Fabrício Benevenuto, a computer science professor at the Federal University of Minas Gerais in Brazil and the co-author of a new report on disinformation in the country.
On Thursday, the Brazilian news outlet Folha de São Paulo unearthed a coordinated campaign in which companies planned to spend millions of dollars buying mass text messaging packages a week before the coming election. The plan, which authorities have deemed in violation of Brazilian election laws, would flood WhatsApp users with hundreds of millions of messages similar to those already in circulation.
On Friday, WhatsApp said it would take legal action against the tactics, banning accounts across the service and sending cease-and-desist orders to the companies responsible.
Although false news has spread in Brazil across all forms of social media, WhatsApp's impact has been the most notable. That is, in part, because of the popularity of the app: About 44 percent of the voting public in Brazil use WhatsApp to discover political information, according to recent polling data. Mobile phone carriers in Brazil offer data packages that allow for free use of Facebook and WhatsApp across cellular networks.
The spread of disinformation has been helped by the basic design of WhatsApp. Information shared across messaging services like WhatsApp is generally trusted more, researchers argue, because of the personal, private nature of the closed conversations.
Facebook and the Brazilian government have scrambled to counter the disinformation. Earlier this year, the country's federal police agency established a task force to limit the influence of false news. Justice Luiz Fux, who oversaw the top electoral court in Brazil, argued that it might be sensible to curb free speech in order to protect the integrity of the election.
Experts, however, are sceptical that disinformation can be stemmed before the election.
"Even if there is an order to give someone a fine for spreading fake news, by the time you do that, it's gone, the elections are over," said Fernando Neisser, who coordinates the Brazilian Academy of Electoral and Political Law. "No one is ready to deal with the speed and the volume of this fake news problem."
Facebook has set up a "War Room" on its Menlo Park campus in California, a way for teams across all parts of the organisation to quickly respond to attacks and disinformation campaigns in real time.
Samidh Chakrabarti, who leads Facebook's elections and civic engagement team, said the new setup had been helpful. A number of attempts at voter suppression and hate speech targeted at specific geographic areas have been quashed in a matter of hours, he said.
WhatsApp is testing changes to the way its service operates. It has cut down the number of users messages that can be forwarded from 256 to 20. (In India, the limit is five.) And WhatsApp has introduced a print, television and radio advertising campaign in Brazil to reach an estimated 50 million people with tips on how to spot misinformation.
WhatsApp is also working with Comprova, a consortium of Brazilian media organisations, to fact-check thousands of tips about suspicious information and verify true stories. The group has received more than 100,000 messages to vet. "Fato ou Fake," the news literacy project, has vetted more than 700 pieces of information.
"While the desire to spread and consume sometimes harmful sensational information predates the internet, it certainly makes it easier," Chris Daniels, vice president of WhatsApp, told a newspaper editorial in Brazil on Wednesday. "Because information — both good and bad — can go viral on WhatsApp even with these limits in place, we have a responsibility to amplify the good and mitigate the harm."
The New York Times
Join our commenting forum
Join thought-provoking conversations, follow other Independent readers and see their replies