Dilma Rousseff impeachment: Brazil President facing likely impeachment as vote continues
President Dilma Rousseff is accused of breaking the nation's fiscal responsibility law
Feliks Garcia
New York
Sunday 17 April 2016 19:57 Comments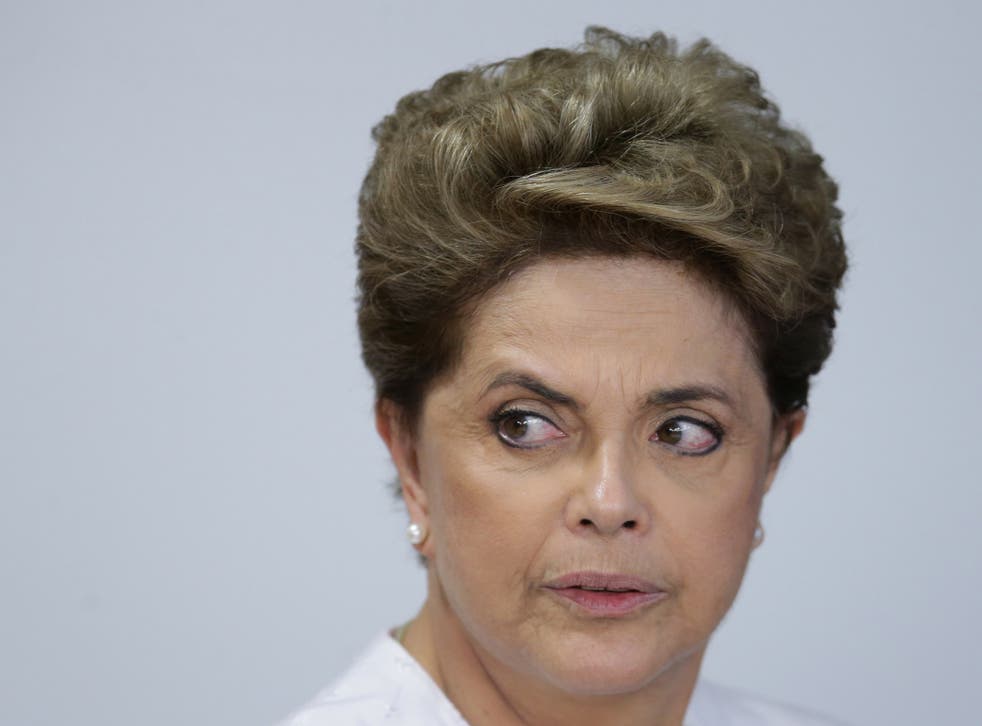 Brazil's Congress began voting on whether to impeach President Dilma Rousseff following proceedings in the lower house. She is accused of violating fiscal laws while closing gaps in the budget using money from state banks.
With the voting still underway the Yes camp were in the lead, with 265 votes to 92 Noes or abstentions. A two-thirds majority is needed for the impeachment to take effect.
Ms Rousseff's administration allegedly delayed payments to Brazilian lenders for social programs, such as unemployment insurance, Reuters reported. The delay made Brazil's fiscal account seem much healthier than it actually was. Officials say Ms Rousseff broke national fiscal responsibility laws.
The effort to impeach Ms Rousseff has been spearheaded by House Speaker Eduardo Cunha, who listed accusations against the president during opening remarks on Sunday. The Associated Press said Mr Cunha called for silence and respect, following a weekend rife with name-calling and heated political theatre.
All the votes have yet to be counted, but early forecasts show the Congress choosing against Ms Rousseff, who currently has a 10 per cent approval rating. A vote to impeach would bring Brazil's first woman president five years of governing to an end if the Senate chooses to proceed with a trial.
Ms Rousseff denies allegations of wrongdoing, and insists that the impeachment is politically motivated. She maintains that she had done everything in accordance with fiscal laws, and that predecessors had used the same practises.
Thousands of protesters for and against the president have congregated outside the nation's capitol in Brasilia, where authorities have set a wall measuring more than a kilometre long to keep the peace.
"We want our politicians to be less corrupt, so we hope impeaching her will send a signal to them all," Patricia Santos, a 52-year-old retired teacher, told AP outside of the Congress. "We know that all the parties are involved in the corruption but the Workers' Party has been the leaders of this all for the last 13 years so they have to go."
Other protests took place across South America's largest country, including Rio de Janeiro, where thousands more congregated in support of Ms Rousseff. Jader Alves, 67, told the AP that Rousseff's removal from office would lead him back to a life on the streets.
"My president was elected in 2014 and she will remain in office until 2018, no matter what," the retiree said.
If Congress does vote in favour of impeachment, the proceedings move to the Senate, after which Ms Rousseff could face suspension and a trial. Vice President Michel Temer, of the Democratic Movement Party, would take office during that time, ending the 13-year span of the Worker's Party.
Register for free to continue reading
Registration is a free and easy way to support our truly independent journalism
By registering, you will also enjoy limited access to Premium articles, exclusive newsletters, commenting, and virtual events with our leading journalists
Already have an account? sign in
Join our new commenting forum
Join thought-provoking conversations, follow other Independent readers and see their replies