Brazilian male MPs chant 'abortion no' after voting to ban terminations for pregnant rape victims
Congressman brandishes replica of foetus as committee also votes to criminalise 'Satanic' abortions for women whose lives are at risk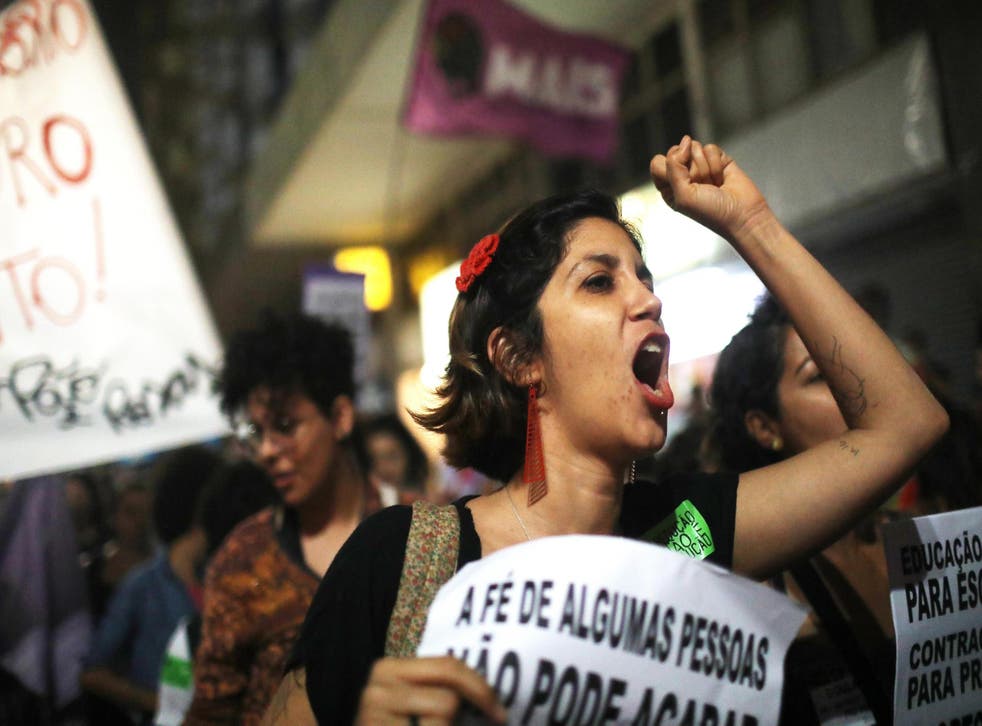 Eighteen male Brazilian MPs chanted "life yes, abortion no" after voting to ban terminations for rape victims and women whose lives are in danger.
One Congressman brandished a replica of a foetus and claimed abortion was "Satanic" during a meeting of a special committee led by an Evangelical Christian majority.
The committee voted 18-1 to criminalise abortion in Brazil in all situations, including for women who have been impregnated through rape or are endangered by their pregnancy.
The lone vote against the ban was cast by the only woman present during the session, Erika Kokay of the Workers Party.
Abortion is illegal in predominantly Catholic Brazil except when the pregnancy is the result of a rape or puts the mother's life at risk. In 2012, the Supreme Court authorised the abortion of fetuses with anencephaly, a rare and fatal condition in which the baby develops missing a major part of the brain and skull.
More than a million abortions are carried out at clandestine clinics each year in Brazil and thousands of women end up in hospital as a result of botched procedures, according to government estimates.
But even the limited circumstances in which terminations are legal have been targeted by a growing pro-life Evangelical caucus in Congress that has led to a conservative trend in lawmaking on social issues.
"To defend abortion, like it or not, is a Satanic, diabolical and destructive act," Evangelical Congressman Pastor Eurico told the committee on Wednesday, while brandishing a replica of a 12-week-old foetus.
The committee has been considering proposals to extend maternity leave for mothers of premature babies.
The move to criminalise all cases of abortion will now be subject to a full vote in the lower house of Brazil's Congress. As an amendment to the country's constitution, it would require the support of two-thirds of both chambers of Congress to become law.
The measure could clear those hurdles as part of a trade-off for other legislation the governing coalition seeks to pass, such as pensions reform needed to plug a gaping budget deficit.
Register for free to continue reading
Registration is a free and easy way to support our truly independent journalism
By registering, you will also enjoy limited access to Premium articles, exclusive newsletters, commenting, and virtual events with our leading journalists
Already have an account? sign in
Register for free to continue reading
Registration is a free and easy way to support our truly independent journalism
By registering, you will also enjoy limited access to Premium articles, exclusive newsletters, commenting, and virtual events with our leading journalists
Already have an account? sign in
Join our new commenting forum
Join thought-provoking conversations, follow other Independent readers and see their replies