Brazilian police pose for selfies with gang boss accused of drug trafficking, extortion and multiple murders
Officers criticised after posing for photos with Rogerio Avelino da Silva, 35, as they celebrated arrest of one of country's most wanted men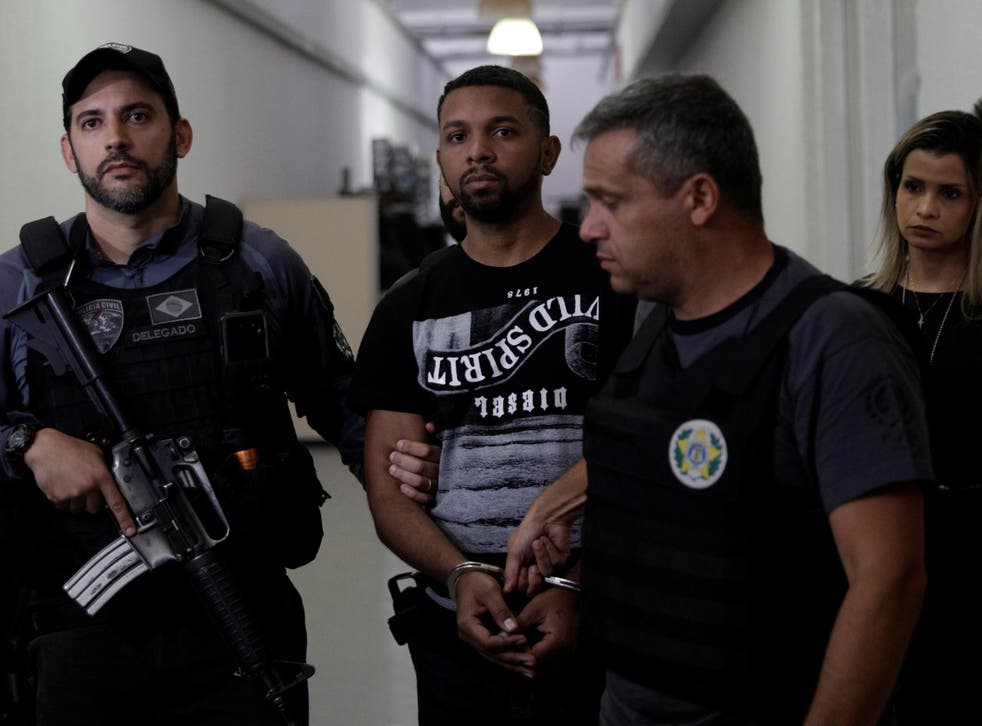 Police in Brazil are facing an angry backlash after posing for selfies with a gang kingpin accused of extortion, drug-trafficking and multiple murders.
Rogerio Avelino da Silva, also known as Rogerio 157, was arrested on Wednesday in what should have been a victory for detectives grappling with the bloody criminal violence that plagues the streets of Rio de Janeiro.
The 35-year-old is believed to have been partly responsible for a recent wave of deadly crime in Rocinha, Rio's largest favela, which saw his men fight street gun battles against gangsters loyal to a rival crime lord.
However, the capture of one of Brazil's most wanted men has now been overshadowed by the emergence of smiling selfies taken by the officers who arrested him.
The images, shared on WhatsApp and other social media, show Mr da Silva handcuffed next to officers with beaming smiles.
In some photos, Mr da Silva himself is seen smiling, while in others he appears stone-faced as the officers laugh.
The selfies dominated the headlines in Brazil over the weekend and have since hit the headlines elsewhere in Latin America.
One Brazilian, Tammara Colttro, tweeted: "I'm looking at the newspaper and seeing the absurdity of these cops getting selfies with a thief as if he were a prize."
World news in pictures

Show all 50
Another, Zori Mesquita, said: "This is a shameful rampage, taking photos with a bandit as if he were a rock star. Come on!"
Ricardo Capelli, a politician from the Brazilian state of Maranhao, wrote an editorial saying: "Brazil already has the third largest prison population on the planet. It's irrational to commemorate yet another arrest when we should be asking ourselves why we have so many."
Join our new commenting forum
Join thought-provoking conversations, follow other Independent readers and see their replies