Brazilian police greet tourists with 'Welcome to Hell' sign at Rio airport
Rio's mayor says the Olympics could be a 'big failure' due to financial crisis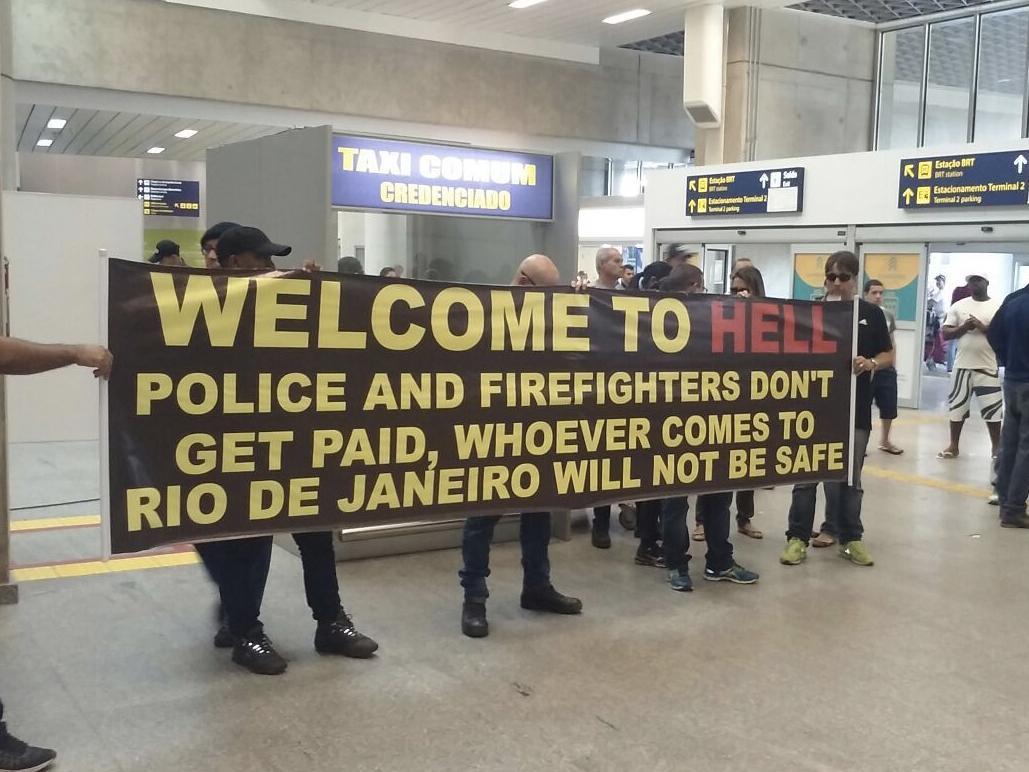 Brazilian emergency responders have a message for travelers arriving to the city just ahead of the 2016 Olympics: "Welcome to hell".
The photo, shared across social media platforms, is generating concern over whether or not Brazil is ready to host the Olympic Games - exacerbated by ongoing trouble stemming from the Zika virus plaguing the country.
"Police and firefighters don't get paid, whoever comes to Rio de Janeiro will not be safe," the sign reads.
Another sign outside of the airport read, "Welcome, we don't have hospitals!"
Some 300 police held a rally on Monday rallied to protest unpaid wages and unsatisfactory working conditions. Some even claimed to have not received proper equipment for their jobs - down to basics such as gasoline for cars - and they lack even some of the most necessary of hygienic provisions.
"At the stations we don't have paper or ink for the printers, there's no one to come in to clean and some stations don't have a water supply anymore so the toilets are not functioning," said an officer identified only as Andre, a member of an elite police unit, told the AFP. "Members of the public bring toilet paper to us."
Feminist protests demand end to violence against women in Brazil after gang rape of teenage girl
Show all 10
One officer told the AFP that he had not been paid in at least five months.
Police say that the unavailability of equipment could prove dangerous during the 5 August Olympics, which are expected to draw more than half a million foreign tourists.
Brazil rolls out new light rail ahead of Rio Olympics
An attack on Rio's largest hospital, close to the Olympic stadium, sparked security concerns. More than 20 armed men stormed the hospital on 20 June to reportedly free a drug kingpin being held inside, leaving one person dead and two injured.
The police could not call for backup because they do not have a helicopter at their disposal.
Rio officials declared a "state of public calamity" early June in hopes to trigger emergency federal funding amid the country's financial shortfall. But Interim Gov Francisco Dornelles says that they have yet to receive the R$2.9bn (£657m) Rio officials had requested.
"I'm optimistic about the games, but I have to show reality," he told O Globo. "[I]f some steps aren't taken, [the Olympics] could be a big failure."
Join our commenting forum
Join thought-provoking conversations, follow other Independent readers and see their replies