Brazil's new divide: while the elite cheer on Michel Temer, others mourn Dilma Rousseff's demise
As corruption scandals swell and faith in politicians wanes, the interim president has a narrow window to bring results
David Usborne
Sao Paulo, Brazil
Wednesday 08 June 2016 19:19 Comments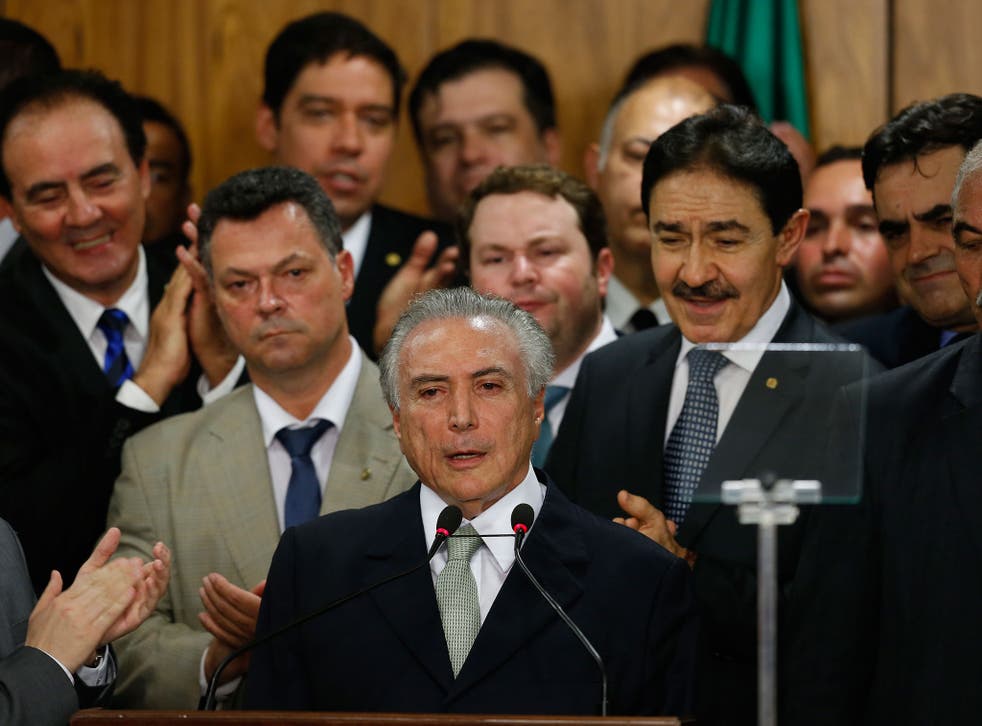 It is late in the Jardins district of Sao Paulo and Carlos Jereissati, an operator of luxury shopping malls, is arriving for a party at the mansion of Bia Yunes, a contemporary art collector, with a few of his friends. Just inside, they step insouciantly upon a pattern of steel plates created by the late Brazilian sculptor Amilcar de Castro. To their right a piece from the "London Pictures" series by Gilbert & George adorns a small salon. Waiters hover with pregnant bottles of champagne.
Nearby, on Haddock Street, Neide Nascimento Santos, 52, has finished cleaning her second home of the day and is mentally preparing to return to her husband, Francisco, in their small flat in Vila das Beleza in south Sao Paulo. Once a well-paid construction manager, he was laid off three years ago and has attempted to build a home appliances business, but nowadays the phone never rings. Despairing that his wife is now the household's bread-winner, he is gripped by depression.
It is a split-screen moment that is partly about economic inequality and crisis. Over four years, Brazil has tumbled from a commodities boom that precisely lifted families like Neide's to where they could buy a home and a car into a new chasm that only the wealthiest can bestride. Its economy is 5 per cent smaller than a year ago. The construction industry, like others, has come to a standstill amidst astronomic borrowing costs. Two years ago 7 million Brazilians were jobless; 11 million are today.
It is also about diverging political perspectives. Santos will not say outright that the vote by Brazil's Senate in May to suspend President Dilma Rousseff from office for allegedly massaging the nation's books was wrong. But she, like millions of others who benefited from thirteen years of rule by the leftist Workers Party, first under President Luiz Inácio Lula da Silva, or Lula, and then Rousseff, are clear that Michel Temer, now interim president, will make things worse for them.
"They are never going to be thinking about the poor of Brazil," she explained to The Independent on Haddock Street. "They are only for themselves, they are going to forget about us."
Her suspicions may not be misplaced. Within hours of taking the reins, Temer, the 75-year-old leader of the centrist PMDB Party, unveiled an all-white, all-male cabinet that sent not just a message of government by the elite but also one promising brutal economic reform. Among his more striking picks was Henrique Meirelles as finance minister. A former governor of the Central Bank and one time captain of Wall Street, he is expected to take an axe soon to Brazil's hitherto generous social programmes, dismantle its labyrinthine regulations and even rewrite its tax code.
While he still has to finalise a plan that will be acceptable to Congress, Temer has already shown intensity of purpose. This week, he vowed to replace political appointees running state institutions with technocrats and acted to pull back on further bloating the government payroll.
Brazil: Michel Temer takes charge as Senate suspends Dilma Rousseff
It is a jolt that is giving residents in Jardins, in their garrison homes protected by high walls and electrified wires, as well as the business community in general, hope. For some, just sidelining Rousseff was almost enough. She will now face a trial, which is widely expected to lead to her permanent ousting. Should enough of her allies return to her side, she could yet return, however.
"She is an ignorant, she is a bad mouth, she is impolite and has all the bad qualities you can think about someone you would never want to hire for your company. She should be put in a madhouse and even then they would have trouble to find a cure," blasted Roger Barends, an independent financial consultant in Sao Paolo. "It's scary even to consider the option of her coming pack. It would be like putting razor blades in the paws of a monkey and letting it run around the room."
Celebrating 50 years of Iguatemi, the mall chain founded by his father, Jereissati began paring expansion plans three years ago. "We knew something was wrong," he said in an interview. Foot traffic is still strong at his flagship mall in Sao Paulo, but people are "shopping with caution". Only the state lottery on the top floor had a queue outside one morning this week. At the cavernous, W beauty studio, as sanitised as an emergency room, owner Wanderley Nunes admitted the mindset of his women (and some men) clients are changing. "It is not so much about money but about time. Today, they want simple, practical styles they can easily manage. No more extensions."
Jereissati's also welcomes Rousseff's dismissal. "She did not have the ability to lead. If you don't have a condition to lead, what's next, should we wait for ever? What took her away was her own party realising she did not have the wherewithal to lead any longer." And he is clear also that Temer stepping into her shoes offers the possibility, at least, of economic respite for the country.
"Temer has to sell the dream. He has to try to do ten things, but if he manages to pull off three of them it is already a big, big achievement. If he can do the most relevant ones, I think we are moving again." Jereissati cites social security reform, stabilising the public deficit and slashing government spending. "He is moving to show he can do those reforms."
All the while, however, Temer has shown little willingness to address Brazil's other malaise: corruption that has bound government and many of the country's biggest corporations – Petrobras, the near-bankrupt state energy giant, in particular – in a rolling and odious bribery scandal. Seven of the ministers he chose were already implicated in the so-called "Car Wash" investigation into a pipeline of Petrobras kickbacks to politicians and government officials. Two have already quit his cabinet. This week, Brazil's chief prosecutor submitted a formal request for the arrest of the presidents of the Senate and of Temer's PMDB party for allegedly trying to obstruct the corruption probe, though the Supreme Court has not yet acted on it.
Meanwhile, prosecutors are pursuing allegations that Temer violated election laws six years ago. A court last week found him guilty and banned him from running for office for eight years.
But to his supporters, including Jereissati, the "Car Wash" investigation, which has already seen several political figures put behind bars, is a sign that Brazil has reached a moment of institutional maturity and political transparency and should not be a totem of shame for the country. "People laughing at Brazil over this are not paying attention," he offered.
Yet, ordinary Brazilians are paying close attention. As new corruption allegations surface on a near daily basis, faith in the political class is at rock bottom. For that reason alone, Temer has only a very narrow window to show results from his campaign of economic reform or popular patience will surely run out and he may become the next victim of mutiny, in Brasilia and on the streets.
Some see nothing to recommend Temer and his band of reformers even now. Asked if she could see any reason for optimism – that her husband might find meaningful work again and that their current predicament, as they scrape at their scant savings to survive, might pick up – Santos, her face worn by worry, does not hesitate. "No," she replies flatly. "With the politics that we have today, no, not at all."
Register for free to continue reading
Registration is a free and easy way to support our truly independent journalism
By registering, you will also enjoy limited access to Premium articles, exclusive newsletters, commenting, and virtual events with our leading journalists
Already have an account? sign in
Join our new commenting forum
Join thought-provoking conversations, follow other Independent readers and see their replies